2015 Nissan Pathfinder Platinum 4x4 Review By Steve Purdy
2015 Nissan Pathfinder Platinum 4x4 Review
By Steve Purdy
The Auto Channel
Michigan Bureau

The Nissan Pathfinder began life as a sturdy, full-frame, truck-based SUV without a lot of style but flush with off-road cred. Nissan decided along the way that these attributes were becoming less relevant in the market and transitioned Pathfinder to what it is today – a front-wheel drive, three-row crossover on a car-based platform without off-road pretentions. I must say, they've done a good job of that transformation.
While Pathfinder has panache and does a great job of interpreting conventional wisdom so do lots of competitors. The mainstream style is attractive but does not stand out as much as some, nor will it put anyone off. The powertrain, as well, is unexceptional but entirely competent. As a three-row crossover it will accommodate lots of people and stuff with ease. And, its driving dynamics are good.
Visually, it is blessed with Nissan's family design characteristics. The bold front fascia with a big badge in the black grille leave no question to its identity. Air intake in the lower fascia and integrated fog lights compliment a large, high-tech headlight complex. Bulging fenders front and rear with a flowing character line plus the huge, 20-inch fancy alloy wheels make the side view more eye-catching than the rest of the vehicle. The rear view is rather plain, but so are most of the others.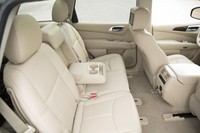 The interior of our Platinum (top-of-the-line) version stands out, not because of any unusual, flashy or high-tech design elements but because of unexpectedly high quality materials and an ambiance that suggests you could be in the Infiniti JX instead of what used to be the mainstream crossover with wood, leather, soft plastics nice stitching, ambient lighting and all the elements we've expected of more high-end brands. There is no question that Nissan is moving all their products upscale with each new redesign and this Pathfinder is a good example.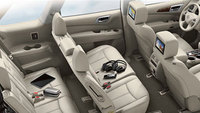 While the interior volume is not the greatest in the class it is plenty roomy with decent access to the two-place third row. Second row seats slide fore and aft and recline. This is a seven-passenger vehicle and the seatbacks fold flat for excellent cargo flexibility. With all seats in position we still have 16 cubic feet of cargo. Fold the third row and get 47 cubic feet. With both rows folded we have almost 80 cubic feet. Nissan says this is best in class.
Nissan has been a pioneer in the development of CVT (continuously variable transmissions) technology and, while earlier versions were criticized for being wheezy and unpleasant, that is no longer the case. Now, with more sophisticated electronic controls they've programed shift points into the system that vary with throttle position and a variety of other factors. Most drivers would not even know they were driving a CVT. The trusty 3.5-liter V6 powering this 4,500-pound vehicle is used broadly throughout the Nissan and Infiniti product line and in this application makes 260 horsepower and 240 pound-feet of torque. It is rated by the EPA at 27 mpg on the highway and 20 in the city – one click less with all-wheel drive – using regular fuel. We averaged 22.8 this week with perhaps 80% highway driving. With the 19-gallon fuel tank we have a good cruising range.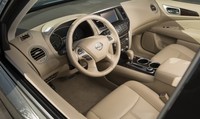 The Pathfinder begins with the low-end "S" model starting at just under $30,000 with a good level of content. Our Platinum version starts at about $41,500 and includes lots of extras like the 20-inch wheels, hard drive navigation system, dual panoramic moonroof, heated and cooled front seats, hill descent control, hill start assist and much more. Available only on the Platinum model is the dual display Family Entertainment Package.
Optional on all trim levels of this front-wheel drive crossover is an all-wheel drive system that can be turned off, turned fully on or set to automatically engage when needed. Our test car is the AWD version and shows a price of $43,950 on the sticker's bottom line.
If you have a boat or other towing needs be assured you can tow about 5,000 pounds with a properly equipped version.
Dynamically, the Pathfinder is nothing to write home about. It has enough power. It handles and rides well. Quality is very good. Fun-to-drive quotient is neutral. The Platinum with the 20-inch wheels is a bit stiffer than lesser models and neither would be accused of sporty handling.
Compare the Pathfinder to Toyota's Highlander, Dodge Durango, Mazda CX9, Ford Flex and GM's range of three-row haulers. Fuel economy is among the best and you'll certainly find these mostly very close in other criteria. None are obvious standouts which means your shopping job will be difficult. The good news is . . . you can't really buy a bad one and you're likely to be pretty satisfied with any of these.
ęSteve Purdy, Shunpiker Productions, All Rights Reserved
The Most In-Depth Nissan Consumer Research - Anywhere!