2016 Hyundai Sonata Plug-in Hybrid. New Style, Improved Powertrain Dynamics; Just Plain Better - Review By Thom Cannell.
SEE ALSO: 2016 Hyundai Sonata Plug-in Specs and Details
2016 Hyundai Sonata Hybrid and Plug-in Hybrid Review
By Thom Cannell
Senior Editor
The Auto Channel
Michigan Bureau
With the drop in gas prices you'd think the hybrid market is dead. Not so, especially in hybrid heaven, the ZEV (zero emissions vehicle) states of California and Oregon. There, plug-in hybrids (PHEVs) remain popular due to their frugality and their admittance to the occasionally-faster HOV (high occupancy) freeway lanes. Hybrids, the cousin to PHEV are a bit harder sell there as they are no longer admitted to the choicest lanes of freeway. Hyundai has both types of fuel sippers in their most popular sedan model, the Sonata PHEV and Sonata Hybrid. We tested both in their native habitat of SoCal, Huntington Beach, California, also Hyundai USA's hometown.
Each type of hybrid has a niche, the PHEVs a special place in all the ZEV states, but available for sale at any Hyundai dealer should you desire, while the hybrid is stocked at all dealers. The main separation between the two is battery size, and how each is recharged. Plug-ins, as the name implies, are recharged from household 120V electrical outlets or higher voltage stations offering sub-three hour recharge. Hybrids are charged by the engine and both capture energy from braking—regeneration.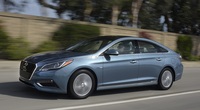 Hyundai's duo are visually different within the Sonata family. For 2016 both hybrid models receive their own front fascia and grille, a different headlamp shape, and unique rocker panels. The rear of the hybrids are also different, with a more aerodynamic rear bumper and a rear diffuser, different tail light graphics, and the most notable difference, their own Eco-spoke alloy wheels that aid in smooth air flow. Compared to the competitive set of Accord, Fusion, or Camry hybrids, Sonata has the slipperiest body at a drag coefficient of .24, equal to a Tesla S.
While the Sonata PHEV emphasizes long range electrical use (24 miles in electric drive) the well-proven Sonata Hybrid offers the best of all worlds. Its ECO mode uses the on-board battery to drive a few miles in pure electric mode, and advanced algorithms smooth out pulsations from less than smooth throttle application. When driven in ECO mode, Sonata can be fuel efficient—and boring—for performance enthusiasts. ECO alters powertrain performance including making the steering smoother, but not as tightly responsive. However, better things are available. Push the console-mounted button again and you get Normal mode with similar steering response, but a livelier powertrain. Push a third time for Sport and suddenly you have tighter steering and all the power Sonata Hybrid can offer at your command. The difference is truly startling. Thus, for long drives or daily commutes you can use ECO or normal. If fuel sipping isn't highest on your list, use Normal for commutes and reserve Sport for when your sprit moves you to move. Think of it as three vehicles in one, and you choose a personal Goldilocks mode every time you leave the driveway.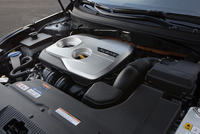 Under the hood lies a Direct Injected 2.0-liter, 16-valve I-4 engine, a responsive 154 horsepower conventional motor. Its 140 lb-ft of torque (the real push in any vehicle) is supplemented by a 38kW/51 horsepower electric motor that rests between the gasoline engine and a 6-speed transmission in place of a torque converter. The e-motor adds torque to the transmission, adding power and smoothing out power gaps as the transmission shifts. That e-motor alone has 151 lb-ft of torque, and it is instantly available (though electronically restrained to prevent melting the tires!). The powertrain's total output is 193 horsepower, but only an engineer could tell you how much torque it has at any moment as torque output is governed by complex engine electronics. Let's just say it is surprisingly pushy, particularly when in sport mode.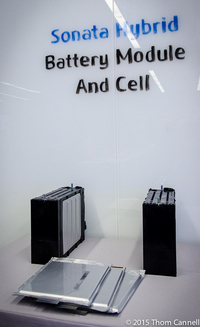 Sonata Hybrid's lithium-polymer battery is smaller than that of sibling Sonata Plug-in HEV. That battery lives under the rear floor, snuggled against the rear axle, leaving a clear path to a 60/40 fold-down rear seat back; there is no obstructive battery box, which is unique in the segment.
Because of the smaller battery, there's plenty of fuel capacity, 15.85 gallons. Combined with the electric battery, range should reach into the 600 mile range.
Regenerative braking is used to capture energy normally lost to heat. Unlike other hybrid vehicles we've tested, Sonata's regenerative system feels normal. Other systems deliver great electrical recovery at the price of an abrupt-feeling braking experience; anything but the lightest touch of the brake pedal feels far, far heavier. Somehow Hyundai avoids that, while still capturing plenty of energy to recharge the battery.
Beneath the sheet metal, the entire car is improved by the addition of more high strength steels (HSS). These steels now compose 50+% of the chassis and safety cell/cabin, likely deliver the greatest use of HSS in the competitive set. Hyundai has a huge advantage, they are a steel company and embed steel engineers with car engineers. What HSS brings to every manufacturer is increased structural strength and rigidity, greater crash resistance and occupant safety, and—if properly engineered—lighter weight without any exotic metals.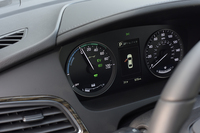 Interiors are Sonata-esque, cloth and leather, but with unique displays. The Hybrid's tachometer is replaced by a power gauge showing regenerative energy capture, and energy use. Nestled between that display and the speedometer is a now-familiar driver information center that can show navigation, hybrid information, or other necessities like radio station or SiriusXM channel. We found that, as with any LCD panel, polarized sun glasses make it hard to view. There seems no way around this pandemic.
The 2016 is now a bit larger, claiming Best-In-Class headroom and legroom by a whisker. With the flat trunk floor and pass through, interior volume (also for the PHEV) is also best in class versus the outgoing Sonata, Camry, Accord, or Fusion HEVs. Packed in are safety features like Lane Departure Warning, individual tire pressure warnings, Blind Spot Detection, Forward Collision Warning, a virtual engine sound for electric-mode-only pedestrian alert, rear parking sensors, and cruise control that will bring you to a stop—and restart. That's not the full list by far, we're missing solar glass, heated mirrors, Xenon headlamps, and many others. What's missing is automatic braking, and we're a bit surprised it is not available.
Three trim levels, SE, Limited, Ultimate, round out the car with comfort features like power seats with (driver) memory, ventilated and heated front and rear seats (options), heated steering wheel, (Ultimate) panoramic sunroof and rear manual sun shades.
Your question is, is it a worthy purchase? Versus hybrids Camry, Fusion, or Accord, it offers luxury vehicle features in a mid-priced sedan (you'll have to judge if competitors offer relevant features and a better value). One thing Sonata has (2015 and newer) that others lack is Android Auto or Apple Car Play. Both apps promise to keep your hands on the road far better than embedded systems, together with a familiar interface (look for a story on Android Auto later this week).
Looked as only as an appliance, the seats were comfortable, mirrors covered traffic well, and the center navigation system, which included a premium Infinity sound system, was easy to use once we understood the controls. Until we knew the buttons to push a whole novel of information on energy use, both electrical and conventional, was hidden under the maps (it should remain hidden most of the time, it's a huge distraction). Your salesperson and the manual will make that information easy to find.
Don't forget to ask the dealer about the Blue Link smart phone app which tracks your vehicle's service needs, opens doors, schedules PHEV charge times, and delivers many other functions.
As with the original Sonata Hybrid, we were impressed with its smoothness and ability to climb to above 65 mph in electric mode. Not just ease on up to the speed limit, but accelerate with spunk; 70 in electric is doable, as well. Equally impressive was the more-rigid chassis which makes the interior even quieter and further improves handling.
Our most striking memory is the transformation that occurs between ECO/Normal and Sport. Sonata becomes, quite literally, a different car once Sport is engaged, the first warm milk, the other Pappy Van Winkle served straight up. And that's our lasting impression, a car that delivers over 40 mpg in city/highway/combined EPA ratings when driven softly. Alternatively and "on flique", once set to Sport you've got a sporty car at your command. So, Sonata Hybrid can be "a best of all worlds" vehicle, one car for multiple uses, a docile personality for everyday driving where economy and insulation are paramount, or an evil twin who demands throttle response and chassis dynamics. It makes you wonder why you didn't flip the switch sooner.
The Most Hyundai Research Information Anywhere!