2015 Toyota 4Runner TRD Review By Steve Purdy
2015 TOYOTA 4RUNNER TRD Review
By Steve Purdy
The Auto Channel
Michigan Bureau

Toyota developed TRD Pro (trail rated) versions of Tundra, Tacoma and 4Runner aiming to earn their chops in the serious off-road world of Jeeps, Land Rovers, Hummers and old FJs. Looks like they did a damn fine job. I got to take the 4Runner TRD through its paces at the off-road course at Road America during the recent Midwest Auto Media Association's Spring Rally. We got to play with a variety of other off-roaders on the modestly challenging courses within the racetrack property. The 4Runner TRD easily kept up with the traditional leaders in this realm, Jeep Wrangler and Land Rover.
Our Toyota PR guy, Rick, rode in the rear seat as I took it through the course using perhaps seven tenths of its capability (this was a very limited run), then later he handed me the key fob so I could drive it 500 miles home through Michigan's Upper Peninsula. Along that route I took only one short sandy two-track near Manistique to photograph this tough truck at an old cemetery I had discovered. Wish I had time to find and experience some of the UP's great trails. But I think I gained an adequate sense of its dynamics during these varied driving experiences.
The body-on-frame 4Runner line was just updated for the 2014 model year. Toyota dropped the FJ Cruiser about the same time so it seems like a good plan to introduce a serious off-roader to fill that gap in the truck lineup. And a serious off-roader this is.
The regular 4Runner and the TRD are both powered by Toyota's 4.0-liter, 270 horsepower V6 making 278 pound-feet of torque mated to a 5-speed automatic transmission. That's not a lot of power for this heavy beast but you'll not notice any deficit except perhaps passing on the two-lane. This is an off-roader, after all, and its charm is in off-road features like a low range transfer case, locking differential, 4-wheel drive, generous ground clearance, hill-descent control, crawl control, ╝-inch skid plates beneath engine and transmission, and lots of other tough and sophisticated stuff most of us have never heard of, including a bunch of selectable driving modes to assist with different conditions.
The EPA rates this 4,750-pound truck at 17 mpg in the city and 22 on the highway using regular fuel. Not bad for something this size and this tough. We easily got 22 on our gentle drive across the two-lane UP roads. This is an abbreviated review so we didn't get an opportunity to verify the other mileage claims.
This thing looks as tough as it is with blacked-out gaping grille, cat-like headlights, cheek scoops imbedded with fog lights, black wheels with fat, aggressive tires (31.5-inch diameter on 17-inch black wheels), a high boxy profile and few sissy styling embellishments. It comes in only three colors – black, white and a brash orange. It does not take much imagination to see the profile of the 4Runner going back a few generations when you look it over. While the trim and details are fresh the shape of the truck is traditional.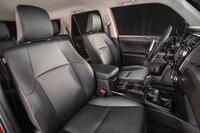 The interior is anything but Spartan with very nice materials throughout and a lot of style and panache. Good quality leather, plastics, wood and metal trim inside present an appearance of luxury rather than utility. Above the rearview mirror are a bunch of dials and controls for the lock-out differential, hill descent control and other off-road functions. Down below on the console are the 4-wheel drive and low-range controls. As we were doing our off-roading at the track it was a bit confusing trying to determine and activate the appropriate functions to meet the challenges before us. Good think we had Rick riding along to offer prompts.
Being a body-on-frame truck it has a good towing capacity at 4,700 pounds. GVWR is 6,300 pounds. It comes with an integrated towing hitch and wiring harness with 4- and 7-pin connectors. That all means you'll have no trouble towing a trailer with your boat, ATV or other adult toy where ever you like.
Base price of the 4Runner TRD is just about $41,300.
On the long road home, that interior was a wonderfully comfortable place to spend many long road hours. The door-sill is wide enough to make a good armrest. The seats fit my big booty just right. The cabin is remarkably quiet at speed. And with all the rich materials I felt like I was being pampered.
Now, I'm going to try to find a place to really put it through its off-road paces and talk our Toyota folks into risking one for a real test. I'm thinking Rocky Pass behind Red Rock Park near Las Vegas where serious off roaders regularly clamber across the boulders in the wash at the top of the mountain. We did this in a Wrangler some years ago and it was a hoot.
How about that Rick?
ęSteve Purdy, Shunpiker Productions, All Rights Reserved
The Most Chevrolet Vehicle Research Information Anywhere!