First Look - First Drive: 2016 NISSAN MAXIMA Review by Steve Purdy
They're doing a great job in Smyrna
By Steve Purdy
Senior Editor
The Auto Channel
Michigan Bureau
Nissan just introduced the newest version of their Maxima full-size sedan, the eighth generation since its introduction in 1981, and Nissan's longest running single model. Thinking back to 1981 (Yes, I am old enough to have been around and paying attention to cars in those difficult days in the auto industry) it was a time of truly dismal cars from U.S. automakers and a time when Asian brands were making increasingly strong inroads into this market beginning with little economy cars and eventually branching out into just about every automotive category.
Even in those early days Nissan billed the Maxima as the sportiest of mainstream sedans (excluding the Europeans) with some justification. In fact, if I'm not mistaken,

Nissan was the last to offer a manual transmission in their biggest sedan. They continue to refer to the new Maxima as 4DSC (4-Door Sport Car) with subtle badging to tout that claim. While it does have some sporty characteristics, that might be just a bit hyperbolic. Here's what we found during our introduction to the new car:
"Energetic Flow" is the new language the designers sought to flesh out. They have incorporated the visually interesting floating roof that hints at a lower, wider profile and provides a modern aura. In fact, it is a tad lower and wider than the outgoing model. More dramatic front and rear fascae bring the look significantly more upscale and trendy with gobs of brashness in the front. We saw many of these design details in the stunning concept car shown in Detroit over a year ago and in the recently launched new version of Murano. Boomerang-shaped LED lighting front and rear help Maxima keep up with trends as do exaggerated wheel arches.
Inside we see a higher console and center stack turned more toward the driver. Way more techie details went into the multi-purpose screen and instrument cluster including a "punch and swipe" function to move information between screens.
Interior volume did not increase much leaving it among the smallest of the full-size sedans. A wide console houses the start button (standard), the shifter and cup holders. The "zero-gravity" seats are well bolstered and comfortable. A door at the base of the center stack hides two USB ports and an auxiliary input. They say they were trying to emulate a fighter jet cockpit. Frankly, I don't see that, but I find it considerably more attractive and stylish than the outgoing model. Real contrasting stitching and unusual diamond-patterned dash trim fits with the upscale aspirations of the Maxima.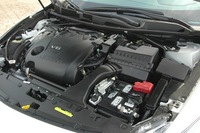 Engine updates include "61% new parts," they claim, adding 10 more horsepower, best combined fuel mileage in the class at 25 mpg and best horsepower/liter calculation at 86. Maxima now boasts 300 horsepower and 261 pound-feet of torque. New engine stuff includes piston surfacing and rings, sodium-filled valves, new head design and other details we'll never see but make the ubiquitous 3.5-liter V6 more efficient and durable.
The engine feels strong enough to compete well with the competition but what surprised me more was the sophistication of the improved CVT. Nissan led the industry in the use of the continuously variable transmission and early versions felt wheezy and cheesy. But this one has a broader ratio range, shift points programmed in and it adjusts to your driving style and reads between the lines on throttle input. The "Sport" mode, included on all models, adds more inputs for a more normal feel. No matter how biased I've become, I can't find anything to complain about with this CVT.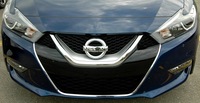 The chassis of the revised Maxima is 25% more rigid and just a bit lighter because of the generous use of high-strength steel. More stiffness means more precise feel on the road, and it did feel very stable and firm. Suspension is improved with mono-tube shocks and improved calibration. While we only had a couple hours of driving time on easy roads I think we can say the road feel, handling prowess and overall performance under normal conditions are as good as any of the full-size sedan competitors but I'm not sure they'll keep up with the small sport sedans they like to use as comparisons.
Maxima is put together in Nissan's massive Smyrna, TN assembly plant that produces well over 600,000 cars/year including Rogue, Pathfinder, Altima, Infiniti QX60 and Leaf. The fit, finish and materials on the cars we experienced will compare well with anything. They're doing a great job in Smyrna.
The acoustic engineers earned their keep with this car. Not only have they damped the unpleasant sounds with noise cancellation technology but they have also found a way to direct pleasant engine noises into the cabin to make it seem more sporty. We found interior noise levels impressively low.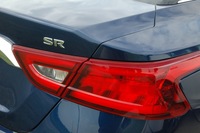 Nissan has taken a new approach to marketing the Maxima. They are offering 5 models, or trim levels, but no stand-alone options. The bottom-end S model starts at $32,410 and the top-end Platinum starts at $39,860. If you averaged out prices of comparable cars from the current Maxima line the new pricing represents an increase in price of about $850. If you consider the much more inclusive standard content – features not available or not included in previous models - that seems logical and reasonable to this reviewer. The top-level-but-one, the "SR" is the sportiest of the bunch. We were able to explore one of these on the road and in the parking lot. It offers an impressive balance of luxury and sport.
The competition in this class is intense and filled with high-quality products like the fresh Impala and Avalon, and the older but still good LeCrosse, Taurus and Chrysler 300. While the Maxima is a "large sedan" according to most definitions Nissan likes to compare it to smaller, more sporty cars like the 3-Series BMW, Acura TLX, Audi A4 and Lexus IS. They will focus marketing on a demographic they think of as "luxury intenders."
The new Maxima is at dealers now.
Go take a look. I bet you'll be impressed.
I was.
ęSteve Purdy, Shunpiker Productions, All Rights Reserved
The Most Nissan Vehicle Research Information Anywhere!