73rd Monaco Grand Prix - Nicholas Frankl Thoughts and Reports
Nicholas Frankl
Senior Editor
The Auto Channel
Formula 1 Racing Desk
Monaco and its famous Grand Prix never fail to thrill and the 73rd running of this unique pageant was no exception. There simply is no other 'race' weekend like it and one cannot explain to those who haven't made the trip what they are missing. For many it is an annual 'obligatory attendance' event, a class reunion unlike any other that attracts the world's global elite from all walks of life: Royalty, prime ministers, film stars, rock stars, models, current and former racing champions and a good portion of the earth's billionaire movers and shakers – in short, it's the one race not to miss and the one race that Formula One needs more than the Principality needs it!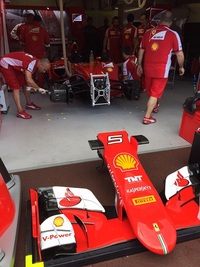 The majority of F1 drivers call Monaco home, so it was fitting for Lewis Hamilton, who is resident, to announce his new $100m+ three year deal with the silver arrows. He was naturally is high spirits throughout the weekend and all the way to lap 64 when Toto Wolff and his merry men of highly paid technicians, both in the pit lane control center above the garage and monitoring from base back in the UK, suffered the F1 geek equivalent of a "wardrobe malfunction". Lewis' '4 second' pit stop sent him from a cruising victory to 3rd spot and fourteen laps of utter frustration. As a competitive racer myself I appreciate the desire and ultimate satisfaction of winning, but I also appreciate mistakes both I and my team can make, and being a good loser and Lewis' over reaction and 'devastated' behavior was in my opinion way over blown. Simply, he behaved like a spoilt brat. When he stopped his car in front of the marshals at Portier,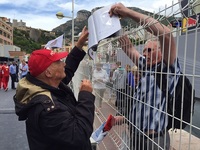 I thought he was about to 'do an Ayrton' and shut it off, jump out and walk home to sulk in his nearby apartment on Ave. Princess Grace. Unlike Senna, who famously crashed at the same spot, went home and cried for 5 hours until his fellow Brazilian and McLaren driver manager Jo Ramirez managed to reach him on the phone at 9pm! Lewis was still on the podium and the FIA would have had a fit had he not shown up on the most famous one of all, with both Their Serene Highnesses The Prince and Princess of Monaco handing out the silverware! In the end, F1, the team and Lewis all move on and with Canada - another bucket list race I highly recommend - coming up fast, there is no time for crying champagne tears.
More interesting was the drivers and assorted 'beautiful people' celebrating over the weekend. Let's face it – F1 isn't that exciting, on or off track these days, and when electric racing is being talked about as a serious competitor to the most successful racing formula created since the Roman chariots, then you know there's a serious issue. So importantly with Monaco, the rather formulaic and unexciting paddock, filled with moody and sulking team personnel, who complain of no sponsors and even less VIP access passes, tired journalists desperate to develop any story that can fill a back page and charisma-less drivers are all free to roam the fabulous and opulent Country of Monaco and engage in some real racing glamour.
The big nightclubs all open and/or are created especially for the weekend. Jimmy'z is the Grand Dame and celebrated each night with different DJ's, with a Fat Boy Slim benefit gig for Princess Charlene's charity on Sunday night. Amber Lounge hosted its traditional 3 drunken evenings and a below par fashion show, with other guests bouncing between Flavio Briatore's water front Twiga and Fairmont based Billionaire. Thursday evening wasn't too busy and most everyone headed to SASS Café, a tried and tested local restaurant that also features a nightclub. A few of the drivers were there too - on water only and off to bed early, too!!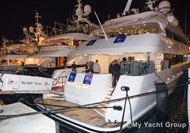 Friday evening is the night for super yacht parties. The unique setting of Monaco and the Port Hercules allows for 15 lucky yacht owners (they have over 100 applications) to actually berth the 150ft beasts right up to the racetrack. There is no better view or experience than a super yacht trackside at the Monaco Grand Prix and everyone wants to be aboard for the ultimate in glamorous parties featuring gold-flecked champagne and kilos of caviar. The yachts all set up DJ's and lighting systems on the top decks and vie for the coolest crowd (read hottest girls and celebrities). We were one of them and honored with Prince Albert himself, who came by the traditional My Yacht Monaco party (of which I am one of the hosts) and chatted with the VIP guests that included Olympians, Prime Ministers, a bunch of La Ferrari / Veyron owners, Lords and Ladies, and an international assortment of likeminded globetrotters. As the Prince only visits one or two yachts over the weekend, it is always a tremendous honor for all aboard to meet him. With Saturday's all important qualifying in mind, many guests - like the drivers - headed home, but of course others partied at the clubs till 6am and were awoken at 7am by the, still loud, GP2 cars!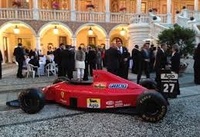 With Mercedes dominating once again, Ferrari putting in a great performance and snapping at the silver cars gearbox and Williams struggling, qualifying wasn't anything to celebrate. Still, the drivers were on parade - though not for long, due to sponsor dinner commitments - at the "Prince's Palace" annual reception on Saturday night. It's the most coveted event of the weekend, with handwritten invitations hand delivered by the Palace's own fleet of couriers and all the drivers and team principals attending, along with other heads of state, the Automobile Club (ACM) VIP's, legends like Sir Jackie Stewart and Jackie Ickx, the Ministers and, of course, all the Prince and Princess' personal friends. Fellow TACH contributors and family members Andrew and Annabelle also attended and I had the pleasure to chat with the legendary aviator Bertrand Piccard. He explained personally the fascinating challenge of raising $150m over 10 years and now flying the SOLAR IMPULSE 2 around the world solo! They were waiting for the weather to clear and, as I write, have now left China for a record breaking, non-stop flight to Hawaii. The mission control is based in Monaco, too.
The mingling of the 400 hand invited guests around the courtyard of the 700 year old palace is extremely special, with the Prince and Princess welcoming all the guests personally and making sure all the guests feel special, like two conductors of a fine symphony orchestra. Along with the fine food and vintage champagne the courtyard always features some great cars. This year was no exception with a racing Ferrari Daytona from 1973 and a 250 LWB – both red and glorious and taken from the Prince's car collection.
Sunday saw the circuit sold out, with truly packed grandstands and an atmosphere one cannot describe but must experience. Following the race and the buzz in the paddock, with journalists excited to have a scandal to run with, and drivers exchanging ideas for the best after parties, Lewis partied with various celebrity friends including Kendal Jenner in the harbor, Rosberg - celebrating three Monaco wins in a row - was at various clubs collecting free magnums of champagne, and many disappeared onto yachts, some to Jimmy'z,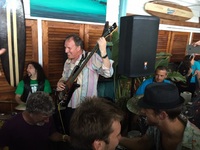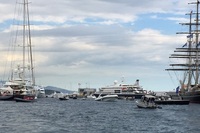 Monday the town awoke to a giant hangover, but there was one more tradition to celebrate and probably the best of all. Fifteen minutes along the coast in Eze, where Bono has a home, is a little beach restaurant that is best accessed by boat and where the 'cool crowd' descend for Eddie Jordan's annual live music performance and general table dancing debauched madness. The still-recovering but fun drivers brought their wives and girlfriends too, Jenson, DC, Ricciardo, Alan McNish, British TV personality and Ferrari collector Chris Evans to name a few were all on fine form, with most - if not all – of the 250 revelers consuming vast quantities of Rose wine, and Jenson stripping off to reveal an assortment of tattoos as he jumped into the adjacent blue – and chilly! - Mediterranean.
The evening ended with a speed boat race around the Golfe of Cap Ferrat with Paul Allen's vast 400 foot Octopus used as the finish line! Did I mention how much fun the Monaco Grand Prix Weekend is?!
Hope to see you here with the TACh Crew next year.
About Nicholas Frankl
Nicholas Frankl has attended more than 250 F1 Grand Prix in the past 30+ years (1st race age six weeks). He has been writing for The Auto Channel since it started in 1995/6. He managed the Asprey/Ferrari partnership from 1996-99 working closely with Todt, Irvine, Schumacher and Stefano Dominicalli. Visiting the Ferrari factory annually he has a deep insight into the inner workings of the team. He is also an three time Olympic sportsman, having qualified and driven a two-man & four-man bobsleigh in Lillehammer 1994, Nagano 1998 and Salt Lake City 2002 Winter Olympic Games. He has raced cars in the UK and USA, competed in the Cannonball, Gumball and Bullrun rallies, is a certified private pilot and member of both The Royal Automobile Club and Automobile Club of Monaco. Throughout his life he has visited the majority of F1 tracks and shared drinks and many fun times with many of yesterday's legends and todays hero's.
A Word from Nicholas:
So where does bobsleigh fit into this mix?
Well, that's me. Gilles Villeneuve I may never (unfortunately) be, but the next best thing (I'm told - and in fact can vouch for) is Formula One on ice. 1994 saw me competing as driver of the first Hungarian bob team in the Winter Olympics in Lillehammer, Norway, and then onto two more Olympic Winter games. Why am I telling you this? Well, if for no other reason than that you'll at least understand how I gain some insight into the sport we love. Strangely enough, the F1 boys have a real respect for their ice cousins; the speed, G' forces and exhilaration are quite similar. This, however, is only my "off season" hobby. The reason for this intro is to allow me to say HI, From here on I hope we'll become firm friends, as I follow the F1 circus around the world and you get to pick up all the details. Not just the results, but the gossip too and the first-hand natter you just don't get from the usual sources.
Thanks to my father, whose stories you'll also be reading, I've grown up in the world of motor sport and cars - in fact instead of a birth certificate, I think I was born with a pit pass. It's the sort of life that if you enjoy our sport is tough to beat, so I thought this would be a good way of sharing the fun.