Hyundai's 2016 Plug-In Hybrid. Fast, Frugal, and Sexy.
By Thom Cannell
Senior Editor
Michigan Bureau
The Auto Channel
With the drop in gas prices you'd think the bottom had fallen out of the hybrid market. Not so, particularly in hybrid heaven, California. There, plug-in hybrids (PHEVs)remain popular due to their frugality and their admittance to the sometimes-faster HOV (high occupancy) freeway lanes, Hybrids, the cousin to PHEV are a bit harder sell. Hyundai has both fuel sippers in their most popular sedan model, the Sonata PHEV and Sonata Hybrid. We tested both in their native land of SoCal, Huntington Beach, California, which is their US corporate hometown.
Each of the hybrids has a niche, the PHEVs a special place in all the zero emission states, but available for sale at any Hyundai dealer should you desire, while the hybrid is stocked at all dealers. The main separation between the two is battery size and how each is recharged. Plug-ins, as the name implies, are recharged from standard 120V electrical outlets or higher voltage stations offering sub-three hour recharge. Most homes have this capacity, only requiring a special outlet and charger. Hybrids are charged by the engine and both capture energy from braking—regeneration.
Hyundai's duo are distinctive in the Sonata family, offering a distinctive front grille and fascia and unique front lighting. The posteriors use aero rear bumpers and diffusers to eek out a few more meters per gallon, as do aero wheels that smooth air flow. Tail lamps also differ from other Sonata. Compared to the competitive set of Accord, Fusion, or Camry, Sonata has the slipperiest body at a drag coefficient of .24, equal to the somewhat pricier Tesla S.
Our first experience with the newer hybrids was driving the 2016 Sonata Plug In Hybrid along the crowded Pacific Coast Highway #1. We pushed the EV-only button, one of three modes, and began exploring the 24 miles of available electric-only range Hyundai said we could have. Of course, like any fuel economy number, EV range is affected by how briskly you accelerate. (Controlling e-motor torque is one of the most important and difficult engineering feats for any car maker; e-motors produce 100% of their torque at anything over zero RPM. How quickly the car is allowed to expend energy through acceleration directly affects range.)
Hyundai, unlike its plug-in competitors like Ford Fusion Energi and Accord PHEV, uses a standard 6-speed automatic transmission instead of a CVT (constant velocity transmission). So, in comparison the Sonata feels like any other car you've driven with an automatic.
Another thing we immediately noticed was how the regenerative brakes operated. Hyundai engineers provided torque charts and graphs. Forget that! What we felt was braking that, well, felt like brakes. Most other regenerative brake systems, even with gentle pressure, feel like you dropped a brick on the brake pedal.
To build their bodies, all 2016 Sonatas use greater quantities of High Strength Steel than ever, now 51% compared to last year's 21%. Like other manufacturers, the company uses HSS to increase crash resistance and displace crash energy. HSS, besides creating a safer passenger container increases stiffness and rigidity, which makes for a quieter, better handling automobile. Hyundai is so adept at engineering with HSS (they own their own steel company and steel engineers are co-located with chassis development engineers) that they have yet to use aluminum panels in their cars or CUVs.
In part due to chassis strength, we soon noticed how quiet the interior was, and, if you focused, you could hear the e-motor sound clearly. We also noted a very handsome interior, one with abundant comfort features at either of two trim levels. There's heated and air conditioned seats, sweeping wood accents, a clean center stack, easy-to-use controls. One difference between the hybrids and standard Sonata, there is no tachometer. It's replaced by an energy meter to show remaining State Of Charge, how quickly you're consuming battery power, and regenerative braking addition. A companion center-mounted information center can show greater detail, and if you want the complete electrical system information it's in the standard 8" navigation system menu.
As always, Hyundai packs value into its cars and one valuable change for 2016 is seen immediately after opening the trunk. It has the smallest behind-the-seat battery box, storing other battery capacity in the spare tire well. The trade off is a 14 gallon fuel tank and no spare tire. Competitors house their batteries in the trunk behind the seat. This difference gives Hyundai a 1.3 cubic foot, or more, storage capacity advantage. You'll see the difference when you open the trunk as the battery box is much further away, towards the back seat.
We tried a green light, foot-to-the-floor acceleration and it was brisk, but hardly thrilling. Reasonable or thrifty would be more accurate. What is lacking is the combined output of the Sport mode available on the Sonata Hybrid. So, the Plug-In delivers its 200 hp deliberately, but hardly creating a sports sedan sensation. Had we been driving in Normal mode such flagrant energy use would cause the engine to power up and deliver all 200 combined horsepower. We hope Hyundai will rethink, and offer all three modes in the PHEV version.
Powertrain modes for the PHEV Sonata are EV or battery only, Hybrid wherein the battery charge is maintained by the gasoline engine at highway speeds, and with a long press of the mode selection button, Battery Charge Mode, which also occurs at highway speeds.
Hyundai's 9.9kW, 360V lithium-ion battery is the largest in its segment, giving it a range estimated at 24 miles. A 2.0-liter Gasoline Direct Injected engine is coupled to a 50kW/67 HP e-motor, yielding a 202 hp combined rating. Unlike some with hybrid models, Hyundai has always focused on using the battery at any normal speed, and the PHEV will speed up to 75 mph in pure electric mode (Fusion Energi goes to 80) and its EPA rating should come in around 93 MPGe. Unlike others, Hyundai uses its 6-speed automatic, which is gear-selectable, to make the user experience more traditional.
With the extra battery weight, some offset by a smaller gas tank (a few less gallons for the Hybrid, a few-plus for the PHEV), chassis dynamics are different. Hyundai wisely placed most of the extra weight as near the rear axle as possible, which minimizes changes in handling. Despite a smaller fuel tank, Sonata PHEV has a 605 mile total driving range, more than its rivals by 35-55 miles. Recharge times are estimated at under 9 hours for a Level 1 charger (house current, the supplied charger) or under 3 hours with an extra-cost Level 2 charger (220/240V).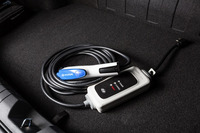 As with every maker, safety and comfort vie with under-hood technologies, they're the ones you'll touch every day. For safety, Hyundai is years ahead of requirements, incorporating virtual engine sounds at low speed for visually challenged (and texting) persons. Forward collision warning, automatic high beams, lane departure warning, blind spot detection, rear parking sensors, individual tire pressure warning, and cross traffic detection are part of the available packages. We are surprise that, as yet, automatic braking isn't offered.
For personal pleasure the front seats are ventilated, heated, and the steering wheel is heated. Navigation is standard, as is the Dimension audio system, which is quite good after a few tweaks. The upper trim level, Limited, adds the extra tech plus leather seats, HID Xenon headlamps, an Infinity audio system, and smart cruise control with full stop capability. Another feature, one we'll report on fully in another story, is the premier of Android Auto and Apple Car Play, along with enhanced Hyundai Blue Link features designed for the plug-in, like selecting charging times for cheaper power.
If you're in California, Oregon, or one of the ZEV states, Hyundai will have a car on the dealers' lots this fall. If you're elsewhere and want the often compelling value of gasoline-free commuting, you can order from any of 240 Hyundai dealers. No price is announced, but a look at the competition should offer clues.
The Most Hyundai Research Information Anywhere!