2016 Honda HR-V and More Power for the CR-Z Preview by Carey Russ +VIDEO
DRIVING DOWN THE ROAD WITH CAREY RUSS
• SEE ALSO: Honda Buyers Guide
It seems that cars get ever larger over time. As one example, the Honda Civic is now larger than the first generations of the Accord. Rather than downsize the Civic, Honda introduced the smaller Fit. On the crossover side, the once-small CR-V (based on the Civic platform) is now almost what used to be "midsize" in dimensions.
Crossovers, especially small, efficient ones, are immensely popular. So it should come as no surprise that there is a new compact Honda crossover. Welcome the 2016 HR-V. Unsurprisingly, it's based on the same platform as the Fit, but is a bit larger and wears unique bodywork.
At 169.1 inches in length, 69.8 in width, and 63.2 in height, sitting on a 102.8-inch wheelbase, the HR-V is larger than a Fit. It's about ten inches shorter, an inch narrower, and two inches lower than a CR-V, but only only three-tenths of an inch shorter in wheelbase. So interior space is not all that much less, 100.1 cubic feet for the LX or 96.1 for the sunroof-equipped EX and EX-L to the CR-V's 104.5 (LX) or 101.5 of its other models, also due to the sunroof. HR-V cargo capacity is 24.3 cubic feet behind the rear seat, or 58.8 with both sides of the rear seat down.
Power is from a 1.8-liter single overhead cam i-VTEC four-cylinder engine that produces 138 horsepower at 6500 rpm and 127 lb-ft of torque at 4300 rpm. That's bigger than the Fit's 1.5 liters and 130 hp and appropriately less than the CR-V's 2.4liters and 185 hp. Transmissions are a six-speed stick or CVT as the automatic choice. Front-wheel drive is standard, with Honda's Real-Time AWD all-wheel drive system optional, automatic only with that.
The HR-V may be small, but has the full suite of Honda safety design and equipment starting with the Advanced Compatibility Engineering™ (ACE™) front unibody structure engineered to absorb and disperse energy from a frontal collision. Four-channel antilock disc brakes also have Brake Assist and Hill Start Assist. Vehicle Stability Assist™ and traction control are also standard. As are an Expanded View driver's-side mirror (integrated convex section for a wider field of view), a multi-angle rearview camera, and a tire-pressure monitoring system. Airbags are dual-stage, dual-threshold front, SmartVent™ front side, and full-length side curtain. Honda is anticipating top safety ratings.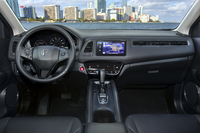 Trim levels are LX, EX, and EX-L, with all having power windows, mirrors, and locks, the rearview camera, alloy wheels, a tilt-and-telescope adjustable steering wheel with audio and cruise controls, and Bluetooth® connectivity and Pandora radio. A Fit-like Magic Seat rear seat, with a folding back or cushion, differentiates the HR-V from any and all competitors. Upscale amenities including a seven-inch touchscreen display, navigation and traffic, heated leather seating, and Honda's slick LaneWatch™ right-side camera will be available.
Honda says the HR-V combines the looks of a coupe with the utility and versatility of a crossover SUV. Yes, there is a noticeable drop to the roofline to the rear. But it's not as "coupelike" as some of the stranger crossover manifestations of recent years, and that should please rear-seat passengers and people who need to use as much cargo space as possible. The styling is angular and complex, but cohesive and athletic.
I had the opportunity for a quick look at and drive in an HR-V with the stick at a media event in Monterey, CA a few weeks ago. The embargo date for driving impressions is now past, so I can give some.
It's bigger than a Fit, noticeably taller, and initially felt a little soft. Which was partially due to its tall stance. Which also means a high eyepoint for good visibility, and if you're looking for something sporty in a Honda it's more likely to be a Civic Si, so no demerits to Honda. I adapted quickly, and after a few miles on mostly decently-paved secondary roads through the hills, it felt much more secure. Low- and mid-range power was good, and more than adequate for everyday use around town and on the highway. But in the Honda tradition the top end was where it really happened. Get the tach swinging toward the redline and there's more than a little Si hiding up front. Shifting went smoothly, with light clutch action. Suddenly the fun factor increases dramatically. And also the safety factor, as if you need speed to get out of trouble, it's there. Steering response and feel were good, and brakes were up to the demands of steep grades and tight corners. I can't say anything about fuel economy, but I would expect it to be among the best in the small crossover class.
The Honda HR-V goes on sale soon, and with its combination of good and versatile interior space on a small footprint and lively character looks to be a major player in the small crossover segment.
HPD CR-Z
And now for something different. After bringing the HR-V to the street driving portion of the event, Honda had a surprise for the track time. The CR-Z is a looker, and, with the stick it's even a bit of fun to drive. But with 130 horsepower and 140 lb-ft of torque from its 1.5-liter engine, assisted by an electric motor, performance is a bit underwhelming.
A few years ago I had an entertaining conversation with a Honda PR person regarding that. "A CR-Z with and Integra GS-R or even better Type R drivetrain sure would be fun…" said I. "But neither of those would pass current emissions requirements" was the reply. Which is true, but we can always dream. And resourceful tuners can build their own, it's just cubic money…
HPD is Honda Performance Development. The people who make the IndyCar engines, among other things. Some of those things being for the CR-Z.
The catch is that the HPD CR-Z performance and handling add-ons are not for new cars. You start with a 2011 to 2014 manual-transmission example as the CVT wouldn't stand up to the added torque. In fact the standard CVT CR-Z has noticeably less torque than the stick. And then the fun begins…
There may be no replacement for displacement, but forced induction does the same thing. Here, that's by means of supercharging. The result? For 2013-14 cars, 197 hp at 6250 rpm and 176 lb-ft of torque at 4850 rpm. For 2011-12 examples, 180 hp and 166 lb-ft, still a healthy increase. Cost? $5,495. Plus installation, recommended by a dealer versed in such. Included are a centrifugal supercharger, airbox, air-to-air intercooler, high-flow injectors, and a re-flash of the ECU. It's a bit more complex than the Judson kits for British sports cars back in the 1960s…
More power requires further work down the driveline, so add sport clutch for $640, a limited-slip differential for $1,375, and a performance exhaust system for $1,400. And since there's much more power, wheel, tire, and suspension upgrades would be a very good idea. Figure $1,550 for the suspension bits (lower by 10mm and stiffer with spring and shock rates appropriately matched), $1,280 for a set of 18-inch alloy wheels and another $1,050 or so for good sticky tires. And if you can go faster, it's also a good idea to be able to stop quicker. So pony up another $2,100 for the front brake kit -- four-piston aluminum calipers grabbing 300mm (11.8 inch) vented discs. There's also a rear diffuser for $400, the HPD emblem for $40, and sticker kit for $60, but those are cosmetic so you could save $500 and be a little less noticeable to the wrong people.
Yeah, it's like going into a sushi bar. Money can disappear quickly. But halfway down the pit lane, even before getting on to the track proper, I was in love.
The track was Mazda Raceway Laguna Seca (MRLS for short), which places a premium on cornering finesse, not raw power. There are no real straight sections of any length, and except for the newer section from Turn 2 through Turn 5, no level ground. The rise from 6 to the top of the hill is steep (italicize that word!) and then there's the famous drop over the lip of 8, The Corkscrew.
What works is strong midrange torque, and the HPD CR-Z had that. Gobs of that. Third gear most of the way around, with second only for the very tight Turn 11. Top-end power is all very good for bragging rights, but it's midrange torque that will get you places quickly. How did the brakes do? I was driving faster than I would have on the street, but still far from race pace. That takes practice and I don't get much of that. Still, no complaints about anything, and the HPD CR-Z was entertaining enough that I took it out a second time.
I checked fuel economy that time -- 11 mpg. Which, all things considered, is pretty good since most of that was heavy throttle up and down steep hills in third and second gears -- far from any highway fuel economy test regimen. I'd expect much better out on the street -- and there is nothing about this car that compromises it in the real world.
Now where's that winning lottery ticket?