2015 Chevrolet Trax Review +VIDEO By Steve Purdy
2015 Chevrolet Trax in Orlando
Review and Travel Report
By Steve Purdy
The Auto Channel
Michigan Bureau
It has been years since we've been to Orlando so my pretty wife hooked us up with a couple time-share condos (one in Kissimmee and another in Celebration) and Chevy offered a new Trax subcompact crossover so we can explore the area and report to you our impressions of both.
The Chevy Trax is a Korean-built, low-end, small people and cargo hauler that shares a platform with its more up-scale cousin Buick Encore and U.S. built Chevy Sonic subcompact sedan. It shares powertrains with both as well and it replaces the Chevy Captiva, a small CUV few people had even heard of.
We picked up our little Trax at the airport finding we could fit our big suitcase in the rear but would have to take the security panel out to get the second suitcase in. That one ended up in the rear seat with some other cargo. With the security panel removed the rear compartment holds 18.7 cubic-feet of cargo and with rear seat backs folded (they won't go flat) we have 48.4 cubic-feet. Both those measures are at the low end of vehicles in the class like the Kia Soul and Mitsubishi Outlander and Honda CR-V. The cloth interior on our base LS model is nice enough and while the seat adjustments are manual we did find a power lumbar support for the driver's seat.
Trax comes in three trim levels LS, LT and LTZ with a starting price of about $20,000 for the LS up to around $25,000 for the LTZ. The simple, plain design and styling will turn no heads but is quite attractive in our view. From the front it exhibits the easily recognizable Chevy single bar grille and halogen headlights lurk within large, sparkling housings. You'll have to look closely to notice our low-end test car has 16-inch stamped steel wheels with shinny, spoke-like wheel covers. The rest of the car's styling is unremarkable and may support those critics who moan that all cars look alike these days. That's more true from the rear view with this, and most other mainstream vehicles.
Our arrival in the late afternoon on a weekday meant that we would be at the mercy of urban rush hour Orlando traffic for the 15-mile journey to our first resort just off Highway 192 not far from the Disney complex. It took perhaps 45 minutes as my iPhone map program showed dotted red lines (indicating congestion) everywhere. The Trax does not have navigation but I've found that none of the in-car navigation systems can hold a candle to my iPhone's version.
As one who has not visited the area in so many years I'm amazed at the number of toll roads where tollbooths interrupt travel every few miles. Some of those toll roads turned out to be substantially less oppressive than alternative routes where traffic congealed too often. We paid about 5 bucks in tolls to go from Winter Park back to Kissimmee midweek and it took about 20 minutes. Taking I-4 would have been well over an hour.
The front-wheel drive (automatic all-wheel drive optional) Trax offers only one powertrain, a turbocharged, 138-horsepower, 1.4-liter EcoTec four-cylinder making 148 pound-feet of torque, mated to an undistinguished 6-speed automatic transmission. The car only weighs a tad over 3,000 pounds so the powertrain is adequate. Acceleration is nothing to brag about with a 0-to-60 time of a leisurely 9 seconds, but it feels like enough for normal driving, though accelerating full throttle to red line feels and sounds buzzy. If we were to load it with four big people and their cargo for a trip I expect it might be a bit underpowered, but for our purposes it was decent. The EPA rates the Trax at 26 mpg in the city, 34 on the highway and 29 mpg combined using regular unleaded fuel. With a 14-gallon fuel tank we can expect a range of around 400 miles.
Gauges and controls are easily understood and managed, for one reason because there are few of them. This is a simple, unadorned little car with a minimum of distractions, and that is OK. The design is unpretentious, to put it kindly, and materials are low end but decent. Everything fits well and works as intended. Standard entertainment includes 7-inch touch screen, AM/FM stereo with 6-speakers, satellite capable (starting with 3 months service) with auxiliary audio input and USB with external media control. We have no CD drive as those are becoming obsolete. We have three cubbies on the dash (glove box plus two) and thoughtful storage and functional details throughout.
Our basic Trax even has OnStar's 4G LTE WiFi that will allow the car to be its own hot spot. That would be welcome here at the Diamond Mystic Dunes Resort in Celebration (our second resort) where the provided WiFi is slower than the dial-up service I had in the early days of Internet use.
Trax is a fully modern little crossover with plenty of airbags (10 altogether), all the expected chassis dynamics (ABS, traction control, stability control, etc.) and other credentials like a NHTSA 5-Star Safety Rating and IIHS Top Safety Pick. A substantial amount of high strength steel went into the substructure to assist with its lightweighting.
Chevy's new car warranty covers the car for 3/36,000 and the powertrain for 5 years or 100,000 miles. The two years of free scheduled maintenance applies this year but GM is dropping that perk for 2016.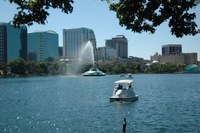 Our first resort was a quiet one away from the din and bustle of the theme parks but not far off Highway 192, the main east-west thoroughfare servicing Disney. Our plan is not to spend long days and hundreds of dollars at the parks, rather we just want to explore the area and perhaps find some of the lesser-known charms. We visited downtown Orlando where the thriving business center borders beautiful Eola Lake where we walked the park path surrounding the lake enjoying the black and white swans, a large fountain, outdoor sculptures and lovely views. It happened to be St. Patrick's Day and while looking for an Irish pub for corned beef and cabbage we found, instead, a half dozen bar/restaurants between Magnolia and Orange Streets already filled to overflowing with boisterous, energetic young revelers – too loud and too packed to eat there.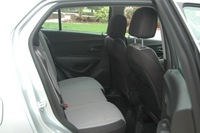 We took another short drive a few days later to nearby Winter Park where we finally found a true Irish Pub amid more congestion. That town, if we can call it that, was hosting a huge, popular art festival. Winter Park was a thriving up-scale town before the Disney era began but is now a part of Orlando's virtually endless sprawl. We had back seat passengers on this jaunt and they thought the Trax's rear quite comfortable. A third person would make for a rather tight squeeze though.
We were disappointed not to find more evidence of Florida's huge fruit and vegetable growing industry. We looked all week for a good roadside produce stand finally finding two, both with limited inventory and unimpressive quality. Perhaps March is not a good season for the local produce.
While we discovered a few things to do in the Orlando area other than the theme parks and family attractions they are few and hard to find. We found no local culture in terms of food, entertainment or art but it was wonderful to bask in the sunshine and warmth of central Florida.
The Trax was a fine little car for our purposes. If we were renting it would certainly be inexpensive and a decent size for a small family, if they were able to pack efficiently. As an urban transport it will excel in ease of parking and overall efficiency while looking reasonably stylish. It will also have a price advantage over most. In this segment of the market there are many great little crossovers competing for your attention.