2015 Subaru Outback 3.6R Limited Review by Carey Russ +VIDEO
Affordable alternative to expensive luxury crossovers
DRIVING DOWN THE ROAD WITH CAREY RUSS
• SEE ALSO: Subaru Buyers Guide
Twenty years ago, the Subaru Outback, "the world's first sport-utility wagon, mate", was an instant success as it offered the SUV style people wanted in a smaller, more economical, and more comfortable package than the truck-based SUVs of the time. It wasn't the first-ever "crossover" combination of car comfort and refinement with AWD ability and clearance -- that honor goes to the AMC Eagle made from 1979 through 1988, and the Toyota RAV4 debuted around the same time as the Outback -- but the timing was right. So was the idea -- crossovers soon appeared from nearly all other manufacturers, and unibody construction eventually became the standard even for many a large "SUV" of truck lineage.
Fast forward to 2015. There's a new generation of Subaru Legacy, which means a new Outback. The 2015 Outback may look, at a quick glance, like a restyle of the 2014 model, with a new grille and other stylistic differences. Like the Legacy, the new Outback looks bigger, but really isn't -- outside. Inside there is a bit more room, to the tune of about 2.5 cubic feet, but an interior redesign makes it seem like more. The restyle improves aerodynamic efficiency, which improves fuel economy a bit. As does electrically-assisted power steering. A wide-range continuously-variable transmission (CVT) improves that even more. Active Torque Vectoring, utilizing the Vehicle Dynamics Control (stability control) system, improves cornering behavior. A rear-view camera is standard in all models, and all of the current electronic safety and convenience gadgets and features are offered for higher trim levels.
As before, four- and six-cylinder engines are available. Both are of Subaru's horizontally-opposed "boxer" design, for compact size, a low center of gravity, and smooth operation. The four has been re-engineered for lighter weight, greater efficiency, and quieter operation, while the six is mostly unchanged. The 2.5i may be at the low end of the range, but it's far from a no-frills vehicle and has many significant changes and enhancements. The 2.5i Premium adds alloy wheels and multiple interior upgrades, plus available options including the EyeSight® driver assistance system, rear vehicle detection with cross-traffic alert, and a navigation system. The 2.5i Limited gets 18-inch alloy wheels, enough interior upgrading to put it nearly into the entry-luxury class, and the rear- and cross-traffic detection as standard equipment, plus the Premium options. Top of the range is the six-cylinder 3.6R, offered only in Limited trim.
And that has been my test car for the past week. Coming shortly after a Legacy 2.5i Premium sedan, it not only gave me a good look at the newest Outback, but a comparison between the four- and six-cylinder drivetrains as well. First, at Limited level, the Outback has a hefty $36,040 bottom line on the window sticker. Well, it seems high -- until you look at an equivalent all-wheel drive German wagon or crossover. The Outback 3.6R Limited has nearly everything they have except the name and price tag. It has more ground clearance -- 8.7 inches -- than many a "real" SUV just in case you might want to take it to the Outback, or at least a forest trail, and still has the ride comfort and nimble handling of a Subaru. No, it's not as quick as a WRX, but it's far more refined. The six had noticeably better acceleration, especially at highway speeds, than the four, with surprisingly good fuel economy. I got a 25 mpg average for the week. Admittedly I did a bit more highway travel than usual, but that was at real highway speeds. No complaint. Luxury comfort without luxury price, plus all-wheel drive all-weather and most sane terrain capability? Must be a Subaru.
APPEARANCE: As is the case with the Legacy on which is it based, the 2015 Outback is instantly recognizable as a Subaru, and looks to be little more than a restyle of the previous generation. The shape is a bit more chiseled, the base of the windshield has been moved forward so the windshield is less upright, and a larger, hexagonal grille is a nod to today's oversized grille fad. Roof rails are still a useful addition to the top, but there is less lower cladding than ever -- and it morphs into a partial undertray that is far more for aero efficiency than rock-bashing. Even with well over eight inches of clearance, the Outback doesn't look out of proportion.
COMFORT: Interior styling is conservative, more European than Asian with simple shapes, good ergonomics, and high-quality materials. Seating here is leather, with perforated center sections and heatable cushions front and outboard rear. Front seats are both power-adjustable. The leather-rimmed steering wheel is manually-adjustable for both tilt and reach, and has audio, cruise, and driver information controls on the front of the horizontal spokes, with shift paddles to the rear. Upper instrument panel and door surfaces are dark, soft-touch, textured anti-glare material. Differences between this and a high-dollar German? Trim is "woodgrain" not wood, but much more convincing than previous Subaru metalflake woodgrain. And the matte-silver trim around vents and instruments is plastic, not aluminum. It looks good and is just as functional as "real" wood (encased in plastic resin) and metal. Seat comfort is very good, and instruments and controls are logically arrayed and simple to use -- even the center touchscreen interface for navigation, information, phone and Bluetooth phone apps. The dual-zone climate control system uses standard knobs and buttons, not the touchscreen. Useful storage spaces abound, and there are drink bottle holders in all doors. Rear seat space is very good, especially legroom. The central tunnel is not too high, so the center position is a better place than in many cars. The rear seatback folds 60/40 for cargo duty, and a rubber mat over the cargo area and a cargo shade are useful. As is the power tailgate.
SAFETY: All 2015 Outbacks have a rearview camera, now closer to the center of the car for better imaging. All now have Welcome Lighting, which automatically turns cabin and exterior lighting on as the driver approaches or leaves the car. Front seat cushion airbags have been added to an already full complement of airbags including side curtain bags that can be deployed if the rollover sensors deem it necessary. A rear blind-spot and cross-traffic detection system is now available in the Premium and standard in Limited models.
RIDE AND HANDLING: Subaru figured out how to combine excellent ground clearance and good handling long ago and has refined that combination ever since. Unibody rigidity and the low center of gravity of the boxer engine are the key factors. Suspension is still fully-independent by means of MacPherson struts in front and a double-wishbone system in the rear, but geometry and spring and damper rates have been changed for better responsiveness with no loss of comfort. Electrically-assisted steering, done properly so it feels natural, not numb, also improves the driving experience. As does lessened road, wind, and mechanical noise courtesy of improved soundproofing and details like liquid-filled engine mounts. Active Torque Vectoring basically means that the Vehicle Dynamic Control (VDC) stability and traction control system applies brake pressure to the inside front wheel when the driver brakes into a corner, facilitating turn-in and reducing understeer for a more natural feel to the car's handling. Strong four-wheel vented disc brakes, with twin-piston calipers in front further add to the driving experience and safety. Unlike many competitors, which are normally front-wheel drive with torque to the rear when a computer system deems it necessary, Subaru's AWD system is full-time so there is no lag waiting for needed traction or any change in handling characteristics.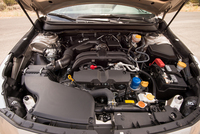 PERFORMANCE: Why a larger and likely heavier six-cylinder for the Legacy and Outback's premium offering instead of the 2.0-liter four-cylinder turbo from the WRX or Forester XT? Power and torque are broadly equivalent -- 256 horsepower (at 6000 rpm) and 247 lb-ft of torque (at 4400 rpm) for the six and 250 hp and 258 lb-ft in Forester trim or 268 hp and 258 lb-ft in the WRX. Subaru's turbo four has a distinctive character and exhaust note that are perfect for the sportier models, but not much so for the more upscale character of the premium Outback. Or Legacy. Hence the six. It's unchanged from last year, but did get significant upgrades in 2011, for more power and torque, with a better torque curve. And it runs on unleaded regular, not the premium required by a turbo. The old automatic worked well enough, but no matter how smooth an automatic may shift, a shiftless Lineartronic CVT is always smoother. Subaru's is one of the best available, with acceleration on demand, no waiting for an overly-high ratio to slowly change. There is a six-speed "manual" mode, all software. Amusing but not really necessary. EPA fuel economy estimates are 20 mpg city, 27 highway. With a couple hundred more miles of highway driving than I usually do in a week, I got 27 overall -- not bad at all for a 3800-pound AWD crossover and far better than any SUV.
CONCLUSIONS: The 2015 Subaru Outback in premium 3.6R Limited trim is a fine alternative to a luxury crossover.
SPECIFICATIONS
2015 Subaru Outback 3.6R Limited
Base Price $ 32,995
Price As Tested $ 36,040
Engine Type DOHC aluminum alloy horizontally-opposed 6-cylinder with variable cam phasing
Engine Size 3.2 liters / 221 cu. in.
Horsepower 256 @ 6000 rpm
Torque (lb-ft) 247 @ 4400 rpm
Transmission CVT
Wheelbase / Length 108.1 in. / 189.6 in.
Curb Weight 3810 lbs.
Pounds Per Horsepower 14.9
Fuel Capacity 18.5 gal.
Fuel Requirement 87 octane unleaded regular gasoline
Tires 225/60R18 100H m+s Bridgestone Dueler Sport AS
Brakes, front/rear vented disc all around, ABS, EBD, BA standard
Suspension, front/rear independent MacPherson strut / independent double wishbone
Ground Clearance 8.7 inches
Drivetrain longitudinal front engine, full-time all-wheel drive
PERFORMANCE
EPA Fuel Economy - miles per gallon city / highway / observed 20 / 27 / 25
0 to 60 mph 7.5 sec (est)
Towing capacity 3000 pounds
OPTIONS AND CHARGES
Moonroof Package with push-button start, keyless access, navigation $ 2,195
Destination & Delivery $ 850