2015 Chevrolet Colorado Crew Cab Short Box Z71 4x4 Review by Carey Russ +VIDEO
The 2015 Chevy Colorado fills a useful right-sized niche
DRIVING DOWN THE ROAD WITH CAREY RUSS
• SEE ALSO: Chevrolet Buyers Guide
Is there a vehicle as adaptable and useful as a pickup truck? A genre that was once predominantly for work gained acceptance for personal use, even modestly upscale personal use, during the great truck boom of the 1990s, and still fits the needs and desires of many people today. During the Nineties, pickups went from bare-bones work trucks to full-boat luxury with all of the comforts and amenities of entry- to mid-level luxury sedans. If the pickup market isn't as trendy now as then, it's still there. And Chevrolet has something for it in its all-new 2015 Colorado lineup.
As is the custom with pickups, there are Colorado trim levels for fleet sales to near-luxury conveyance. Base is that, followed by WT -- as in Work Truck -- with LT for the budget-minded personal truck owner and offroad-oriented Z71 for those who want all the luxuries, anywhere. Hey, you can't tow 7,000 pounds with a luxury sedan. Body styles are extended and crew cab. Extended-cab models have a 6-foot, two-inch cargo box; crew cabs cab have either that or a five-foot, two-inch short box.
The standard engine is a 2.5-liter inline four-cylinder with 200 horsepower and 191 lb-ft of torque. Need or want more? That would be the 3.6-liter V6, 305 hp and 269 lb-ft. Both use contemporary engineering to make maximum power with maximum efficiency. A six-speed manual transmission is available lower in the line, but most Colorados will be fitted with the HydraMatic 6L50 six-speed automatic.
Many of the truck-based SUVs of the past may have morphed into unibody crossovers, cars in size XXL really, but not pickups. Body-on-frame construction still is best when ruggedness is a necessity, or when serious towing is part of the use plan. And the Colorado can tow -- standard rating for both four-cylinder and V6 drivetrains is 3500 pounds. Which means dirtbikes, ATVs, personal watercraft, small race car, small camping trailer, and more. More? Get the towing package with the V6 and the rating increases to 7000 pounds, once big pickup territory.
Speaking of big… the new Colorado is not your old S-10. With no frame of reference, it looks like a Silverado. It's not quite that big, but, in the form of my crew-cab 4x4 Z71 test truck, it handily out-sizes the last S-10 in my records. Bigger means more room, inside especially, and it's not so huge as to be challenging to navigate. It may look like a Silverado, but the Colorado is still significantly smaller.
Original introduction of the 2015 Chevy Colorado at the Los Angeles Auto Show
My test truck was a top-of-the-line model, with real dual-range four-wheel drive, as much room inside as many a mid-size sedan, far more "trunk" space and mostly just as comfortable a sedan. Its V6 engine has as much horsepower as many an older V8, and, with a 19-mpg average for a week with only moderate highway driving, it's less thirsty. With all of the contemporary audio choices and available wi-fi hot spot ability (through OnStar), this is a fine example of a personal-use truck that can also get dirty and haul all the toys just about anywhere.
APPEARANCE: The face is familiar. There is no doubt that the Colorado is a pickup, and a Chevrolet pickup at that. The sculpted hood, wide grille, and prominent front bumper define it, even ignoring the bowtie logo in the center of the grille. The short cargo box seems small on a full four-door crew cab truck, but shorter is easier to maneuver in tight spots. Z71 4x4 models get a more off-road oriented setup, and the cab sits high. Step running boards could help access here, but they'll be the first things to go crunch off road.
COMFORT: It's a good ways up to or down from the Z71, but once ensconced you'll be as comfortable as inside any similarly-sized sedan. With a more upright seating position and higher eye-point for good visibility. Also helping visibility, a backup camera is standard in all models, even the base. As are power windows, air conditioning, a six-speaker audio system with USB port(s), and other amenities. Here, it's upper middle class in appointment with heated leatherette and cloth front bucket seats (power cushions and cushion height adjustment for both, plus multi-level heat in both cushion and back), a leather-rimmed steering wheel (tilt only), and plenty of convenient storage spaces and cup and water bottle holders.
Instrumentation is complete and easily read, and all important controls are lit at night. A touchscreen in the center of the dash controls the various electronic systems, including audio, phone, navigation, OnStar and weather (subscription required) and Pandora streaming audio. Hard buttons below make control fairly simple. The dual-zone climate system is controlled simply, by standard knobs and buttons. Audio choices are AM, FM, and XM radio and external players via USB or jack. The rear seat is comparable to that of a mid-midsize sedan. Access is easy thanks to the full-size rear doors (just watch the step). Here, there are two USB port and a power point at the rear of the console. The seatback folds 60/40 for cargo duty -- and the seat cushions lift for access to small storage areas below. Bed length is an important decision for pickup buyers. If you're the type to put a shell on and use the truck for shelter when camping (guilty), five-two won't work. But that has to be balanced against length… and 5-2 can hold plenty, especially damp or dirty sports equipment that you really don't want to share a cabin with. Or have evidence of linger in the trunk. A full-size spare tire on a steel wheel is found under the bed, no dubious sealant kit here thank you very much! The "CornerStep" rear bumper with integrated steps makes access to the bed easier, and there are multiple tie-down points.
SAFETY: The 2015 Chevrolet Colorado has all of the required and expected safety equipment, including front, front side, and full-length side curtain airbags, and StabiliTrak electronic stability control with rollover mitigation, trailer sway control, hill start assist, and hill descent control. All models have large external mirrors and a standard backup camera. Electronic systems including Forward Collision Alert and Lane Departure Warning are available in some models.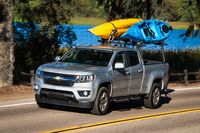 RIDE AND HANDLING: It's a truck, but on smooth pavement you might not notice. The independent front, solid-axle rear suspension is moderately firm and very well-behaved for what it is. Over highway expansion joints, ruts, and potholes the unsprung mass of the rear axle assembly is noticeable, but that's part of a truck's nature. Large tires and good seats are your friends there. Triple-sealed doors, attention to aerodynamic details (the plastic cladding under the front is more aero than skid plate), and good soundproofing keep the interior quiet, for long-distance comfort. The electrically-assisted power steering is responsive and not numb. Four-wheel disc brakes ensure good stopping.
PERFORMANCE: With 302 horsepower (at 6800 rpm) and 269 lb-ft of torque (at 4000 rpm), the Colorado's 3.6-liter V6 makes as much horsepower as larger V8s of the past, if less torque. Don't look for cast iron and pushrods, it, and the 2.5-liter four, use lightweight aluminum alloy for the block and heads, dual overhead camshafts with variable phasing, four valves per cylinder, and direct fuel injection for power with efficiency. Compression ratios are high -- 11.3:1 for the four and 11.5:1 for the V6 -- to maximize power extracted from fuel, and despite that the recommended fuel is unleaded regular, not premium. The six-speed automatic transmission works well, with fast, smooth shifts. Acceleration is not a problem, with 0-60 in around seven seconds. Thirst? At around 4400 pounds, this is no lightweight. EPA estimates are 17 mpg city and 24 highway. In a week of mostly city and secondary road driving I got 19. That was in 2hi, as I had no reason to try the offroad-oriented 4x4 system. With 4hi and 4low, accessed by a knob on the dash, it's far more versatile than a crossover AWD system. 4WD is not just for inclement weather and dirt -- it's also useful on slippery boat ramps, and the Colorado can tow a good-sized boat.
CONCLUSIONS: As full-size pickups have gotten supersized, the 2015 Chevy Colorado fills a useful right-sized niche.
SPECIFICATIONS
2015 Chevrolet Colorado Crew Cab Short-Box Z71 4x4
Base Price $ 34,115
Price As Tested $ 36,190
Engine Type aluminum alloy DOHC 24-valve V6 with variable cam phasing and direct fuel injection
Engine Size 3.6 liters / 217 cu. in.
Horsepower 305 @ 6800 rpm
Torque (lb-ft) 269 @ 4000 rpm
Transmission 6-speed automatic
Wheelbase / Length 128.3 in. / 212.7 in.
Curb Weight 4380 lbs.
Pounds Per Horsepower 14.4
Fuel Capacity 21 gal.
Fuel Requirement 87 octane unleaded regular gasoline
Tires 255/65R17 Goodyear Wrangler m+s
Brakes, front/rear vented disc / disc, ABS ***
Suspension, front/rear independent with coil-over shocks / solid axle with two-stage leaf springs
Ground Clearance 8.1 inches
Drivetrain front engine, part-time dual-range four-wheel drive
PERFORMANCE
EPA Fuel Economy - miles per gallon city / highway / observed 17 / 24 / 19
0 to 60 mph est 7 sec
Maximum Payload 1590 lbs.
Towing Capacity 3500 lbs. 7000 with trailering package
OPTIONS AND CHARGES
Bed Protection Package $ 950
Trailering Equipment $ 250
Destination Charge $ 875