2015 Toyota Yaris SE Review by Carey Russ +VIDEO
The 2015 Toyota Yaris SE emphasizes the fun in function, and features a much-improved interior
DRIVING DOWN THE ROAD WITH CAREY RUSS
• SEE ALSO: Toyota Buyers Guide
Say "bonjour" to Toyota's newest Yaris. To best give the driving experience of a small European car, Toyota sourced its latest offering for the US subcompact market accordingly -- this Yaris est constriut en France. A Japanese-branded car made in France and sold in the North American market? Welcome to the 21st Century.
If the 2015 Yaris looks like a restyle of the second-generation model, it's more than that. Its unibody structure is upgraded, and the suspension revised to take advantage of that. More importantly, the interior has been redesigned -- no more cheap-looking plastics, and much-improved seats. It's marginally larger outside, but not enough so to impede easy parking and maneuverability, and there is a bit more room inside as well.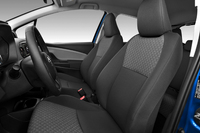 As with the previous generation, the 2015 Yaris is offered in both three- and five-door hatchback body styles. Power is about all that is unchanged, the familiar 106-horsepower four-cylinder engine driving the front wheels through either a five-speed manual or four-speed automatic transmission. Grades (trim levels for Toyota) are basic L, core-model LE, and sporty SE, with the L and LE offered in three- or five-door form and the SE five-door only (hatch counts as a door) only. Want a stick? Your choice there is either the most basic L three-door or the SE. If that seems strange, consider that there are two sorts of people looking for an inexpensive small cars -- those to whom price matters more than anything else, and those who are looking for something that while being practical and easy on the budget also provides some fun in the driving experience. A bare-bones L three-door can satisfy the first, and the SE is aimed at the second.
After a quick preview a few months ago, I was able to spend the past week with a well-equipped SE. I had hoped for a stick, but alas had to settle for the automatic. Which turned out to be a non-issue given the engine's good torque. Add good steering and a lovely suspension setup, and it was an enjoyable car on the backroads. Good low-end acceleration and excellent maneuverability and brakes plus small size made city traffic and parking a snap. Highway merging often meant pedal to the metal, but the little Yaris responded well enough there. As the old saying goes, it's more fun to drive a slow car fast than it is to drive a fast car slow… Fuel economy, at 30 mpg for the week, probably suffered from that -- EPA ratings are 30 city, 36 highway, and 32 overall -- but as little as possible was highway droning. It'll make a fine commute module, but it's much better than merely that. Although small, the five-door hatchback body style makes the most of the interior space, especially for both passenger and cargo accessibility. Add the sporty handling and attitude, high level of standard features in all models -- even the L has air conditioning, AM/FM/CD/auxiliary jack and USB/iPod/Bluetooth phone and streaming audio choices, power windows and locks, driver's seat height adjustment, and really everything except cruise control -- the the newest Toyota Yaris is a fine combination of fun and function on a low budget.
APPEARANCE: It's more evolutionary than revolutionary, and incorporates the latest in Toyota design language. But the newest Yaris makes its predecessor look almost as round and boring as that car did to the original. The shape is familiar, if better-defined and more toned thanks to strategically-placed character lines on the hood and sides and interesting front styling. A vee-shaped false grille connects the headlamps, which in the SE have integral LED running lights. That also incorporates the bulbous-nosed Toyota logo, and intersects with the large, rounded real grille. Which differs in detail depending on grade, with the L trimmed in flat black, the LE with chrome, and the SE in gloss "piano" black. LE and SE versions get foglamps in the faux brake ducts to the sides of the grille, and all have a slight "splitter" look to the bottom of the front fascia and more underside cladding that expected -- all the better for aerodynamic efficiency, and an ever so slight improvement in highway mileage. The SE gets a visor-type spoiler over its rounded hatch -- the window of which features a heat element and wiper. The car looks more French than Japanese -- both are known for charmingly oddball styling, so perhaps there is a good synergy here.
COMFORT: Inside seems French as well, especially at the top of the line. No, it's not the living-room armchair opulence of an old Citroen, but it's far beyond any previous Yaris in comfort, style, and materials. The SE gets upgraded seating material, a grippy cloth that should be comfortable year-round. Leather is used for the steering wheel rim and shift knob. The wheel is tilt-adjustable only, but is at a reasonable distance from the driver. Front seat comfort is very good considering the modest price, and even the L has a height-adjustable driver's seat cushion. Visibility is good, even to the rear and rear quarters -- good as there is no backup camera. The instruments are shielded from glare, and the fuel gauge holds position when the ignition is off, making a quick check easy. There is some glare from the large, well-sloped windshield. The audio system works via a touchscreen in the center of the instrument panel, convenient for both driver or front passenger. A relatively small interior volume means quick heating on cold days, and presumably cooling when it's hot. A flat rear floor helps rear space and comfort, but the center position is best for small people and short times. There are useful storage spaces around the cabin, and the 60/40 split folding rear seatback, four doors, and hatch add versatility. There is a space-saver spare tire under the rear load floor.
SAFETY: Small is safe. All 2015 Yaris models have nine airbags, dual-stage front, seat-mounted front side, a driver's knee bag, and roll-sensing upper side bags front and rear. As in all current Toyotas, the Star Safety System™, incorporating Vehicle Stability Control (VSC), (switchable) traction control, and antilock brakes with electronic brake-force distribution (EBD) and brake assist is standard. So is Smart Stop Technology, Toyota's brake-override system. Toyota's Advanced Whiplash Injury-Lessening System (WIL) is incorporated into the front seat structures to further reduce injury.
RIDE AND HANDLING: An increased number of spot welds and other enhancements to the Yaris's unibody structure increase rigidity, while additional sound insulation decreases interior noise levels. Weight has been decreased as well, and with a claimed curb weight of 2335 for the SE automatic, the 2015 Yaris is one of the lightest cars today. Which is all the better for responsive handling. Yes, the suspension is class-standard MacPherson struts in front, with a torsion beam axle in the rear. Attention to detail makes the difference, and the suspension engineers were given the budget to do it right. Ride quality is firm and sporty, with no harshness, and the electrically-assisted steering transmits information from the road and tires. Other models get rear drum brakes; the SE gets discs all around for improved stopping ability. It's fun to drive but not demanding.
PERFORMANCE: If, with maxima of 106 horsepower (at 6000 rpm) and 103 lb-ft of torque (at 4200 rpm), the Yaris seems, on paper, underpowered, it only weighs around 2300 pounds. Therein lies the secret to both zippy performance and good fuel economy -- less weight requires less power to move, and less power requires less fuel. The engine is a standard Toyota design, aluminum alloy block and head with dual overhead cams, four valves per cylinder, and VVT-i variable valve control for optimum power delivery and efficiency. A four-speed automatic is a bit anachronistic today, but it's lightweight and inexpensive and that counts in this class. Because the engine has great low- and mid-range toque characteristics, four speeds are enough. Acceleration is about what is expected, 0-60 in around 9 seconds. I sampled manual shifting (the old-fashioned way, with the shift lever, no paddles here) on an appropriately tight and steep road -- mostly third, second for the hairpins -- but found that D worked nearly as well. And far better than an economy-minded CVT as found in some competitors. If my 30 mpg for the week seems poor, little of that time was spent on the highway and much of was with the throttle used enthusiastically.
CONCLUSIONS: The 2015 Toyota Yaris SE emphasizes the fun in function, and features a much-improved interior.
SPECIFICATIONS
2015 Toyota Yaris SE 5-Door
Base Price $ 17,620
Price As Tested $ 19,524
Engine Type aluminum alloy DOHC 16-valve inline 4-cylinder with VVT-i variable valve lift and cam phasing
Engine Size 1.5 liters / 91 cu. in.
Horsepower 106 @ 6000 rpm
Torque (lb-ft) 103 @ 4200 rpm
Transmission 4-speed automatic
Wheelbase / Length 98.8 in. / 155.5 in.
Curb Weight 2335 lbs.
Pounds Per Horsepower 22.0
Fuel Capacity 11.1 gal.
Fuel Requirement 87 octane unleaded regular gasoline
Tires P195/50 R15 83V Bridgestone Turanza EL400
Brakes, front/rear vented disc / solid disc, ABS standard
Suspension, front/rear independent MacPherson strut / torsion beam axle
Drivetrain transverse front engine, front-wheel drive
PERFORMANCE
EPA Fuel Economy - miles per gallon city / highway / observed 30 / 36 / 30
0 to 60 mph est 9 sec
OPTIONS AND CHARGES
Carpet Floor and Cargo Mats $ 180
Navigation Upgrade $ 899
Delivery Charge $ 825