2015 Buick Verano Turbo Review by Carey Russ +VIDEO
With cars like the Verano Turbo, it's easy to see why Buick survived
DRIVING DOWN THE ROAD WITH CAREY RUSS
• SEE ALSO: Buick Buyers Guide
If General Motors had built cars like the 2015 Buick Verano Turbo even ten years ago, it would have had far fewer problems over the past decade. The Verano is the best small Buick yet, and comes closest to the entry-luxury imports.
Which should be no surprise. The Verano is meant to attract new customers to Buick, and especially younger people who would have otherwise looked at imports. "Younger" here meaning truly younger, as in 20s through 40s, not the 40s or 50s of the past when all too many then-current Buick customers were unlikely to ever buy another car… To that end, the Verano is the first small Buick since the unlamented Skylark of the Nineties, and is the closest in feel to its competitors -- especially the Acura ILX, Audi A3, and Lexus IS. It's built in Michigan, but the chassis tuning is very little changed from its German cousin Opel Astra.
Introduced for model year 2012, the Verano originally used the 2.4-liter, 180-horsepower "Ecotec" twincam four-cylinder engine for power, driving the front wheels through a six-speed automatic transmission. From 2013 on, more power was offered in the form of the 2.0-liter turbocharged variant of the Ecotec family, here with 250 hp and 260 lb-ft of torque -- comparable to the 240 hp and 280 lb-ft extracted from late versions of Buick's supercharged iron-block pushrod 3.8-liter V6 nearly twenty years ago but with far less weight and improved fuel economy. For those who wanted more sport, a six-speed manual gearbox was (and is) offered in place of the six-speed automatic.
Changes since then have been evolutionary and incremental. Model year 2015 sees the usual minor trim and option changes. More relevant to today's busy lives, 4G wifi hotspot connectivity is now standard (free 3-month/3GB trial with the option to purchase more later). Trim levels are standard, Convenience, Leather, and Turbo. All get a backup camera; at Convenience and above, blind-spot monitoring with rear cross-traffic alert is standard, with other electronic safety technologies available.
I recently spent a week with a well-equipped Turbo and was very pleasantly surprised. It was the automatic, which worked very well with the engine, and I doubt that the stick would have been any better. As impressive as the drivetrain was, the suspension was even better. I've driven European and Japanese near-luxury sedans that weren't as good. The Verano Turbo was comfortable but far from numb. The driver's seat seemed a bit soft initially, which can be a sign that a few hours down the road life could get painful. After two and a half hours of mixed highway and mountain road travel, I didn't want to get out. Fuel economy? Seemed okay at first, low 20s around town and with short highway sections. After the longer trip and its return the average was up to 28 mpg -- and the roads in question were far from flat and straight. Combine that with a convenient size and good interior space for the exterior size, and the Buick Verano is worth consideration, even if you still think a Buick is what your late uncle drove.
APPEARANCE: It's a Buick, readily identified by the large waterfall grille. The Verano is commendably compact in size, with simple lines giving strong shoulders and wheel arches. Proportions are standard for a compact sedan, with the passenger cabin the dominant mass, followed by the short hood allowed by a transversely-mounted engine, and a high, short trunk. Projector-beam headlights flank the grille, with the auxiliary intake and foglamps below. Bright chrome trim around the windows and on the door handles gives a luxury touch, more understated European than vintage chrome-jukebox American. At the rear, chrome brows over the taillights are the most visually interesting feature. A small spoiler hints at performance. Interestingly, the license plate mounting areas are much longer than American Standard -- more European influence. And Chinese sales.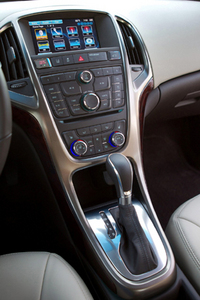 COMFORT: Inside, the Verano has the same international flavor as outside. Its inner Opel is not hidden too deeply, but the materials are upgraded. Turbo means leather seating, steering wheel rim, and shift knob, heated front seats with the driver's power-adjustable, dual-zone climate control, pushbutton start/stop, and most other contemporary conveniences. Soft-touch materials and aluminum trim add ambiance. The main gauges are backlit in restful blue, with a useful information display between. The center stack is home to a large touchscreen for the audio and navigation systems, with hard buttons for most important controls. Audio choices are "all of the above" - AM, FM, and XM radio, CD (all common formats),jack and USB, and streaming via Bluetooth and your phone. Front seat comfort is very good, as is visibility. The rear seat can comfortably hold at least two adults, and has a 60/40 split folding back for cargo versatility. The trunk is large enough that that should rarely be a necessity (I did manage to get a bicycle in, front wheel removed, no difficulty but no back seat passengers). A space-saver spare tire is found under the trunk floor.
SAFETY: The Buick Verano has been given a "Top Safety Pick" rating by the Insurance Institute for Highway Safety (IIHS). High-strength steel is used in 60 percent of its unibody structure, for strength and lightness and protection of the passenger cabin. There are ten standard airbags: dual front, front and rear outboard seat-mounted side, full-length head-curtain, and driver and front passenger knee. Detachable pedals further protect the driver in the event of a frontal collision. Four-wheel antilock disc brakes and the Stabilitrak electronic stability enhancement system ensure good stopping ability and control.
RIDE AND HANDLING: On the road, this is no Skylark. And that is a major plus in the Verano's favor. If the suspension specification sounds, on paper, to be basic low-budget compact with MacPherson struts in front and a torsion beam axle on the rear, paper (or pixels) only tells so much. Details and development make a difference, and it seems that Buick's suspension engineers were given a proper budget for materials and testing. Proper choice of spring and damping rates, and good bushings, means a supple, comfortable ride quality in the best European luxury sport-touring manner -- and it's well-behaved and enjoyable when the road gets interesting. Despite the 45-profile tires, there is no thumpiness on bad pavement. Proper use of soundproofing materials means that the interior is quiet but not isolated from the road. It compares well to any car in its class.
PERFORMANCE: A proper luxury car engine is smooth, quiet, and unobtrusive. The 2.0-liter Ecotec turbo qualifies here. Yes, pedal-to-the-metal it makes its presence known, as do pretty much all engines. A contemporary design with aluminum alloy block and head, dual overhead cams and 16 valves with variable phasing for both the intake and exhaust, it uses direct fuel injection for optimum performance and efficiency. Its 250 horsepower is developed at 5300 rpm; the 260 lb-ft torque peak is at 2000 rpm. Which means instant go, any time, shifting optional. So the six-speed automatic works very well, and doesn't need to downshift much, even on steep grades. That helps fuel economy, which as previously mentioned was suprisingly good at 28 mpg overall. Yes, less highway and more performance driving would drop that, but that's true of any vehicle. 0-60 acceleration is in the low-six second range, which was serious sports car territory not all that long ago and is still impressive.
CONCLUSIONS: With cars like the Verano Turbo, it's easy to see why Buick survived.
SPECIFICATIONS
2015 Buick Verano Turbo
Base Price $ 29,065
Price As Tested $ 32,335
Engine Type turbocharged aluminum alloy DOHC 16-valve inline 4-cylinder with variable phasing for both camshafts
Engine Size 2.0 liters / 122 cu. in.
Horsepower 250 @ 5300 rpm
Torque (lb-ft) 260 @ 2000 rpm
Transmission 6-speed automatic
Wheelbase / Length 105.7 in. / 183.9 in.
Curb Weight 3550 lbs.
Pounds Per Horsepower 14.2
Fuel Capacity 15.6 gal.
Fuel Requirement unleaded premium gasoline recommended
Tires P235/45R18 94H m+s Conti Pro Contact
Brakes, front/rear vented disc / solid disc, ABS
Suspension, front/rear independent MacPherson strut / torsion beam axle
Drivetrain transverse front engine / front-wheel drive
PERFORMANCE
EPA Fuel Economy - miles per gallon city / highway / observed 21 / 30 / 28
0 to 60 mph 6.3 sec
OPTIONS AND CHARGES
Power Moonroof $ 900
Carbon Black Metallic paint $ 495
Audio System With Navigation $ 495
Front and Rear Splash Guards $ 250
All-Weather Floor Mats $ 140
Wheel Locks $ 50
Front License Plate Mounting Kit $ 15
Destination Charge $ 925