2015 Nissan Rogue Road Trip Review By Steve Purdy
NISSAN ROGUE TO NASHVILLE
From A Shunpiker's Journal
By Steve Purdy
Michigan Bureau
The Auto Channel
This chapter of A Shunpiker's Journal is all about a road trip to Nashville, TN in a Nissan Rogue. Nashville has become one of our favorite destinations because it is an easy 8-hour drive from our Michigan home base and because it has so much to offer intrepid travelers like us.
Our first travel story about Nashville featured a hot, red 2007 Dodge Charger SRT8 and our second starred a new 2009 Dodge Challenger.
This latest Nashville trip featured a 2015 Nissan Rogue, with Nissan headquarters in Franklin, just south of the Music City, they insisted on providing the car for this story. In fact, our Rogue was assembled just a few miles from Nashville in Smyrna, TN.
Rogue is Nissan's entry in the small crossover segment of the market where just about every manufacturer competes with a great product. These are essentially small SUV-style bodies on compact car platforms and offer much more room and utility than the sedan siblings. Vehicles in this segment vary less and less with each generation as they all move up-scale, and the Rogue excels in interior look and feel, cargo capacity and comfort.
Our test car is the top-of-the-line SL model with all-wheel drive (front-wheel drive is standard) and is loaded with just about everything you can get on the car except a third-row seat that is only available on lesser trim levels. The entry level Rogue starts at under $23,00 but our SL with AWD shows a base price of $29,630. With the $2,000 Premium Package our MSRP is $32,690 and that includes a lot of premium content. More on that later.
Packed and on the road early we charge south on I-69 in intermittent heavy rain for what is usually an easy freeway cruise around Indianapolis where we pick up I-65, through Louisville and past Bowling Green, KY where the Corvette Museum and factory have drawn our attention previously. Notwithstanding the rain and a miserable construction tie-up on I-465/I-65 on the south side of Indy it was not a bad drive. We found the seats exceptionally comfortable even after hours and hours on the road.
First impressions of the Rogue were mostly favorable. While we would not call this a luxury vehicle, the cabin is nicely appointed and sensibly designed with good quality materials and excellent fit and finish. The touch-screen control system caused us no consternation as we learned our way around it and once I was able to find the on-board computer tab on the steering wheel I was able to scroll though easily to find what I wanted, mostly the average mpg counter.
We immediately noticed that the Rogue's cabin was not as quiet as we expected. Coarse pavement noises found their way into the car a bit too easily. Engine noises also encroached more than they should as the 4-cylinder/CVT powertrain (the only one offered) could use a bit more isolation. Overall we found it a pleasant enough cabin and the dual-zone climate control allowed us to compensate for our differences in temperature preferences.
Our friends at the Nashville Convention and Visitors Corporation hooked us up with a tourist pass and some advice on attractions we shouldn't miss on this trip, but we had a few plans already developed, like a visit to the Lane Motor Museum where we would see Nissan's collection of historic vehicles, a visit to a couple of the Civil war sites that we missed on previous trips and another visit to the indoor gardens at the Gaylord Opryland Hotel that had been devastated in the flood a few years ago.
But first, as is obligatory (for good reason) we needed to visit and stroll along what they call "Music Row," about a five-block stretch of Broadway Street near downtown where live music gushes forth from the open doors of a many bars and restaurants. You can just browse from one to another enjoying the top-notch music, most of it country and western. Around the corner on Third Avenue we found the new Johnny Cash Museum recommended by the CVC folks. For anyone who likes his music this is a worth-while attraction where you can listen to a variety of The Man in Black's music while getting the stories behind them all.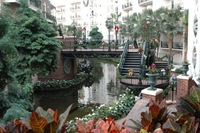 Our condo near the Opryland complex turned out to be just a short walk to the Gaylord Opryland Hotel where 8 or 9 acres of lush indoor gardens are incorporated within the huge hotel and conference center. They were just setting up the spectacular holiday displays that draw visitors from great distances. That whole low-lying area is within a crook in the Cumberland River and suffered extensive damage during the recent flood. We're told they spent more money rebuilding the hotel and gardens than they spent building it in the first place. Lots of shops and eateries are integrated within the gardens where you can easily spend a half-day or more.
As we evaluated the first leg of the journey we were a bit disappointed with the Rogue's fuel mileage. The EPA estimates the Rogue should get around 25 mpg in the city and 32 on the highway (just a click better for the front-wheel dive version), but we made barely over 25 mpg on the 600-mile freeway jaunt. The Rogue's 2.5-liter 4-cylinder makes a tepid 170 horsepower and 175 pound-feet of torque and is mated to a CVT (continuously variable transmission). It should do better than our mileage numbers, though I must admit my driving style is not always conducive to maximum mileage, I usually have little trouble matching, or at least coming close to, EPA highway mileage numbers with most on the cars I review.
The Rogue's road manners are good though no one would call it sporty. Suspension tuning provides a middling on-road feel without being either overly stiff or sloppy. I think it is a decent enough balance to please a broad constituency. Steering is less than crisp but not vague or imprecise. Our loaded tester is equipped with lane departure warning that I found a bit annoying. A button on the lower dash allowed me to turn it off easily but every time we shut the car off and restarted that system defaults to the 'on' position. So I have to turn it off again. Many drivers will like that system along with the pre-collision warning, blind spot warning, forward collision warning and moving object detection system. I'm not sold on those features yet but they can be helpful. Those are all part of the Premium Package option.
One high-tech feature that is part of the Rogue's SL trim level is what they call Around View™ Monitor. In addition to the rear view camera, we have ultra wide-angle cameras at each corner of the car and when in reverse we get what looks like the view from a drone hovering about 20 feet above the car. I don't know how they do that, but it's pretty cool.
The Lane Motor Museum on Murfreesboro Pike, at the confluence of I-40 and I-24, is one of our favorite car museums. Founder Jeff Lane is a trained engineer and is fascinated with odd and unusual approaches to automobile technology going way back into history. The collection of close to 400 vehicles is composed of mostly European cars including the largest collection of Tatras outside of Eastern Europe and probably the largest collection of miniature cars anywhere. The Lane Musuem also houses a great number of one-off experimental vehicles like the propeller-driven, skiff-bodied, French Helicron and a Citroen with two fronts and no rear so it could ply a particular mountain road without needing to turn around. The Lane Museum also houses the official Nissan Collection of heritage vehicles in a corner of its lower level but you would need to make special arrangements to see those cars and trucks.
We explored some of the Civil War history around the Nashville area visiting a couple of antebellum plantations one of which, the Carnton near Franklin, was used as a hospital for a huge battle that happened nearby. Preservation efforts throughout the area are saving and annotating many historic sites like this.
Final Rogue thought; the 2015 Nissan Rogue's list of standard features and content will match most of its competition and its option packages will allow some choice in how you might configure your ride. This would be a fine vehicle for traveling with 4 people, it offers plenty of cargo area and a rear seat that slides 9 inches fore and aft.
You'll certainly want the 2015 Rogue on your consideration list if you're shopping for a small crossover.
ęSteve Purdy, Shunpiker Productions, All Rights Reserved