2015 Kia K900 Playing In The Luxury Segment
By Larry Nutson

Senior Editor
Chicago Bureau Chief
The Auto Channel
If you've been paying attention to sports news you'll know that LeBron James is driving a Kia. Yes, a Kia! James is a big guy so perhaps you are wondering how he fits in what you might think is a small Kia.
Well, he's driving a $66,000 Kia K900 four-door luxury sedan powered by a 420 HP V8. The K900 has a full-leather interior, wood trim, and heated and reclining rear seats among its many luxury features.
Kia announced LeBron James as its K900 Luxury Ambassador and the K900 now also is recognized as the Official Luxury Vehicle of the NBA.
The K900 is classified as a large car. After having driven the K900 for a week I can attest to the fact that it is large. My 5ft10in medium-build body was very comfortable. LeBron's 6ft 8in, 250 lb powerhouse should also be. Think about it. A pro NBA or NFL player can't just pick any vehicle to drive that they find appealing. It needs to have enough interior room for their large selves.
In the world of automotive news, at the upcoming SEMA (Specialty Equipment Market Association) show in Las Vegas we'll see a High-Performance K900. Starting with a custom, one-off body kit with carbon fiber inserts, custom-blended gray paint, blacked-out chrome trim and massive 21-inch gloss-black wheels, the High-Performance K900 will offer a subtly menacing appearance, which hints at the power underneath. Exceptional performance and personalized style are prerequisites for a machine that Kia says will carry a racing driver or team owner to and from the track on a daily basis.
Driving different vehicles in one-week stints is a bit like a rollercoaster. I went from a $90,000 sedan to a $16,000 economy hatchback to the 2015 Kia K900. The K900 has a base price of $59,500. Add in a $6000 VIP package plus the obligatory $900 freight and handling and you are at $66,400.
The 420 HP direct injected V8 displaces 5.0-L and is mated to an 8-speed automatic. Power is going to the rear wheels and you ride on 19-inch chrome alloy wheels with 245/45R-19 tires up front and 275/40R-19 tires at the rear. 
EPA test fuel economy ratings are 18mpg combined, or 5.6 gallons per 100 miles. The EPA test city rating is 15mpg and the highway test rating is 23mpg.
In addition to the few items I mentioned earlier, comfort and convenience features abound with three-zone climate control, Lexicon surround sound audio, Navigation system, blind spot detection, rear cross traffic alert, lane departure warning, front and rear camera displays, front and rear parking sensors, heated and ventilated front seats, power tilt & telescopic steering column, power closing trunk, power rear window shade and manual rear side window shades, panoramic sunroof, and power fold outside mirrors.
The VIP package brings you smart cruise control, power door latches, head-up display, surround view monitor, front power headrests, power reclining rear seats and a few more items.
A K900 Premium V6 with a 311HP 3.8-L engine will launch at a later date with an available Luxury Package and Technology Package. Pricing for the V6 model will be announced closer to launch. EPA test ratings for the V6 are 18mpg city and 27 mpg highway.
All-wheel drive is not available. That might be a turn-off for buyers in snowy-winter regions. I'll go out on a limb here and speculate that we may just see AWD on the K900 down the road a bit, considering that their sister brand Hyundai recently introduced it on the Genesis.
The sound system was such that I just wanted to park the car and sit and listen. The 900-watt Lexicon high-fidelity audio system is the most powerful and advanced system ever offered by Kia.  An audiophile's dream come true, the Lexicon system features a trunk-mounted 12-channel digital amplifier, 17 speakers, including a center channel and an inverted subwoofer located in the rear parcel shelf.  The inverted design helps reduce encroachment into the trunk.  The speaker arrangement is custom designed for the interior of the K900 to optimize sound quality for every seat in the house.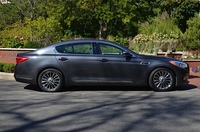 The K900 introduces Kia's first use of Advanced Vehicle Safety Management (AVSM). Integrating the control of various vehicle monitoring systems, including the Electronic Stability Control (ESC), seatbelt mechanisms and multiple warning systems, the AVSM can alert the driver to danger, pre-pressurize the braking system and activate the Pre-Safe Belt (PSB) system11, depending on the anticipated level of a collision risk.  If a potential collision is detected, AVSM warns the driver in three stages: an audible alarm, a visual warning on both the HUD and TFT LCD cluster and a cinching of the front seatbelts.
The K900 comes with a three-year, 37,500-mile complimentary scheduled maintenance program at participating Kia dealerships.  Covering the first five service visits, the complimentary scheduled maintenance program is available to customers who either purchase or lease a new 2015 K900 and complete the maintenance work for their vehicle at participating Kia retailers. As an added benefit, K900 customers may enjoy the use of a Cadenza or K900 loan vehicle during their service visit3.  The no-cost scheduled maintenance program, which excludes wear and tear items such as tires and brakes, complements Kia's industry leading 10-year/100,000 mile new-car warranty and Roadside Assistance program.
If you would like to
compare the Kia K900
to other large luxury 4-door sedans, you can do that right here on www.theautochannel.com. If you would like more information and detailed specifications and to view all the standard features as well as options on the entire 2015 Kia K900 model line they can be found a mouse click away at www.kia.com.
All in all, there are a lot of things to like about the Kia K900. It's very roomy and comfortable. The engine/transmission do a wonderful job of moving you along very quickly and also very quietly. Handling dynamics and ride comfort will suit most all luxury buyers although not quite up to some of the luxury competitors that have been at it for a long time. The K900's long list of features and not too high-in-the-sky pricing make for a compelling argument to give it a test drive.
© Larry Nutson