2014 Lexus LS 460 Review By Larry Nutson
2014 Lexus LS 460 Review
by Larry Nutson
Senior Editor, Chicago Bureau Chief
The Auto Channel
Around the start of this year I drove a 2014 Lexus LS 460 F Sport. With an $80,490 base MSRP it is THE smooth, civilized beast of Lexus.
Now I'm driving the $75,085 "entry" LS 460. When I had the F Sport version I was wishing it wasn't. Now I have my chance at the model most buyers will choose. Take note that this price is the A-W-D version. The rear drive LS 460 starts at $72,140.
"The LS 460 is a sublime blend of exhilarating performance and visionary innovation. Its powerful engine provides an unparalleled driving experience, while its technologically advanced features offer a host of modern conveniences." So says Lexus. (DSC_ 8932) (DSC_8941)
The LS 460 is the top of the house for Lexus. As such it is indeed very luxurious, whisper quiet, smooth riding, and very comfortable. It's also loaded with technology and comfort and convenience features. And to a point, you say to yourself, "OK where's the switch to have this car drive itself."
The optional $2,120 Adaptable Variable Air Suspension takes on city-street potholes and suburban road undulations with ease. At $1,450 the optional Pre-Collision System is worth its weight in gold. Admittedly it took over for me once as I was glancing at the NAV system. An example, of what can happen in our "too much information" distracted world. And, I was very impressed after the fact when I thought about the seat belt system tightening around my body as the Lexus came to a halt.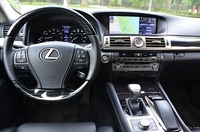 To explain, the available Advanced Pre-Collision System is engineered to detect an imminent frontal collision and, while retracting the front seatbelts, automatically prepares Brake Assist to help provide increased braking pressure the moment you step on the brake pedal. The system is also designed to detect pedestrians and other three-dimensional objects in the vehicle's path—even at night—and can apply the brakes to help reduce vehicle speed. And now the system can brake the vehicle to a complete stop at speeds up to 24 mph. (DSC_8946) (DSC_8943)
Getting back to being comfortable, for $6,870 the Ultra Luxury Package will do it.
Using technology that includes an infrared rear-passenger sensor, the available Climate Concierge automatically monitors the temperature of four separate climate zones and adjusts not just the ventilation system, including the rear overhead ducts, but also the temperature of the front and rear seats and steering wheel individually, so that each zone achieves its preset level of comfort as quickly as possible. This means that each and every passenger in the vehicle will have their own desired level of personalized comfort. And, it happens with the simple push of a button.
This package includes power sunshades for the rear backlight and rear door windows, power adjustable outboard rear seats as well as power adjustable butterfly headrests and a lot more. And all of this can be controlled by the back-seat drivers with their own center armrest array of controls.
Other niceties are power rear door closers and power-adjustable outside mirrors WITH auto-folding.
All-in-all, my test drive 2014 Lexus LS 460 had a bottom line price of $90,675. Good thing I have secure parking.
The 4.6-liter, 32-valve V8 puts out 360HP. It is mated to an 8-speed automatic. Available full time all-wheel-drive keeps you well planted and going where you should be going. Eighteen-inch alloys mounting 235/50 V-rated tires keep you connected to the road. From rest you can get to 60mph in 5.4 seconds.
EPA test fuel economy ratings are what you might expect with a large car-large engine combination. The combined rating for the AWD LS 460 is 18 mpg, or 5.6 gallons per 100 miles. The EPA city test rating is 16 mpg and it's 23 mpg for the highway test. The rear drive LS 460 is rated one mpg higher on the highway test.
Also of note is the electronic brake system…yes, it's brake by wire. At first the brake pedal feel takes a bit of brief adjustment, but after that I didn't pay much attention.
The 2014 Lexus LS line includes the LS 460 in regular and long-wheelbase versions with a 386 horsepower 4.6-liter V8 (360 HP with all-wheel drive) and the LS 600h L hybrid with 438 total system horsepower from a 5-liter V8 paired with an electric motor. The LS 600h L is available exclusively with all-weather drive and is also the best-equipped LS in standard form.(See links to the specs of all LS models (1997-2015) below this review)
Lexus is on top of its game when it comes to infotainment. For 2014 Lexus LS has available Siri Eyes Free Mode technology licensed from Apple. Compatible with the iPhone 4S and iPhone 5 models forward, Siri lets you call contacts, select and play music from iTunes, get turn-by-turn navigation through Siri and Apple maps, and much more. To help you keep your eyes on the road and hands on the wheel, Siri can read notifications and calendar information and allow you to add reminders, calendar appointments and notes.
The F SPORT package brings 19-inch wheels instead of 18s, F-SPORT tuned lowered (4.7 inches vs 5.1 inches) air suspension, stabilizer bars and shocks, Brembo six-piston front calipers with 14.8inch ventilated discs, bolstered front seats, black leather trimmed interior and black alcantara headliner, aluminum pedals, sport steering wheel with paddle shifters and unique F-SPORT styled front bumper, upper and lower grille inserts and LED fog lamps. All good stuff if you want a more aggressive character for the LS 460. The bolstered front seats might squeeze on your sides if you are of large body stature.
If you would like to compare the Lexus 460 to other ultra-luxury large 4-door sedans, you can do that right here on www.theautochannel.com. If you would like more information and detailed specifications and to view all the standard features as well as options on the entire 2014 Lexus 460 model line they can be found a mouse click away at www.lexus.com.
After a week of driving in comfort and style I hated to see this car depart although I won't miss its large size that makes maneuvering in narrow and crowded-city streets a bit of a task.
© Larry Nutson