Cadillac ELR : Sexy - Electrified - Expensive by Steve Purdy +VIDEO
2014 CADILLAC ELR:SEXYELECTRIC
By Steve Purdy
TheAutoChannel.com
Michigan Bureau
Our sexy red ELR garnered lots of attention when I parked it in front of the new Cadillac-LaSalle Museum and Resource Center at the center's recent grand opening. Over 300 vintage Cadillac's showed up for the event so we had an interested audience. Most of those Cadillac enthusiasts showed unbridled admiration for the design and the forward-looking style represented by this striking and innovative coupe.
We can think of the front-wheel drive ELR as Cadillac's version of the extended-range Chevy Volt, that is, a small car designed to run just on electricity, categorically called a "plug-in electric." When you run out of power in your battery pack, after less than 40 miles, a small, efficient gasoline engine runs a generator to make more electrons to run the car. It is a hybrid, but the gasoline engine does not power the car, it only acts as a generator. The huge difference between the Volt and the ELR is the latter's flashy coupe design. Both cars are assembled at GM's Detroit-Hamtramck plant.
The biggest drawback of both is the price. GM sets the Volt's prices at around $44,000 and the ELR at an astronomical $75,000. Both are eligible for a $7,500 tax credit that mitigates the investment only slightly. You can have a36-month lease on the ELR for $499/month with 10 grand down. The 16.5 kWh lithium-ion battery pack, after all, is very expensive and needs to be thermally managed making for a rather complex powertrain. So far the battery has proven to be entirely safe and dependable.
The ELR comes in only one trim level and includes sexy 20-inch alloy wheels, front and rear parking sensors, LED headlights, rearview camera, keyless ignition, dual-zone HVAC, power heated front seats, full leather with lots of decorative stitching, power tilt and telescopic steering wheel, 8-inch touch screen with full-zoot apps and infotainment system, premium Bose audio, and lots of other stuff.
I'm drawn to the ELR by its rakish, angular good looks. Certainly, the style is controversial and some may find it garish or overdone, but not me. I find it the best-yet expression of the art-meets-science theme of Cadillac design language that dates back to the Evoq concept car shown at the Detroit Auto Show more than a decade ago and updated more recently by the Converj Concept. The sleek front fascia slopes rearward while the sharp side character line and the rear flank slopes forward making for a remarkably taught and action-packed look.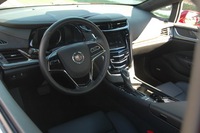 The cockpit as well carries the sharp, crisp, stylish design theme with rich, fine quality materials. The instruments and information displays in front of the driver change electronically to whatever information you want or need and they do so attractively. Steering wheel and center stack controls challenged our patience at first and a new owner will certainly have a substantial learning curve if not already familiar with Cadillac's user interfaces. The CUE voice recognition includes what they call "captive touch and hand gesture" recognition. When our hand just approaches the screen it brings up menus before we even make contact, and haptic feedback helps us feel what we're doing as well. The only serious ergonomic problem I encountered resulted from my travel mug being poised in the cup holder disallowing easy easy access to the lower part of the center stack where the HVAC controls reside.
We could spend a couple of pages describing the innovative powertrain in the ELR but we'll try to be concise and just expand on the description earlier in this narrative. We have a full-electric range of between 31 and 37 miles. The "range extender" (read generator) adds another 300 plus miles using the little 1.4-liter engine to generate electricity. No differences in performance are noticeable. The most efficient use of the car is driving less than 30 miles/day then plugging it in every night. At that rate you'll not have to buy gas for months at a time. But, if you want to go see the grandkids 200 miles away you can do so without any forethought or planning. Just gas up the generator as you go. The little engine takes premium fuel and if you're on a trip not able to charge up, you'll get about 31-mpg.
You'll not be disappointed in the thrust provided by this slick powertrain. You're running on an electric motor that provides almost 300 pound-feet of torque. When the generator is providing the electrons we feel no difference in performance, in fact we could hardly feel the transition, though we could hear it. A variety of driving modes allow more sporty or more docile suspension, steering and power settings and a "Hold" mode will allow saving one's electrons for later use if, for example, you're driving onto the city and want most efficiency.
Even though I'm a bigger than usual guy, I had no problem getting into and out of the ELR notwithstanding the low, coupe roofline. I had a couple of rear seat passengers this week, both of whom are small and agile. They struggled to get into the back seat but were reasonably comfortable once ensconced in the deep rear buckets. The rear accommodates two with a console between. The base of the 'T'-shaped battery unit fills that tunnel between the seats. The cabin is remarkably quiet when in electric mode but a bit noisy in the rear and when the gasoline engine kicks in. The trunk space is not bad for a small, electric car at 9 cubic-feet.
Overall driving dynamics will please the most discerning sporty-car aficionado. Suspension is firm as are the seats, but neither are so firm as to be harsh. Sports car-like handling and acceleration made me grin ear to ear when driving enthusiastically. An electric motor, as many of you know, provides all of its torque right from a dead stop. For me at least, it's also one of those cars that endlessly please our aesthetic senses whenever we look at it.
So, the big question is, who is the customer for this slick, small sporty electron burner? GM has yet to find a substantial market having sold painfully few, but I'll predict it has good potential. The customer will have to be one for whom money is no object, making an environmental statement is important and one who appreciates this polarizing style and design. It helps to be an early adopter of technology and an urban dweller with limited distance driving needs.
GM recently announced there will be no 2015 ELR since they have already produced enough cars for the immediate future, but a 2016 "improved" model will be revealed at the upcoming Los Angeles Motor Show and arrive at dealers sometime in the first half of 2015.
Warranty coverage on the ELR includes a basic 4-year, 50,000 plan, 6 years or 70,000 miles on the powertrain and 8 years or 100,000 miles on the battery.
© Steve Purdy, Shunpiker Productions, All Rights Reserved