2015 Acura ILX 5-Spd AT w/Technology Package Review by Carey Russ
The perfect fit as the company's entry-luxury sedan
DRIVING DOWN THE ROAD WITH CAREY RUSS
The demise of the Integra sedan at the end of the 2001 model year left Acura without an entry-level sedan as its replacement, the RSX, was offered in coupe form only. When the RSX disappeared, crossovers were all the rage, and the compact RDX claimed the entry-Acura slot.
Rising fuel prices haven't led to a mass extinction of crossovers, but have led more people to appreciate the virtues of a small sedan. Which, even if light on thirst for gasoline need not be a bare-bones and uncomfortable. Case in point: Acura's ILX.
Offered since model year 2013, the ILX enters its third year mostly unchanged, with the exception being that the hybrid model has disappeared. The standard version uses a 2.0-liter, 150-horsepower four-cylinder engine matched to a five-speed automatic transmission. Acura likes to keep choices simple, so rather than multiple trim levels and standalone options there are two option packages above the well-equipped "base" level. Which with standard leather seating surfaces and an eight-way power-adjustable driver's seat, heated front seats, keyless access and pushbutton start/stop, multi-view rearview camera, power moonroof, all of the expected electronic connectivity, and more is not even a "base level" model. Premium means foglamps, HID headlights, auto-dimming rearview mirror, and satellite radio capability. Technology adds a premium sound system, voice-activated navigation with real-time traffic and weather, GPS-linked climate control, and more.
For the performance-inclined, there is the 2.4 6MT model. The two-liter engine is replaced by a 2.4-liter four with 201 hp, matched to a six-speed manual gearbox. It has all of the Premium upgrades as standard equipment.
I tested the 2.4 soon after it made its debut and found it to be a fine entry into the Acura lineup, with a hint of the past, in the form of the late and much-lamented Integra GS-R. Much more refined than that little screamer, it emphasized where Acura has come. The 2.0-liter model with the Technology Package that I've been driving for the past week wasn't as engaging or as quick, but it was easier to drive in daily traffic and not lacking in performance. Good road manners, a lovely suspension setup, and a commendable lack of thirst for unleaded premium -- a 27 mpg average with minimal highway driving -- made for a most enjoyable week.
APPEARANCE: The newest Acura design language is here, with clean, simple lines. The toned-down pentagonal grille with wide horizontal crossbar and twin triangular lower intakes define the front, a bit of sculpting and a suggestion of rear fenders sharpen the sides, and a short, high trunk and traditional Acura taillights distinguish the rear. The greenhouse is pure sedan, with no attempt to play fastback coupe. Your rear passengers will thank you, and Acura, for that. All in all, it's pleasantly understated and mature in style.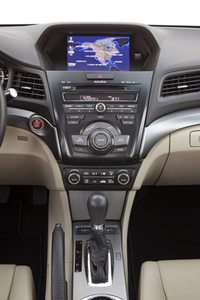 COMFORT: Luxury standards evolve. Power windows, a good audio system, and air conditioning are expected in every car now, not just in luxury cars. Luxury now means electronic conveniences and good ergonomic design plus comfort and safety. Acura delivers in the ILX, particularly with the Technology Package. It builds on a well-designed and precisely-constructed interior which uses top-quality materials. An acoustic glass windshield, thick side glass, and copious amounts of soundproofing in the right places make for low interior noise levels. Audio means high sound quality with AM, FM, and Sirius/XM radio, plus CD and USB/minijack interfaces and a rearview camera with multiple selectable angles of view. The navigation, information, and audio systems are controlled by a knob on the center stack above the shift lever. The interface is simple, although rotary selection of alphanumeric entry can take a while. Let the front passenger do that, or program it before driving. There is even a guide to scenic roads -- and the ILX is well-suited for those routes. All models have a Pandora® internet radio interface (via your Bluetooth® phone and data program). Seat comfort is very good in front and surprising in the rear -- that formal roofline means headroom, with good space for two people. A flat floor means an occasional center passenger can fit. All of the expected amenities are here, and then some, and the ILX fits its niche as the entry Acura very well.
SAFETY: Standard passive safety equipment in the ILX includes its Advanced Compatibility Engineering™-designed unibody structure, which protects passengers with controlled deformation in a crash, front, front side, and side-curtain airbags, front seats designed for whiplash mitigation, and a tire-pressure monitoring system. Active safety equipment includes four-wheel antilock disc brakes with brake assist and electronic brake force distribution, and Vehicle Stability Assist™ (VSA®) traction and stability control system. The multi-view rearview camera has two angles of view for a general view to the rear and a vertical close-up mode for parallel parking and sensitive backing.
RIDE AND HANDLING: Details are important, and in the ILX, Acura pays attention to the details.A rigid unibody structure and good geometry for the fully-independent MacPherson strut/multilink suspension provide a solid basis. Amplitude-reactive dampers give minimal damping for small suspension displacements, for a smooth ride on good surfaces, and comfort when driving moderately. With travel over 10mm, damping is much firmer, meaning minimal body motion in high-performance driving and excellent road manners. The system is completely mechanical, with no complex electronics. Motion-adaptive electric power steering means road feel, and speed-sensitive assist so low-speed maneuvers are easy and steering effort is not too light at speed. It also works with the VSA stability-assistance system to help the driver maintain control in tricky situations. The result is a car that is comfortable and pleasant, yet can be driven enthusiastically with confidence.
PERFORMANCE: No, the 2.0-liter engine does not have the performance of the 2.4. There's no replacement for displacement -- and higher compression and more performance-oriented cam timing, among many other differences. But the two-liter, a single overhead cam design with i-VTEC® variable valve lift and timing and a dual-stage intake manifold for strong power at nearly all engine speeds, is a good match for the ILX's refined luxury mission. Developing a maximum 150 horsepower (at 6500 rpm), with peak torque of 140 lb-ft at 4300 rpm, it has good low- and mid-range performance as well. Credit i-VTEC and the variable-length intake for their contributions. It's matched to a five-speed "Sequential SportShift" torque-converter automatic, with manual shifting via steering wheel-mounted shift paddles and a Sport mode in addition to the regular Drive. Computer control, and integration with the engine computer, ensures smooth operation and quick shifts. When sensors detect spirited driving or cornering, Shift Hold Control and Cornering G Shift Control ensure that the transmission will not shift when doing so could disturb the balance of the car. EPA fuel economy ratings are 24 mpg city, 35 highway. A 27 mpg average for the week was no cause for complaint.
CONCLUSIONS: The Acura ILX is the perfect fit as the company's entry-luxury sedan.
SPECIFICATIONS
2015 Acura ILX 5-Spd AT w/Technology Package
Base Price $ 31,750
Price As Tested $ 32,645
Engine Type aluminum alloy SOHC 4-cylinder with i-VTEC® variable valve lift and timing control
Engine Size 2.0 liters / 122 cu. in.
Horsepower 150 @ 6500 rpm
Torque (lb-ft) 140 @ 4300 rpm
Transmission 5-speed automatic
Wheelbase / Length 105.1 in. / 179.1 in.
Curb Weight 2970 lbs.
Pounds Per Horsepower 19.8
Fuel Capacity 13.2 gal.
Fuel Requirement 91 octane unleaded premium gasoline
Tires P215/45 R17 87V Michelin Pilot HX
Brakes, front/rear vented disc / solid disc,
Suspension, front/rear independent MacPherson strut / independent multilink
Drivetrain transverse front engine, front-wheel drive
PERFORMANCE
EPA Fuel Economy - miles per gallon city / highway / observed 24 / 35 / 27
0 to 60 mph est 8 sec
OPTIONS AND CHARGES
Destination Charge $ 895