2015 Ford C-Max SE Review by Carey Russ +VIDEO
C-Max combines space and fuel-efficiency with style
DRIVING DOWN THE ROAD WITH CAREY RUSS
• SEE ALSO: Ford Buyers Guide
Since its debut for model year 2013, Ford's all-hybrid C-Max lineup has proven a success. No surprise, as it offers excellent space efficiency in addition to fine fuel efficiency, either as a regular gasoline-electric hybrid or in a plug-in hybrid version with extended electric-mode range. Sharing many chassis components and wheelbase with the Focus sedan and hatchback, it explains why there is no Focus Hybrid. It also replaces the previous-generation Escape Hybrid.
Although its relatively high roofline and two-box body shape might suggest "crossover", Ford considers the C-Max to be a car, not a crossover. At 5.5 inches, it does have car, not crossover, ground clearance, and its styling is far more tall car than ersatz SUV or even contemporary crossover. The tall ceiling and careful attention to interior detail mean plenty of room, even in the rear seat.
The hybrid C-Max comes in SE and SEL trim levels, while the plug-in C-Max Energi is mostly equivalent in content to the SEL, and uses the same 2.0-liter, 141-horsepower Atkinson cycle engine and 118-hp permanent magnet synchronous AC electric motor joined through an electronically-managed CVT. It replaces the regular C-Max's 1.4 kWh lithium-ion battery with a 7.6 kWh Li-ion battery that can be recharged from a 120 or 240VAC connection. Plug-in power and 21 miles of EV range will cost, with the Energi having an MSRP noticeably greater than the SEL.
Changes to the C-Max since its debut have been minimal, as in color choices and pricing adjustments. No reason for complaint there, as the C-Max, even in "base" SE trim as this week's test car, is comfortable, functional, frugal at the pump, and surprisingly quick. Ford's hybrid system is fully series-parallel, and the car will run under gasoline power only, electric power only, or a combination of both depending on need. At low speeds and under steady-speed driving up to 60 mph it can be purely electric. An electric motor makes maximum torque as soon as it starts to turn, and acceleration from a standstill here is much better than expected. The 38 mpg I got for the week may not have been the EPA expectation, but the EPA test regimen is notoriously inaccurate for hybrids. And I was not trying for maximum mileage, merely driving normally. With four-wheel discs augmented by regenerative braking, stopping power is excellent.
With everything you really need standard or optionally available, the C-Max SE makes a fine choice for a not-so small, versatile, and economical family car.
APPEARANCE: The C-Max's European roots show, and good for Ford bringing in something like this. Larger than a Focus and smaller than an Escape, the C-Max embodies nearly all of Ford's current exterior design cues. It's almost a "one-box" shape, with a short hood in front of a large, highly-raked windshield and long, tall, arched passenger cabin, although "box" really isn't its curved lines. The new Ford grille is displayed prominently at the front, with a small upper grille seemingly an afterthought between cat's-eye headlights. Character lines in the hood sweep back into the windshield A-pillars, an interesting effect that works well. Noticeable wheel arches and character lines on the sides offset the curves well, and short front and rear overhangs maximize interior space and reduce the potential for curb or steep driveway damage. Huge taillights dominate the rear, and there is no visible exhaust.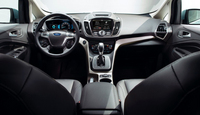 COMFORT: Choosing SE over SEL means manual cloth seats instead of power and leather and less detail in the information systems. The high roofline allows a comfortable upright seating position, and driver visibility is aided by the small front quarter windows and blind-spot convex mirrors on the outside rearview mirrors. A rear-view camera would be a welcome addition. Despite the long instrument panel top, glare is not a major issue thanks to the textured material used. All interior surfaces close to passengers are soft-touch, and styling is, unsurprisingly, contemporary Ford, if less "spaceship" than the Fusion. The driver-configurable "glass cockpit" main instrument display puts the speedometer front and center, flanked by power and fuel consumption info on the left and entertainment, phone, and navigation info on the right. There is a learning curve for the Sync and MyFordTouch display on the touchscreen at the top of the center stack, but it's no worse than most consumer electronic devices, and it works logically.
Useful storage in the nooks and crannies is as expected, with a little extra hidden storage under the rear floor mats. A flat floor makes the rear seat practical for three people, if they are small to medium in size. As in most cars, two are better. The rear seatback folds 60/40, with flaps over the crevice between the seatback and cargo area with the seat down keeping things from getting too lost. Don't look for a spare tire, with both a fuel tank and a hybrid battery space is at a premium so there is a sealant kit under the front passenger seat.
SAFETY: All C-Max models have Ford's Personal Safety System™, AdvanceTrac® with Roll Stability Control™, all-speed traction control, dual-stage front airbags, front seat side-impact airbags, Safety Canopy® side-curtain airbags, a driver's knee airbag, Brake Assist, and SOS Post-Crash Alert™.
RIDE AND HANDLING: Think tall Focus, tuned for comfort more than speed. The C-Max's fully-independent MacPherson strut / Control Blade multilink suspension is tuned moderately softly, but with good damping so road irregularities are dealt with and forgotten. The electrically-assisted steering is, as is common with such systems, a bit numb but requires little effort. On the road, the C-Max is quiet and comfortable. Regenerative braking helps the already good four-wheel discs.
PERFORMANCE: Ford's hybrid system is full series/parallel, with the vehicle powered by the internal combustion engine alone, the electric motor alone, or both, linked through a computer-controlled continuously-variable transmission (CVT). Here, the engine is a modification of Ford's 2.0-liter four-cylinder, using a modified Atkinson cycle for improved efficiency and making maximum 141 horsepower and 129 lb-ft of torque. The electric motor makes a maximum of 118 horsepower (at 6000 rpm), with 177 lb-ft of torque as soon as it starts to rotate. Maximum system horsepower is 188. Which means that when power is needed, for acceleration when merging or passing for instance, it's there. Now. The torque from the motor gives the feeling of of a low-boost turbocharger, and acceleration unexpected in a hybrid designed for fuel economy. It's strongest at low, around-town, speeds but capable on the highway. The engine is noisy only under full-throttle acceleration, and the hybrid system is set up to run the car in electric mode as much as possible. EPA fuel economy ratings are not necessarily indicative of real-world mileage, especially with hybrids. The 38 mpg I averaged for the week was less than the EPA 42 city, 37 highway -- but not bad at all for car with the interior space and versatility of the C-Max.
CONCLUSIONS: Ford's C-Max combines space and fuel-efficiency with style on a small, easy-to-park footprint.
Watch the introduction of the new C-MAX and S-MAX at the 2014 Paris Motor Show
SPECIFICATIONS
2015 Ford C-Max SE
Base Price $ 24,170
Price As Tested $ 26,825
Engine Type DOHC 16-valve aluminum alloy Atkinson Cycle inline 4-cylinder
Engine Size 2.0 liters / 122 cu. in.
Horsepower 141 @ n/a rpm
Torque (lb-ft) 129 @ n/a rpm
Electric Motor permanent magnet AC synchronous
Horsepower 118 @ 6000 rpm
Torque 177 lb-ft @ 0 rpm
Transmission electronic CVT
Maximum System Horsepower 188
Hybrid Battery 1.4 kWh Lithium-Ion
Wheelbase / Length 104.3 in. / 173.6 in.
Curb Weight 3640 lbs. Pounds Per Horsepower 19.4 Fuel Capacity 13.5 gal. Fuel Requirement 87 octane unleaded regular gasoline Tires P225/50R17 93V Michelin GreenX Energy Saver A/S Brakes, front/rear vented disc / solid disc, ABS, ESC, HLA, regenerative braking standard Suspension, front/rear independent MacPherson strut / independent Control Blade™ multilink Drivetrain transverse front engine and motor, front-wheel drive PERFORMANCE
EPA Fuel Economy - miles per gallon city / highway / observed 42 / 37 / 38
0 to 60 mph 8.8 sec
OPTIONS AND CHARGES
Equipment Group 203A - includes: Power liftgate, reverse-sensing system, ambient interior lighting, Sync, My Ford Touch, Sirius/XM satellite radio, navigation $ 2,235
White Platinum tri-coat paint $ 595
Destination and Delivery $ 825