2014 Toyota Highlander Limited AWD Review By Steve Purdy
2014 TOYOTA HIGHLANDER LIMITED AWD REVIEW
By Steve Purdy
TheAutoChannel.com
Michigan Bureau
Completely redesigned and significantly updated for 2014 the Toyota Highlander gets credit for being one of the first mid-size, car-based, three-row seat, crossover utility vehicles. It was originally launched little more than a decade ago. This third generation Highlander CUV comes in front-or all-wheel drive, six- or eight-passenger configurations and a wide range of trim levels with base prices from about 30 grand to well over 40. Highlander must compete head-to-head in this intensely competitive segment that includes Honda Pilot, Mazda CX9, Ford Flex, Dodge Durango, Hyundai Santa Fe and the three entries from GM – Buick Enclave, Chevy Traverse and GMC Acadia.
What a tough field in which to compete!
While the last generation of the Highlander continued to sell well and was reasonably up to date technologically it was time for an update and Toyota went all the way, raising the bar and getting back to the head of the pack. One of the elements that has kept it near, if not in, the leadership position is Toyota's well-earned reputation for quality and dependability. That also kept prices of used ones high, as this reporter can attest having shopped them repeatedly over the years.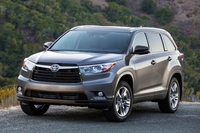 Styling and design of the Highlander's exterior strikes us first. As has been the case with all recently updated products, Toyota has made the decision to go bold with styling details. I was encouraged by one of my colleagues' panning of the design saying it was too bold. As any good designer will tell you, a good design must be a bit controversial in order to avoid being too "white-bread" to succeed. A gaping new grille surrounded by protruding headlight bezels flow into a side view accentuated by bulging wheel arches and distinctive character lines. Large, wrap-around lights with few flat spaces dominate the rear view and a large visor looms over the two-piece power lift gate.
The new interior design uses much nicer materials and stylish stitching thorough out. Like Avalon the orientation is distinctly horizontal with complex interactions of angles and lines. Controls take just a little getting used to but are essentially intuitive and easily managed. The new instrument cluster includes a multi-function display with plenty of useful information like fuel economy. We can scroll though those with a couple buttons on the steering wheel. Just above the rear-view mirror the sunglass cubby opens to reveal what our daughter calls a "knock-it-off" mirror with enough wide-angle distortion to see the whole back of the vehicle. (Her Honda Pilot has one as well.) Going one step further to accommodate the in-charge Mom, Highlander provides a Bluetooth-based microphone that transmits her voice right to the third row seat area.
While the new Highlander looks bigger inside it is not much changed in terms of overall interior volume. The third seat has about 3 ½ more inches of width making it more useable for three little ones, and it has more sliding range on the second row seat for a little better access to the rear.
We can have a 60/40 split second seat (the 40/20/40 option is gone) for three passengers wide or we can have the optional captains chairs with a fold up table in the middle for more gracious travel. We have a good 13.8 cubic feet of cargo space behind the rear seat (a bit more than the last model) and 83.7 cubic feet with seats folded (a bit less than the last model).
Powering the vast majority of Highlanders is a high-tech 3.5-liter V6 making 270 horsepower and a decent 248 pound-feet of torque mated to a smooth and efficient, electronically controlled 6-speed automatic transmission. Edmunds testing marked a 0-to-60 time of an impressive 7.6 seconds. That powertrain is good for 18 mpg in the city, 24 on the highway and 20 mpg combined using regular fuel according to the EPA, and it has a 19.2-gallon tank for a decent cruising range. We averaged just over 22 for our week of mixed driving. Properly equipped the Highlander will tow 5,000 pounds.
A 2.7-liter 4-cylinder is available on one of the lesser models but it only gets one or two more mpg than the six. We would certainly recommend the six. And, a hybrid version is also part of the stable. That one will cost around 50 grand and will get about 30% better city mileage and 10% better highway mileage.
Our top-of-the-line Limited AWD Highlander shows a base price of $43,590 and it comes loaded with most of what is available: 19-inch chrome wheels, hill-start assist, full compliment of safety features, automatic headlights, smart key, LED DRLs, folding heated side mirrors, ambient lighting inside, power lift gate with separate window, power/tilt/slide panoramic sunroof, premium JBL audio, the Technology package (pre-collision warning, lane departure control, automatic high-beams, adaptive cruise control), and so much other stuff its becoming tedious to list it all. The basic, no-frills Highlander shows a base price just over 32 grand. You can see complete pricing and specs for all 13 (includuing hybrid) 2014 and 2015 Toyota Highlabder models, below this story.
In terms of driving impressions we'll give it a good solid 'A.' Dynamics can be characterized as gentle, with a light touch, sort of the opposite of sporty. Ingress and egress are easy even for this big guy and the seats are generous, just firm enough, and comfortable even on long drives. The Lexus-like quality and style, including excellent ergonomics and tactile ambiance, make it feel like something quite special. At speed, even on coarse pavement, it is quiet as summer night in the woods. Suspension and steering allow for a feeling of confidence and control. Acceleration, braking, hard cornering and all those measures of competence match anything in the class.
Toyota's new car warranty covers the whole car for 3 years or 36,000 miles and the powertrain for 5 years or 60,000 miles.
With all that said, most of the Highlander's competitors are not far off that mark and most buyers would be entirely happy with any one of them. To my subjective eye the Highlander has a style advantage overall, except perhaps the Buick Enclave's interior. That, of course, is in the eye of the beholder.

İSteve Purdy, Shunpiker Productions, All Rights Reserved