2014 Nissan Juke Nismo RS Review by Carey Russ +VIDEO
"I Love this... Giving Nissan's entertaining Juke the NISMO treatment and then some makes a good car even better!"
DRIVING DOWN THE ROAD WITH CAREY RUSS
• SEE ALSO: Nissan Buyers Guide
Editors Note: July 30, 2018: Nissan has dropped the Juke from their lineup, in June they sold 41 Juke vehicles... you cant blame them for stopping the bleeding
Is it a small crossover or slightly-oversize hatchback? Does that matter? Nissan's hard-to-categorize Juke has been a surprising success, either despite or because of its unusual styling. In standard trim, in front-wheel drive form with manual or CVT transmissions or all-wheel drive with a CVT and 188 horsepower from a turbocharged and intercooled 1.6-liter engine with direct fuel injection, it's quick, fun, and practical, a winning combination. Nissan calls it a "bold urban sport cross". I noticed its excellent power delivery, long-travel and relatively soft suspension (that can deal with poor roads just fine) and called it the world's first four-wheeled supermotard when I first drove one.
If you're not familiar with the term, a supermotard, aka supermoto, is a combination of motorcross, enduro, or dual-sport chassis with smaller wheels and street tires (or racing slicks if raced) and suitably modified suspension. They're light, capable of cornering angles exceeded only by MotoGP bikes, and much quicker, especially around corners, than logic or your eyes want to believe. My first acquaintance with the regular Juke, in FWD/six-speed manual form, was at a journalists' track day. The unlikely-looking thing was one of the most entertaining cars on the track that day, at least for me.
The majority of Jukes sold are equipped with Nissan's CVT, which should work well for those who see it as a brash-looking compact crossover. The six-speed brings out its performance character, of which there is plenty. But for some people, more is better.
For them, there is the Juke NISMO - NISMO being NISsan MOtorsports. I met that, in six-speed stick, front-wheel drive form, at this year's journalists' ride & drive and track day, on the street driving part. First car of the day, lovely twisting road in the hills of California's Central Coast. Typical poorly-maintained pavement. With the NISMO aero kit, upgraded suspension and wheels and tires, high-bolstered sports seats, and engine modifications for 197 horsepower and 184 lb-ft of torque (up from 177). The stiffer suspension wasn't as comfortable on the rough road, but the car was better-planted, with even quicker reflexes. I put in a request to get it for a week's test.
For various reasons, that took longer than anticipated. And what showed up last week wasn't the Juke NISMO. It was the Juke Nismo RS, in manual, front-wheel drive form. The difference? The RS is the next step up in performance, with more power (215 hp stick, 211 CVT), more torque (210 lb-ft stick, 184 CVT), more serious internal upgrades to deal with that, bigger brakes, more chassis bracing, and, inside, real Recaro race-type seats. The $26,120 MSRP is more than the stick SV's $20,990, or even the stick Nismo's $23,170, but the many and varied upgrades would cost you far more than that were you to try the DIY approach -- and you get a full factory warranty. It still provides plenty of bang for the buck, just more bang and more bucks.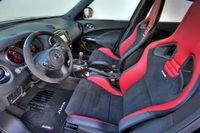 This is not a car for everyone -- if you're of large size, the Recaros aren't, and the sport-oriented suspension is far stiffer than stock, so the "supermotard" nature of the SV becomes more "superbike". The stick comes with one of the stiffest clutches I've ever dealt with. The Juke NISMO RS is far more a hot hatchback than compact crossover, and it's total silly fun. That would lead you to think that a Friend of OPEC award might be given for fuel economy. Wrong! At a 27 mpg average for the week, with as little highway boredom as I could manage, it was anything but thirsty considering its abilities.
Note that this was a 2014 model. 2015s go on sale later in the year, and Nissan has announced that the Juke will then get a styling makeover. This is a typical mid-product cycle refresh. There is no word on engines or models, but since Nissan wants the Nismo brand to grow, I expect the Juke NISMO and NISMO RS to continue.
Watch the original introduction video for the Juke NISMO concept
APPEARANCE: It's hard not to smile when you see a regular Juke. It's so unlikely-looking, but in a good way. There's not an aggressive line on its body. It doesn't even look fast… until it gets the Nismo aero kit. That's the usual -- a larger splitter in front, sill extensions on the sides, and a faux-venturi panel at the lower rear. A red pinstripe through those pieces and red caps on the outside mirrors match with red brake calipers. The visor-type spoiler above the hatch is a bit larger than that of the lesser Jukes. The major visual difference between the NISMO and NISMO RS is badging.
COMFORT: Real Recaros require real commitment. If you're small to medium in girth and flexible, getting past the bolsters will be a minor stretching exercise. The idea behind such a seat design is to hold the driver and front passenger snugly and securely in place in high-g cornering maneuvers. These work as advertised, with false suede seating surfaces for more grip than leather. The same material also covers most of the steering wheel rim, again for a secure grip. Once situated, the seats are wonderfully supportive and comfortable. Not soft and squishy comfortable, but good, firm comfortable, all the better to reduce fatigue for safer driving. False suede also covers the visor over the instruments, which are shaded from glare and brightly backlit so easily read in all lighting. There is a useful information display between the tach and speedometer. The Navigation Package with which my test car was equipped has touchscreen and voice-controlled navigation and all current audio choices, including Bluetooth streaming audio. The center stack display can be toggled between climate and D-Mode controls (see Performance for details). A deep glove box makes up for a lack of covered console storage. The rear doors open with high-mounted semi-hidden latches, like on a Pathfinder. A moderate central tunnel means that the center position of the rear contoured bench is reasonable, for a short time. Its seatback folds 60/40 for cargo versatility. The torsion-beam rear axle of front-wheel drive Jukes does have an interior advantage, as it allows a bit of storage space under the rear load floor, above the space-saver spare tire.
SAFETY: All Jukes are built with Nissan's "Zone Body Construction" with front and rear crumple ones. The Nissan Advanced Air Bag System protects front passengers with frontal and seat-mounted side impact airbags and all side passengers with roof-mounted side curtain air bags. Vehicle Dynamic Control enhances stability, and also includes traction control. Four-wheel antilock disc brakes with electronic brake-force distribution and brake assist ensure good stopping abilities. The NISMO RS has larger brake discs than the NISMO or any regular Juke.
RIDE AND HANDLING: If you're looking for a soft, comfortable ride, you're in the wrong place. If you're looking for cornering ability in a usefully-sized package with more ground clearance (7 inches FWD, 6.5 AWD) than is usual for a sports sedan or hot hatch, here it is. Despite the ride height, body roll is minimal and adhesion is very good. Extra chassis bracing helps. Do be sure that the front wheels are pointed straight when there is any heavy throttle application, as the 210 lb-ft makes itself known quite easily. Character, in abundance. Steering is electrically-assisted. Effort is just right, and it's not at all numb. The bumper design and clearance mean that parking stops, curbs, and other hazards to sports-car bodywork won't be a problem here.
PERFORMANCE: All versions of the Juke use Nissan's direct fuel-injected MR16DDT aluminum alloy 1.6-liter twin-cam, 16-valve four-cylinder engine. The regular Juke NISMO gets a remapped ECU and less-restrictive exhaust for its power boost. To cope with its extra power, the NISMO RS gets stronger connecting rods and a dual-mass flywheel in addition, among other enhancements to make 215 horsepower (at 6000 rpm), with 210 lb-ft of torque between 3600 and 4800 rpm with the six-speed manual gearbox. That box gets lower first through third gear ratios and triple-cone synchronizers on first and second for quicker, smoother shifting. It works, well. A helical limited-slip differential is standard in FWD RSes, ensuring that the power gets to the ground. With the strong, wide torque, acceleration is instantaneous and choice of gear is not particularly critical. It shows all that is good about turbocharging. As is increasingly common in cars with electronic control of everything, there are three power modes. Normal is fine, with moderate throttle travel for effect and moderate steering assist. Sport sharpens throttle response, and feels like it also reduces steering assist, all very good for high-performance driving. Eco? Why here? And please put that spark plug lead back on… AWD CVT versions get a slightly different tuning (probably ECU) giving 211 hp and 184 lb-ft (between 2400 and 6000 rpm) as the CVT was not meant to stand up to over 200 lb-ft. The Juke NISMO RS is a very competent sports car, and even taking advantage of its abilities as much as possible I still got exemplary fuel economy. The EPA says 25 mpg city, 31 highway. I got 27. No complaint there!
CONCLUSIONS: Giving Nissan's entertaining Juke the NISMO treatment and then some makes a good car even better, in the form of the Juke NISMO RS.
SPECIFICATIONS
2014 Nissan Juke NISMO RS
Base Price $ 26,120
Price As Tested $ 28,345
Engine Type turbocharged and intercooled 16-valve DOHC inline 4-cylinder with direct fuel injection
Engine Size 1.6 liters / 99 cu. in.
Horsepower 215 @ 6000 rpm
Torque (lb-ft) 210 @ 3600-4800 rpm
Transmission 6-speed manual
Wheelbase / Length 99.6 in. / 163.8 in.
Curb Weight 2884 lbs.
Pounds Per Horsepower 13.4
Fuel Capacity 13.2 gal.
Fuel Requirement 91 octane unleaded premium gasoline
Tires 225/45R18 95Y Conti Super Contact
Brakes, front/rear vented disc / solid disc, ABS, BA, EBD standard
Suspension, front/rear independent strut / torsion beam axle
Drivetrain transverse front engine, front-wheel drive
PERFORMANCE
EPA Fuel Economy - miles per gallon city / highway / observed 25 / 31 / 27
0 to 60 mph 6.7 sec
OPTIONS AND CHARGES
Navigation Package -- includes: NissanConnect™ w/Navigation, 5.8" touchscreen monitor, NissanConnect™ Apps, voice recognition for audio and nav, SiriusXM Traffic & Travel Link, streaming audio via Bluetooth®, hands-free Text Messaging Assistant, rear-view monitor, Rockford Fosgate® ecoPUNCH™ premium audio with subwoofer, USB connection port for iPod® and other compatible devices $ 1,200
NISMO carpeted floor and cargo mats $ 215
Destination charge $ 810