2014 BMW 435i Review By Larry Nutson
2014 BMW 435i
For your emotional rescue
By Larry Nutson
Senior Editor, Chicago Bureau Chief
The Auto Channel
My first task at hand with the arrival of a media evaluation vehicle is to take photos. I've a few locations I use that I can get to quickly while keeping the car clean and that also provide an uncluttered and yet appropriate backdrop.
Occasionally a curious passerby will stop and look and sometimes inquire about the car. As I exited this BMW to take some photos a gentleman with his wife and young children stopped and gave pause. He walked over to me and asked if this was the new BMW 4-series coupe. By his accent I knew he was a visitor from Europe. After a bit of chatter he asked if I had driven the car from California to Chicago, his question prompted by the license plates on the car. My response: "Oh how I wish."
And that leads me to what I see as one of the main reasons to purchase a BMW. That is, significant driving pleasure to the point that you want to take long drives for the pure enjoyment of doing so.
Two disclaimers here before I go further. I have an affinity for German cars having spent 25 years in the employ of VW and Audi. And, we have had a BMW in our household fleet for the last ten years. Our BMWs have been my wife's to drive daily with me driving them on weekends or on our road trips.
If you have this "no particular place to go" mindset, to quote a Chuck Berry tune, when it comes to a car purchase you might be deciding among different brand 2-door couples such as the BMW 4-series, Audi A5, Mercedes-Benz C-class or the new Cadillac ATS coupe. Or perhaps you have made up your mind on a BMW and you are roaming your local BMW dealer's showroom trying to decide if you should be practical and get the 3-series 4-door sedan or selfish and go for the 2-door 4-series coupe.
No doubt the 3-series sedan is more practical. It costs less and has the same basic underpinnings as the coupe. To decide on the coupe will not be a completely rational decision but more emotional. Style and driving passion play a role in the coupe purchase and logic gets left behind. My emotional driver for a week was the BMW's 2014 435i xDrive Coupe. This is a $48,000 car to start. Equipped with lots of options, which I will get to later, the bottom line reached $63,725.
BMW provides plenty of choices in the 4-series coupe. It can be the 300HP 3.0-liter twin turbo 6-cylinder 435i with xDrive all-wheel-drive or with rear wheel drive. Or, choose the 428i with its 240 HP 2.0-liter 4-cylinder turbo also with a choice of xDrive or not. On rear drive models only there is a 6-speed manual transmission to opt for. An 8-speed automatic can be had with rear drive and xDrive only comes with the automatic.
BMW's "Ultimate Driving Machine" in terms of the 4-series I would say is the 300HP 435i with the 6-speed manual and rear wheel drive. But what model makes the most sense, if we can be slightly practical? The 240 HP 428i is plenty quick with zero to 60mph times around 5.7 seconds. The 300 HP 435i xDrive knocks this down to 4.7 seconds, or so. These are times for the automatic; the manual transmission models are slower. It's tough to beat the rapidly shifting 8-speed automatic. Both powertrains will get the coupe to 130mph.
Rear wheel drive or xDrive is an interesting consideration. I personally would go for the rear drive, even while living in a snowy climate, and mount some good winter tires such as Bridgestone Blizzaks on all four corners in winter. We equipped my wife's '04 328i rear drive coupe this way and she never had a winter driving problem. However, some folks prefer to have the year round benefit of xDrive to negotiate mountainous, curvy, rain soaked roads.
The 4-series coupe is lower and wider than the sedan. It looks better and handles better. There is a long list of standard equipment that includes xenon headlights, sunroof, eight-way power seats, fold-down rear seats, 17-inch wheels (18s on the 435i), leather wrapped steering wheel with tilt and telescope feature, lots of infotainment, and more.
My 435i test car was equipped with the $3100 M-Sport package that includes 19-inch wheels, sport seats, M-sport steering wheel and some other items. The $1000 Dynamic Handling Package added adaptive suspension and variable steering. A $3150 Technology Package provides navigation and a head-up display. The $950 Driver Assistance package provides a rear view camera and park distance control. M-sport brakes cost $650, and there were more options too.
My overall driving impression is that the 2014 BMW 435i xDrive is plenty of fun. It's very fast. The engine exhaust note and the rapidly shifting 8-speed automatic get your adrenalin pumping. The combination of wheels, performance tires and suspension made the car feel like I was on rails. I will note that the tires are a bit noisy and their low profile is a bit harsh on the not-very-friendly city streets. I did lots of pothole dodging.
The 435i xDrive has EPA test fuel economy ratings of 24 combined mpg, or 4.2 gallons per 100 miles. The city test rating is 20 mpg and the highway test rating is 30 mpg. For comparison, the 428i in rear wheel drive has ratings of 27 combined mpg, and 23 city mpg and 35 highway mpg. It has been my experience with a new 328i sedan to easily exceed the EPA highway rating on long road trips while still cruising at "prevailing" highway speeds. So you can hypermile without needing to try very hard and drive in the left lane too.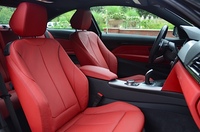 The 435i is equipped with a stop-start system. Some writers have criticized BMWs system, in general, as being intrusive and harsh. I think most of them are talking about the 4-cylinder system, which I have experienced driving. The stop-start system on the 435i 3.0-liter is as smooth as can be. You barely notice the start-up and the engine is running is a fraction of a second. A recent test by an automotive publication proved out that there is indeed a fuel savings in the real world with these systems. (DSC_8801)
If you would like to cross-shop the new BMW 4-series coupe to the others that I mentioned, you can do that right here on www.theautochannel.com. More information and detailed specification on all the 2015 BMWs they can be found a mouse click away at www.bmwusa.com.
Coming back to that emotional decision in purchasing a 2-door coupe, I should mention that the BMW 4-series is available also as a convertible, which is a three-piece retractable hardtop design. So to add to the emotion, consider the opportunity for top down motoring that also provides a fixed roof like environment on bad weather days.
Decisions. Decisions.
© Larry Nutson