The Lamborghini Aventador Roadster V12 Pleasure +VIDEO
SEE ALSO: Lamborghini News, Reviews and Video (2198 annotations)
My Five Days With Italy's Finest Super Sports Car
By Nicholas Frankl
Senior Editor
Motor Racing Correspondent
The Auto Channel
Chocolate, the smell of fresh cut grass, the Eiffel Tower, Italian (full fat) ice cream, the Statue of Liberty, Joshua Bell playing Bruch's violin concerto #1 in New York's Central Park are all just some of the many wonderful things I know exist on earth and are being enjoyed daily by some lucky people who don't necessarily miss them until they return into their lives.
This is precisely how I felt when I flipped up the bright red cover switch and hit the recessed black start button. A unique and unmistakable whirling began as the 6.5 liter, 60 degree V12 (the first all-new V12 since the 3.5 liter power plant found in the original 350GT) slowly rotated behind my head and fired up in a pre-ordained symphonic sequence, better then even the famous Gustavo Dudamel could conduct!
This being a power unit made with a true sense of Italian duty and devotion has a very particular chorus, "made in Sant' Agata".
The Aventador Roadster is one of the last true "super sports cars" still "mass" (last year they sold 403 world wide) produced today. At approximately $450,000 it's very expensive but not totally out of reach if one compare its fabulous and exotic Filippo Perini design - something Lamborghini has continued to explore and fine tune in the face of more moderate, and conservative, general design themes pervading its competitors – plus its stunningly brutal performance, with the $1 million+ hyper cars now on offer from Stuttgart, Maranello and Woking.
One sinks into, not onto the driver's deep bucket seat. The roof line sits only 44 inches above the tarmac, something I found exceptionally useful when my Italian highway "peage" ticket flew out of the convertible roof at high speed on the autostrada and I found myself at the ticket booth with no ticket, and a line of cars impatiently honking behind me. Fellow Lambo drivers, and certainly the rather bemused dutch caravan behind me, will be relieved to learn that the Aventador fits quite comfortably under the barrier and with 700bhp (426 bhp per tonne), plus all- wheel drive, I wasted no time in applying both to the sticky Tuscan tarmac upon exiting the pay station before anyone noticed.
In a world overflowing with 500+ BHP saloons and even people carriers, real brute power is hard to come by and even rarer to experience. The WOW grin has all but disappeared as the twin plate clutches and linear power curves, all perfectly tuned and computed, now provide a seamless stream of automated forward motion. The single plate, 7-speed Bull delivers a different, more raw and, for my money, more authentic and engaging sensory experience that smacks your head backwards in 50 millisecond shifts and doesn't let you go until well into illegal speed territory. So, with power on tap, and a crowd of adoring drivers following you along the highway, it's easy, fun and rewarding to entertain them and create their Facebook / YouTube moment of the day.
With the twin piece carbon fibre roof removed (each weighs only 13 lbs) the ride and the wind aren't an issue. The engineers went with a conventional push rod suspension without any of the trick steering wheel nobs and buttons so fashionable and popular in the super car world today. I much prefer it, as it's consistent and you don't have to wonder which mode the engineers think you should be in at every bump and turn.
The most fun you can have at regular speed is winding down the little rear window that insulates you from the throbbing engine bay and listening to the quite extraordinary clatter of the 12 cylinders and 48 values only a foot or so from your right ear. It's quite unlike any engine noise I have ever heard, so totally pure and mechanical. Naturally, flexing one's right foot is hard to resist and the 510 pounds of torque respond instantly, even when at cruise in 7th gear.
The road from Modena to Milan is smooth and straight but full of other travelers, so unleashing full power for more than a few seconds is impossible, meaning that I didn't get to enjoy or explore the magnesium white rocket above 150mph for long enough, let alone explore the 230 mph top speed, although almost as much joy can be had with short, sharp bursts giving the horses some freedom to run like pent up Polo ponies in the first chukka of the season!
Inevitably, even with excellent Audi-sourced navigation, one can take a wrong turn and quickly find oneself in a little village with more history and more tractors than all of Los Angeles combined. Even at 90 inches wide and 188 inches long, threading through tight and twisty single lane roads is not an issue. The car shrinks around you and naturally oncoming traffic is slightly intimidated by the sight of a low slung glistening fighter plane bearing down at them, LCD lights glowing and the shark-like nose inviting them to "give way". Tractor drivers are especially appreciative and wave their well-worn flat caps with enthusiasm and bight smiles as you pass by and give it a little squirt in first!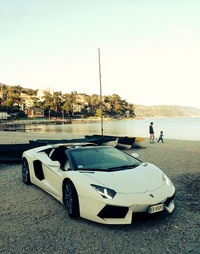 Returning to the autostrada and heading south towards Genoa and Portofino the highway becomes a two lane mountain pass, first climbing up over 3,000 feet with 40 miles of quite fabulous 4th and 5th gear sweepers that one can attack at 60 - 90 mph, allowing for plenty of opportunity to pass the many container trucks and dutch caravans heading for the coast, and something that fits the V12 power band and handling characteristics of this machine wonderfully.
Chased by three high performance BMW sport bikes, the riders tucked up under their screens and a few feet off my signature grenade launcher exhaust (and no doubt grinning ear to ear), I reached into the deepest depths of power reserve at 8250 revs and the exhaust note soared as I changed up through the gears, the sublime chorus ricocheting off the adjacent mountain walls, Corsa mode supplying the fastest shifts available in its arsenal and the Aventador in its true element. This friendly cat & mouse game continued for many miles, and certainly livened up the last hour of the journey as we approached Portofino, thirty minutes beyond the industrial port of Genoa.
Carbon roof on and loaded with luggage (the slightly flawed design doesn't allow for luggage and the roof off to both be stowed up front) this super sports is also a sublime grand tourer, with confidence-inspiring handling geared to high speed under steer as you would expect from the all-wheel drive set up, which favors the rears (57/43) until needed and gives up little in way of steering input and feel. The F12 might have the lightest and most direct steering in its class, but it's way too light for me, like a Prius to be honest.
Pulling up to the Grand Dame of Portofino, the one and only Belmond Hotel Spendido, in this chariot is like arriving in Rome with the Pope. The Hotel manager Ermes and his extraordinary team of loyal staff members welcome you like long lost friends.
Many of them, like Antonio the bar manager, although that is way too ordinary a term for such a legendary character, have been serving their esteemed and well-heeled clients for over 40 years including everyone from Sophia Loren and Elizabeth Taylor to The Duke of Windsor and Winston Churchill.
The head valet took personal charge of the Aventador, which after I nestled neatly into the middle of parking spaces 1&2 was encircled by stantions and red tape without me even asking or suggesting. What they thought might happen to the driver's window were a few eager fellow guests leaning in and cupping their faces with their hands to see into the cockpit, as so many of us have done over the years. I'm not too sure, but sure enough, that upon returning there were no finger marks on the windows! Ah, the rarified privilege of the lucky, lucky few!
Each morning upon waking, I opened the shutters to let the warm happy sun and fresh Mediterranean breeze flood in and, though it was only temporary and all-too-soon to be returned to its rightful owners back in sant'Agata, I could not help but smile as I gazed down onto "my" VIP "Bull parking" only zone.
My five special days passed much too quickly. Ciao
Here are a couple of Lamo videos I'm sure you will enjoy, remember there is lots more Lamborghini Video in TACH-TV Vault.
Lamborghini 50th Anniversary Tour - 1st Stage
Lamborghini Aventador at 2012 Geneva Motor Show