2015 Nissan Versa Note SR Review by Carey Russ +VIDEO
Versa Note packs a lot of inside and adds good gas mileage to make a comfortable, practical, and stylish small car
DRIVING DOWN THE ROAD WITH CAREY RUSS
• SEE ALSO: Nissan Buyers Guide
Do you need a car that is small outside, for easy maneuvering and parking, but big enough inside for two adults, two or three kids, and their stuff? Or even four adults, sometimes? Your budget is not huge, so price is a consideration. As is fuel economy. And it would be good if the car in question had some style and character.
Nissan has an answer. It's called Versa Note, and is the hatchback version of the second-generation Versa sedan. While underneath the skin it's the same as the sedan, with the same 109-horsepower 1.6-liter engine, five-speed manual or CVT transmission, suspension and all, the Note is a foot shorter, about an inch taller, and fifty or so pounds heavier. The two share no body panels. The Versa sedan looks very much like the baby of the current Nissan sedan lineup; the Note's proportions and styling are more like a micro-minivan. Which it could be considered as… with all of the, um, versatility that implies.
Introduced for 2014 in basic S, more-equipped S Plus, and mid-level SV trim levels plus multiple option packaged for the SV, the Versa Note lineup expands for 2015 with sportier-looking SR and premium SL models. The Versa S gets Bluetooth® connectivity standard, and the various option packages have been revised.
If you want the five-speed stick, that means S. Only. All other varieties get the CVT. Some manufacturers have positioned their hatchbacks as premium or sporty options. Nissan touts the Versa Note for space efficiency, fuel economy, and value. Not sport.
And the well-equipped SR that I've been driving for the past week delivered well in that regard. It was comfortable and commodious, easy to slip into and out of tight parking spaces, and quiet inside considering its class and price point. Which, with a $17,530 base plus $840 worth of options and an $810 destination charge (minus tax, license, etc etc) came to $19,180. Yes, you could have bought a nice Italian exotic for that -- 50 years ago. In 2014 dollars, with the average price of a new car pegged at over $30,000, that's a nice price for a pleasant and useful not-so-small (inside) car.
APPEARANCE: Not to be trite, but the Versa Note is cute, tiny by today's standards, and looks space-efficient, with the wheels at the corners and short overhangs. "Aggressive" has no place here. The grille and headlight shape give it a happy, smiling face, and the extremely-raked windshield and slightly aero profile from the side eliminate any boxiness. Body sculpting is interesting without being too busy. The SR has unique exterior trim, with its own grille, crosshatched instead of horizontal bars, a sportier-looking lower fascia, body-colored lower sills on the sides, repeater turn signals in the outside mirrors, and a venturi-look treatment to the lower part of the rear bumper. On all models, even the S, the outside mirrors, door handles, and bumpers are body-colored. Cheap-looking dark plastic is not found here.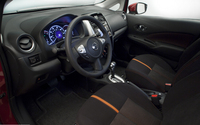 COMFORT: The interior space promised by the exterior design is delivered, in a handsome and well-made package. The SR is well-appointed for its class and price point. Although the windshield is severely sloped, the dark, textured material of the instrument panel top eliminates glare in most lighting. Small quarter windows ahead of the doors (and outside mirrors) help improve visibility in that important area. Here, windows, mirrors, and door locks are power-operated, with pushbutton start/stop. Front seats are manually-adjustable, including driver's cushion height. They are firmer than usual for the class, all the better for comfort after several hours. A leather-rimmed steering wheel gives the SR a touch of luxury, and adds comfort. It adjusts for tilt only, but cruise and audio controls on the spokes are useful. Bright "Fine Vision" backlit instruments are easily read in all lighting, and trip information inset into the speedometer is useful, showing mileage, distance to empty, and other useful data. The screen on the center stack displays the image from the rearview camera and audio information, AM, FM, and Sirius/XM radio, CD, auxiliary jack and USB/iPod plus Bluetooth streaming being the choices.
Heat and air conditioning are controlled by simple knobs, and work well. There is no covered console box; a small compartment in the dash in front of the front passenger takes its place, and is augmented by a deep glove box below that. Further storage is found in the front doors. Rear passengers get plenty of headroom, and a surprising amount of knee and leg space. A minimal amount of contouring of the rear bench and a low central tunnel mean that it's possible for three people to fit, but it's best that they be small as it's not all that wide. Two adults or three kids will work. The rear seatback is split 60/40 for folding versatility, and the hatch's low liftover to the cargo floor will be appreciated. As will the (optional) Divide-N-Hide® cargo floor. In its top position, there is hidden space under the load floor for a purse or small camera bag or such. Dropped lower, it gives more height to the cargo area for large items. The jack is under that, with the space-saver tire mounted pickup-style, underneath and outside.
SAFETY: Zone Body Construction of the Versa Note's unibody structure, with front and rear crumple zones and side-guard door beams is supplemented by the Nissan Advanced Air Bag System, with front, front-seat side, and full-length side-curtain airbags. Brakes are vented discs in front, with drums at the rear. Antilock (ABS), Brake Assist (BA), and Electronic Brake Force Distribution (EBD) are standard in all models.
RIDE AND HANDLING: Nissan's "V" platform features a relatively long 102.4-inch wheelbase, which gives it interior space and space efficiency and a smoother, more comfortable ride than would be the case with a shorter wheelbase. Improvements in design and construction result in a nearly-300 pound weight reduction compared to the first-generation Versa. This improves both ride quality and fuel economy. The suspension design is the class standard, independent MacPherson struts in front and a torsion-beam axle in the rear. It's tuned moderately, with a good match between spring and damper rates for good control and ride comfort. A comfort-oriented suspension tuning, narrow track, and relatively high center of gravity mean it's no sports car in the corners, but it was never meant to be. Electrically-assisted power steering is light but not overly numb. Good aerodynamics and soundproofing make the Versa Note quieter inside than the usual small car, which helps comfort, especially when going longer distances.
PERFORMANCE: "Performance" here related more to fuel economy than blistering acceleration, and the Versa Note does well in that regard. The 1.6-liter engine is a dual overhead cam design with variable phasing of both intake and exhaust camshafts and dual fuel injection nozzles in each intake port to improve efficiency and power and reduce emissions. It makes maximum 109 horsepower (at 6000 rpm) and 107 lb-ft of torque at 4400 rpm. The wide-ratio Xtronic CVT® continuously-variable transmission was designed for optimum efficiency and good performance around town. Acceleration from at stop to 45 or so mph was never a problem; going from there to higher highway speeds required more advance planning and careful checking of mirrors as it took a bit of time. Fair enough, this is a family-hauler, not a GTR. Good mileage will be more important than blistering acceleration to the Versa Note buyer, and no disappointment there. I saw low 30s around town and mid- to high-30s on the highway. With more highway driving than I usually do, I got 35 mpg for the week. With a 10.8 gallon tank, that's an easy 300 miles between fillups.
CONCLUSIONS: Nissan's versatile Versa Note packs a lot of inside into not much outside and adds good gas mileage to make a comfortable, practical, and stylish small car.
SPECIFICATIONS
2015 Nissan Versa Note SR
Base Price $ 17,530
Price As Tested $ 19,180
Engine Type DOHC 16-valve aluminum alloy inline 4-cylinder with continuously-variable cam phasing on both camshafts
Engine Size 1.6 liters / 97 cu. in.
Horsepower 109 @ 6000 rpm
Torque (lb-ft) 197 @ 4400 rpm
Transmission CVT
Wheelbase / Length 102.4 in. / 163.0 in.
Curb Weight 2523 lbs.
Pounds Per Horsepower 23.1
Fuel Capacity 10.8 gal.
Fuel Requirement 87 octane unleaded regular gasoline
Tires P195/55R16 86V m+s Bridgestone Ecopia ep422
Brakes, front/rear vented disc / drum, ABS, BA, EBD standard
Suspension, front/rear independent strut / torsion beam axle
Drivetrain transverse front engine, front-wheel drive
PERFORMANCE
EPA Fuel Economy - miles per gallon city / highway / observed 31 / 40 / 35
0 to 60 mph 10 sec
OPTIONS AND CHARGES
SR Convenience Package -- includes: Nissan Connect™ with mobile apps and 5.0-inch color display, Sirius/XM satellite radio, streaming audio via Bluetooth®, Hands-Free Text Messaging Assistant+, rear-view monitor, Divide-N-Hide® adjustable floor $ 660
Carpeted floor mats and cargo mat $ 180
Destination Charge $ 810