Tire Surfing in Baja California, Mexico With Surfmaster Thom Cannell +VIDEO
SEE ALSO: BFGoodrich All Teraine K02 A Serious Tire
BFG's all-new radial All Terrain T/A KO2 tire test
By Thom Cannell
Senior Editor
Michigan Bureau
The Auto Channel
The invitation from BFG said, "Would you like to play in Baja". No fool, I said yes. Boots on the ground my first question was "Who are all these young guys and why don't I know them? Who will I drive with that won't kill me?" That's always an important consideration when testing cars on highways. At speed? Race cars on loose surface with no windshield? Critical! Many were driving off road for the first time and I worried about their skills as it was far from Off Road #1 for me. Those initial impressions were soon to be proven both correct, and very wrong. My off roading has been in truck and SUVs with windscreens, not in $100,000 open wheeled race cars called BC Buggies, the only synergy a steering wheel, engine, and tires.
The Baja Challenge Buggy http://www.wideopenbaja.com/the-car/ is built as a spec class of off road racing where talent can prove itself, not that ours impressed anyone other than staying safe, the number one priority for all.
This visit to Ensenada, Mexico, home of the Baja 500, Baja 1000 and other Baja races was to test tires, specifically the updated, brand standard BFG's all All-Terrain T/A® KO2 tire, an all new off road tire and a tire that is critical to the financial success of BFG as it underpins the whole of the company's extensive off road portfolio.
BFG all won its first race in 1977 on the original 3-ply radial All Terrain T/A tire. At the time radials were dismissed as unacceptable tires for off road racing, only the bias-ply tires of that era were considered worthy. Since Scoop Vessels won that race, BFG has accumulated 26 of 27 consecutive wins, most recently winning the Baja 1000 on Bryce Menzes' Trophy Truck, their 80th overall win. BFG has won so many races that their lawyers actually permit "Baja Champion" to be cast into All Terrain T/A sidewalls. So now I was in Baja, visiting the most legendary off road racing haunts to validate claims that this new All Terrain T/A KO2 was two times tougher, with 20% greater tread life, and 10% better mud traction. We did not test their 19% improved snow traction claim, but got surprisingly close.
Those claims are stout indeed, and difficult to substantiate under normal conditions, thus the visit and BC Buggies, plus Ford Raptors which are far closer to most customers' realities. In developing the consumer T/A KO2 tire, BFG focused on customer comments. Customer wants were for better tread life over gravel and rock roads, improved traction, stronger sidewalls, and more traction in every season and condition. Having studied tires and discussing the inherent compromises involved, I was highly skeptical. Normally, improving traction means a softer, less long lived tread. Improving wet traction can degrade off road performance as the necessary tread block cuts, called sipes, make for more edges to be worn away. And heftier tread blocks make noise, squirm about and make tires squirreley, unpredictable. Oh, I had skepticism in buckets. This cousin of the BajaT/A KR2 race tire, more of a direct descendent, had much to prove!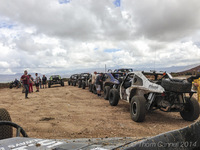 The group started its orientation to Baja leaning how to engage 5-point harnesses, discovering helmet sizes, how to drive the 4-speed manual BC Buggies, and the electronic intricacies of bone stock Ford Raptors. For some, manuals were a mystery to learn. All quickly discovered how to slip a clutch. From orientation we went to Horsepower Ranch, famous among Off Roaders as the launch point for many careers, and a great place to test. There it was time to learn why BFG had invited us to test tires, inspect their claims, it was Tire Lecture time.
This All Terrain T/A KO2 is a monster of technology, directly responding to user needs. Customers wanted stronger sidewalls that were more resistant to splitting, treads that lasted longer on gravel roads, and more traction. Survey's disclosed that the number one complaint was sidewall failure; 86% of tire failures were sidewall related. Of those, 60% were splits in the sidewall and they fixed it, calling the technology CoreGard. In response to the need for longer lasting tires the new tread is twice as long lasting, more resistant to the kinds of wear the industry calls chipping. Stones caught in the tread blocks are now pushed out as the tire flexes, as is mud and dirt.
At the sidewalls, huge molded shoulders resist wear and cuts; we tested the heck out of that claim, it ain't bogus and the shoulder moldings are named Side Biter Lugs. Another feature they call mud-phobic bars are supposed to eject mud or snow from the treads to maintain traction. Wow, they really told the truth about that claim—tires flung mud into our faces for a kilometer after hitting our first mud hole!. For traction enhancement they've dosed the tread with generous amounts of silica.
Standing around a display it was easy to listen to claims, but I continued skeptical, wondering how they had conquered so many compromises. I first asked about the sipes. Cutting a tire normally increases biting surfaces at the price of early wear. Below the apparently razor cut sipes lie contoured surfaces that, when compressed, lock quickly together to form a near-solid tread block while maintaining a leading edge for traction.

One puzzle solved. The next relates to traction and heat. The bigger the tread blocks the more they squirm and create heat. There, silica assists in creating wet traction, the locking sipes relieve heat buildup, as does the compound. So there isn't the wear inducing heat buildup we'd expected. Wide open tread blocks quickly disburse water, mud, or snow (this claim was severely tested, repeatedly, and in our face quite literally). The toughness on gravel and rock remained to be tested on the following morning.
Departing Horsepower Ranch we quickly drove our buggy's—helmeted, Parker pumper air flowed and skirted, five-point belted, heel-toe soft shoed—onto tracks that seemed cut from quarry discards and shards. You'd never take your Tahoe there (unless on these tires), yet we accelerated, smashing rock against tire, the air redolent of flint and desert sage. While we thought the abuse the tires were experiencing extreme, it was nothing compared to what was to come.
Our destination was the off road haven called Mikes Sky Ranch, a combination of resort, hideout, road house, and B&B designed for adventure; the generator switches off at 11PM. Awaiting us was Hurricane Hubert.
On the tracks and trails we tried to move swiftly, safely, and keep momentum forward. More rocks, more rocks, more rocks. Lunch on the trail and then the hurricane hit, dumping a tsunami / El Ninő of rain onto the desert. What had been sunshine and fun became surfing without a board, doing headers into rushing water with no wet suit. We got wet, drenched, and it was fun. Those mud-phobic bars were severely tested and our cars and bodies resembled pro-am mud wrestling teams, the losers. Pounds of mud sailed into our faces and cabin, well-mixed with rain and ditch water. The sun came out and we laughed.
Then it got wet, really wet!
As we drove into another storm front, one
sheltering at least one tornado. Acre feet of water, once a conceptual hydrology measurement term, took on graphic meaning and like a comic hero, we drove into the flowing waters enraged by hectare-meters of runoff from a formerly dry desert. At points we were in mud above the axles; our stout Subaru boxer engine straining desperately to keep momentum and traction. Nobody could have planned a better, more graphic test of mud traction, we were off course midst multiple wild rivers and streams. What had been our trails were rushing rivers, waves coming towards us as each feeder stream increased the volume. We never, ever, stalled. Having been on three continents in similar lesser situations, we should have mired down and been stuck overnight, yet were not.
Wet, shivering uncontrollably in plunging temperatures, and covered helmet to toes with mud and grit and sand (some with fire ants!), we never slowed. We reached Mike's Sky Ranch to go rock crawling in the rain.
Rock crawling is opposite the speeds of BC Buggies. Vehicles are normally 4x4, with hugely articulated suspensions, built to crawl over boulders the size of travel trailers. Traction is king and the T/A KO2 excelled.
We drank beer, consumed steak and Mike's own tequila, and slept. Morning promised more rain; we ate breakfast burritos, drank cowboy coffee brewed in tin stovetop pots, and donned the raincoats from our packs, wishing for cleaner clothing. Racing seats now covered in Hefty bags to minimize wetness, helmets on, forced air on, it was another Blues Brothers moment; HIT IT!.
Flinty air again stung our nostrils as rocks collided with flints, and, engines singing to the 5500 rpm red line, we moved on to the Pacific. Promised rain never appeared, our rain coats strong juju. This day was more uphill, more downhill in the mountains and traction never failed. On flat ranch roads speeds climbed to freeway speeds, which is more thrilling than the statement would seem. BC Buggies are rear-heavy and any lift of throttle moves the back end around to say "howdy". Great for pointing the nose and best at 9/10's speed, intimidating for we amateurs. Intimidating, thrilling, scary, and ultimately rewarding when done correctly.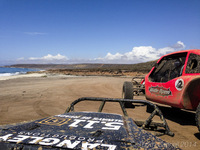 Over a last hill—Pacific! With no warning we broached a hill to find the Pacific ahead, a photo moment we couldn't unbelt for. Scurrying along the coast on our way to lunch we could only think about how successfully the All Terrain T/A KO2 tire had proven itself, far greater challenges than I'd met in Africa, South America, or North America. Their claims rang true in every area except 17% better snow traction. It may be true and I'd be happy to test that theory, just not in open cars wearing T-shirts.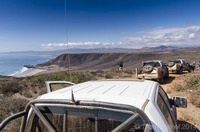 After lunch we swapped the BC Buggy for a Ford Raptor, a more reasonable, if less fun test bed. Th roads we drove on were better, more like what customers would drive their trucks and SUVs along and upon. Again with this 200% heavier vehicle set in 2WD High, traction was never an issue climbing or descending steep sand or rocky roads. On the highway we noticed something BFG had not claimed, the tire is very quiet on asphalt; some off road tires (like the ultra-aggressive BFG Mud Terrain) are far noisier and noise is ultimately wearying. The lack of noise was unexpected and appreciated after living two days with the engine arm's reach from our ears.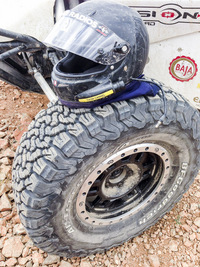 Beginning in November BFG will release 31 sizes of the new All Terrain T/A KO2 and will grow the number to 62, all built in the USA. Fitments will first be for Ford, Chevrolet, GMC, Dodge, Toyota and Nissan pickups and SUV's, as well as Plus Fitments for a more. Suggested MSRP is $222. Followups will included heavier duty 2500-3500 trucks, though tires may fit some diesel trucks from day one.
Having tested tires for many years and many brands I can say I am extremely impressed, particularly by the traction and wear resistance. Had I been on any other tire I might be in the mud today, trucks belly down and stuck. Inspecting our buggy's, there was noticeable wear after our Baja 300, about what you might experience in several months or maybe a year. Guide buggies showed much more wear; they had done the Baha 1000 plus four months of trail running, yet their wear was reasonably small, what you might expect after the pre-running alone. I can say that every claim has been documented except snow traction. BFG, are you listening? Houghton, Michigan, Ford Raptors, February? But please, no BC Buggies!