2014 Lexus LX 570 Review - The Auto Channel
2014 LEXUS LX 570
A Gentleman's SUV
By Steve Purdy
TheAutoChannel.com
Michigan Bureau
Our first experience with the LX, Lexus' big, body-on-frame SUV was many years ago and involved a road trip to the Smokey Mountains where we participated in a fly fishing school taught by a University of Tennessee professor who had written the book on the subject. The story was intended for a new magazine called "Southern Gentleman," but the magazine went belly-up before the story appeared. That one never got into print. Bummer. But, we loved the first-generation truck that was powered by an in-line 6-cylinder.
Two generations of the truck have passed bringing us to this LX570 most recently redesigned for 2008 but continually updated since then. This one, of course, is more modern, more sophisticated and way more technologically equipped but it retains the high-line luxurious personality with a seldom-used but full-zoot off-road capability.
Shortly after delivery we took the Lexus LX 570 into town on some errands and happened to park next to a big Ford Excursion and they were nearly the same height and width though the RX was much shorter. We can also compare it in size to the shorter version of the Cadillac Escalade. Other comparable vehicles might include the Mercedes-Benz GL-Class and Range Rover.
The current generation of the big LX dates from 2007 with modest updates along the way. In 2012 a more substantial update, inside and out, brought it up to what we see here, an elegant, solid, full-service SUV that will tow your boat, take you to the opera and even climb some rocks, all with equal aplomb. With room for 8 passengers (three of which would need to be mighty small and/or flexible to fit in the way-back) plenty of power, adequate cargo capacity and a plethora of sophisticated electronic driving assistance it has a nice niche in the SUV market.
The most recent styling update provided the Lexus LX 570 with a subdued version of Lexus' trademark "spindle" grille along with more sleek and stylish design details. LED DRLs and LED tail lamps along with heavily jeweled head light bezels and judicious chrome trim allow it to fit in to the sophisticated suburban landscape. Huge 20-inch chrome wheels with P285/50/R20 all-weather tires and an integrated, illuminated running board provide a visual heft.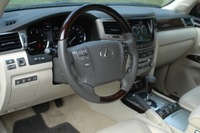 Inside we find a beautiful, functional and thoughtful cabin with fine materials and graceful design. The electroluminescent instruments and gauges look like the real thing, but with many functions. Large front seats accommodate my broad beam well while providing good support and plenty of adjustment. The large touch screen mulit-function screen works well with a row of buttons below it to select different categories. We would be happier with the slick control knob with haptic feedback we find on other Lexus products but this one will do. USB, 12V outlet and auxiliary input are housed within a small door conveniently located on the console. The LX does not have an analog clock like many high-line luxury vehicles, but it does have a hand brake by the console on the driver's side, which most do not have.
The rear seats adjust fore and aft a good 6 inches and the 60/40 seat backs fold and tumble with the pull of one handle for access to the third row or to load cargo. On our test car, though, the '60' side did not hold itself up. A fold-down section of the second row seat back contains two cup holders and a compartment containing the controls for the entertainment system, the screens for which are mounted in the back of the front seats. That section takes two hands to release. The third row seat intended for three passengers might accommodate small children but nearly any adult would be mighty cramped back there.
Cargo capacity is limited partly by the third row seat design that has them folding sideways. A detailed instruction panel describes the procedure but is nearly impossible to read. A 100V outlet resides back there to plug in your tail-gaiting equipment. The tail gate is of a station wagon design with a larger hatch panel that lifts with power assist and a lower, smaller gate that folds down with a gentle damping effect. The receptacle for the trailer hitch is nicely integrated into the bumper not looking like and afterthought or aftermarket accessory.
Under the hood, hiding under plastic covers, lurks a 5.7-liter V8 making 383 horsepower and 403 pound-feet of torque mated to a 6-speed automatic transmission with a manual mode. The EPA rates this combination at 12 mpg in the city, 17 on the highway and 14 mpg combined using premium fuel. The engine is E85 capable. Most of our driving this week was on our country roads with just a bit of highway driving and we managed 17.1 mpg overall. Though we did not do any towing nor carry any serious cargo we found the power and acceleration more than adequate. The Lexus LX 570 is rated to tow 7,000 pounds and has an anti-sway feature integrated into the chassis dynamics.
Even though a tiny percentage of owners will ever do any serious off-roading the Lexus LX 570 has full-time four-wheel drive, a two-speed transfer case, suspension height adjustment (about 3inches), crawl control and hill-descent control. For on-road use we have three driver selectable suspension modes (sport-comfort-regular) but I could not discern much difference.
The LX 570 starts at $82,630 and comes well loaded. Our test car has the optional rear seat entertainment system that adds about 2 grand, a Luxury Package worth $1,500 that includes some cosmetic upgrades and the "Cool Box" refrigerated center console, and the upgraded Mark Levinson, 19-speaker, Surround Sound audio. Our sticker shows a bottom line of $88,555.
Lexus' new vehicle warranty covers the Lexus LX 570 for four years or 50,000 miles and the powertrain for 6 years or 70,000 miles.
The LX 570 is a refined, comfortable and competent SUV with exceptional off-road potential. It would seem a bit incongruous to this reporter to do serious off-roading with this kind of luxury vehicle but the capability is there if you need it – or just want it. It is certainly a bit pricey and drinks a lot of fuel, but as an image enhancement tool it scores well with the others in its class.
We were sorry to have to give it back.

© Steve Purdy, Shunpiker Productions, All Rights Reserved