Dodge 100 Years: How Two Brothers Rose To The Forefront Of The Automotive World +VIDEO
The brothers John Francis (born 1864) and Horace Elgin (born 1868) Dodge would never have guessed that one hundred years after they had built their own motor vehicle, the Dodge brand would still be alive and kicking. This year marks the Centennial of Dodge as a car manufacturer.
By Henny Hemmes
Senior European Editor
THE AUTO CHANNEL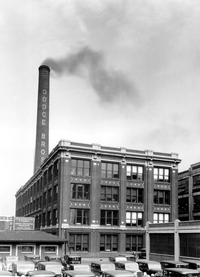 August 24, 2014: The Dodge Brothers Company was founded in 1900 as a supplier of parts and assemblies for automakers in Detroit. John and Horace were machinists - like their dad and two uncles - and after the family moved to Detroit in 1886, they were employed at Murphy Boiler Works. Six years later they found new jobs across the river with Dominion Typograph Company in Windsor, Ontario. When Horace invented and patented a new type of bicycle wheel bearing, the brothers started a Canadian bicycle company with Harold Evens, whom they knew from Dominion. After an additional four years, John and Horace sold their Evans & Dodge Bicycle shares and moved back to Detroit where the Dodge Brothers Company started a machine shop. They soon produced engines and chassis components for a number of automobile firms, including Ford and Oldsmobile. In 1901, they invented a one-cylinder engine for Oldsmobile and when a fire destroyed the Olds Motor Works factory, Dodge Bros. was contracted to supply more than 2,000 two-speed gearboxes to Olds Motor Vehicle Company.
Dodge Brothers had also been one of Ford's main suppliers of components for the original Model A, after Henry Ford failed twice to start a car company. The company even supplied complete chassis to Ford; everything except for the body and wheels. However, Ford's payments to Dodge Brothers were slow. In 1903, Dodge wrote off $7,000 in overdue payments and took a $ 3,000 credit in exchange for a share of 10 percent of Ford Motor Company. It turned out to be a super deal. The next ten years, Dodge Brothers profited not only from its exclusive supply contract with Ford, its stake in Henry's company also generated millions of dollars in dividend.
If you read the book 'Dodge 100 Years', you will learn that the brothers wanted to produce cars themselves because John was "tired of being carried around in Henry Ford's vest pocket". The truth is that in 1913 their attorney strongly advised them to be independent from Ford.
The brothers notified Henry Ford that they would cease their work for him in 12 months' time, bought property around their Hamtrack plant and began planning production of their own. They established Dodge Brothers Motor Car Company on November 17, 1914. The vehicle, a Model 30 with a new 4-cylinder engine, nicknamed the 'Old Betsy', rolled off the assembly plant in November 1914. The Betsy was instrumental in a new kind of engine development by offering 35 hp. This was 20 hp more than the Ford Model T and it was therefore considered a 'hot' car.
The Betsy was revolutionary in other ways as well, with an all-metal body, headlights, an electric starter and a speedometer. Before the end of the year, the brothers had received more than 70,000 orders, but could 'only' build some 45,000 cars in 1915.
Dodge was also the first to have its own test track to shake down the cars after they came off the production line. In just three short years Dodge was the fourth largest American automobile manufacturer.
During a visit to the New York Auto show, he brothers caught influenza that developed into pneumonia. John died on January 14. Horace was still ill and could not get home for the funeral. He became president of the company, but was inconsolable of his brother's death and stepped down from his function in July. He did not recover and died on December 10. Five years later, their widows sold the company to an investment company and in 1928. Walter P. Chrysler acquired the firm and Dodge became part of the quickly expanding Chrysler Corporation.
You do not need to be a car aficionado to know that Dodge stood for a number of innovations, not only technical, but also with respect to design. I mention only the Hemi V8 engine, the Dodge Caravan, the first minivan in the world, the Viper, that made it into production and the Copperhead concept that was never fully realized.
Last May, Fiat-Chrysler announced that the Dodge and SRT (Street & Racing Technology) brands would be integrated and become Chrysler's performance brand (again). Tim Kuniskis, Dodge CEO and President said: "Dodge is the American performance brand. It is not a new strategy, it's a purification of the brand."
The book, written by automotive author Matt DeLorenzo, tells - and shows - the story of the Dodge brothers' vision, their influence on the car industry and the history of the Dodge brand. I can highly recommend to anyone interested American car manufacturing to read it. No, no.. I do not get commission!
This summer, I was among five dozen journalists to join the special and exclusive media event that was the start of the celebrations. Please join me for my report of the exceptional cars that we could drive ourselves and of the nearly one hundred year old Dodges in which we rode shotgun.
Read Henny's follow-on TEST DRIVE STORY.