2014 Chrysler Town & Country A Family's Best Friend
2014 CHRYSLER TOWN & COUNTRY REVIEW
By Steve Purdy
TheAutoChannel.com
Michigan Bureau
This is the classic "soccer mom" van, a vehicle suffering unjustified disrespect from many quarters, including upscale suburban family buyers.
Take our daughter, (Ed Note; and my daughter-in-laws) for example. She has three active little boys with years of schlepping to look forward to, an appreciation of cool cars (being the daughter of an auto writer) and she is a suburbanite in the most typical sense. She bought a Honda Pilot because she didn't want her vehicle to portray the image of a plane-Jane kid hauler. So many folks still think a mini-van is as boring as white bread.
I disagree (Ed Note: as do I ). The modern minivan (a misnomer, to be sure, since there is nothing 'mini' about it) is typically luxurious, stylish and copious. It's only the large boxy profile that makes it seem focused more on practicality than fun.
While sales in the the mini-van segment is no longer shrinking ( because of SUV and CUV competition) it is not growing either. A few manufacturers continue to see worthwhile to compete with the "mother of the segment" the Chrysler Town & Country, as witnessed by the Honda Odyssey, Nissan Quest, Kia Sedona, Ford Transit Connect and Toyota Sienna. The Dodge Caravan is going away but its up-styled sibling, this Chrysler Town and Country, remains one of the best. And, of course, its progenitor pioneered this segment beginning with a surprise introduction in 1984.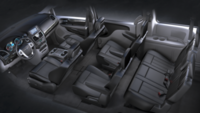 Were we to compare the original Dodge Caravan of 1984 to this 2014 Chrysler Town & Country S we would be amazed at the difference a few decades make. The original was built a compact K-Car platform upon which Dodge positioned a three-row boxy body. This T and C is a truly luxurious, cavernous, refined people and cargo hauler with a decent price and scads of well-earned credibility. Partly due to Chrysler's financial troubles and an inability to pour money into R&D this Town & Country gives some ground to its Japanese competitors, but unless you need a full 8-passenger capability (which in 2014 Chrysler does not offer) you'll be happy with this one. Here is a link to see all
2014 and some minivans ranked by seating capacity
The 2014 Town & Country is unchanged from the previous year's van. Exterior styling is boxy and rather conservative, but we wouldn't expect design intensity from this kind of vehicle. Interior is surprisingly luxurious with good materials and excellent fit and finish. The analog clock in the center of the dash adds a touch of class. Ingress and egress are easy front and rear. The Chrysler engineers have done a fine job over the years in developing exceptional ergonomics, like the ability of the third row seats to reconfigure to face backward for outdoor events. Power rear seats are available as well, though our test car did not have them.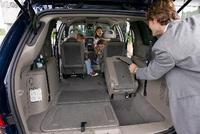 If hauling-space and seating options are important to you in a minivan, among the unique charms and number one differentiation that separates the Town & Country from its competitors is its Stow and Go seating system that allows the seats to fold entirely into the floor for flat cargo space. That system also results in an amazingly deep well behind the rear seat when it is in position that accommodates large cargo with 33 cubic feet of space. Golf bags fit in there standing up. With all seats folded flat we have 143.8 cubic-feet to haul our stuff. This thing could double as a cargo van.
Included as an entry-level T & C standard feature is a DVD entertainment system for the rear-seats – an acknowledgment, we suppose, of the overwhelming popularity of this vehicle for the hauling of kids. Of course, these minivans also pioneered the handy accessories like cup holders, cubbies and storage bins. Higher trim levels get a plethora of other features and you can easily configure it like a high-end luxury sedan but with lots of extra room.
Our test van is the "S" model, the second of four trim levels. With a base price of just over 32 grand it comes with leather-trimmed seats with cloth inserts, back-up camera, keyless entry, tire pressure monitor, dual DVD/Blu-Ray entertainment system, 9-inch screens for second and third row riders, 40G hard drive, Bluetooth streaming audio, 6.5-inch touch screen display, tilt/telescope leather steering wheel, 3-zone HVAC, 17-inch wheels, power sliding doors, power lift gate, and a full compliment of safety equipment and chassis dynamics. It also has the optional (and well worth-it) SafetyTec Package which includes automatic high beam headlamp control, blind spot and cross path detection, rear park assist, rain sensitive wipers and tire pressure display. With the destination charge we're looking at $35,235 on the sticker's bottom line.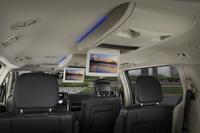 Powering our people hauler is Chrysler's wonderful 3.6-liter Pentastar V6 with 24 valves and variable valve timing making 283 horsepower and 260 pound-feet of torque that drives the front wheels through a solid, but less than sophisticated, six-speed manual transmission. (We expect to see the 8-speed automatic soon for extra sophistication and mileage.)
The EPA rates this combination at 17 mpg in the city, 25 on the highway and 20 mpg combined usiing regular fuel. Our experience this week was probably 2/3rds highway use and we managed an impressive 25.5. I was making no attempt at hyper-mileage driving.
That powertrain felt great to me. It had plenty of acceleration, though we never had it loaded to the hilt. I can't complain about the handling and overall driving dynamics and found it very easy to live with. In spite of its size and weight it was easy to manage around the city as well as on our great country roads. Hear that my daughter.
Chrysler's new car warranty covers the Town & Country for 3 years or 36,000 miles and the powertrain for 5 years or 100,000 miles.
So, if you need a roomy and convenient people and cargo hauler ( and a hight that allows easy in and out of children and their safety seats don't dis-miss the original minivan the Town & Country out of hand. Take a close look, a good drive and see what you think, you know what I think.
ęSteve Purdy, Shunpiker Productions, All Rights Reserved