C.A.R 2014 MBS Day 2 - STEM, Diesels, New Powertrains, Engineers, CAFE, New Plants
2014 CENTER FOR AUTOMOTIVE RESEARCH MANAGEMENT BRIEFING SEMINARS – TRAVERSE CITY DAY 2
By Steve Purdy
TheAutoChannel.com
Michigan Bureau
We always love the interesting tidbits encountered here at the MBS in Traverse City. One of those is the "Deep Orange" car developed by a team of grad students from Clemson University in Spartanburg, South Carolina. They've taken a BMW X3 donated by the company's assembly plant nearby and redesigned it according to a detailed set of criteria developed by their professor. The result is a slope-backed crossover that looks a bit like an X6 and can accommodate a go-cart, a wheel chair and potted plants standing up. It involved major restructuring of the car and required students to understand marketing, parts sourcing, design, manufacturing and every conceivable element of specialty car production, including the 3D printing needed to produce the revised body panels. Needless to say, the students involved in that program have no problem finding great jobs in the industry when they graduate.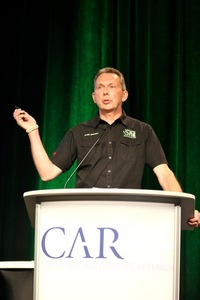 Across the isle in the lobby vendor area is an important program for Michigan's youngsters. Addressing the problem of getting kids interested in STEM (science, technology, engineering and math) education a company called Square One designs, funds and promotes hands-on programs – mostly competitions of one sort or another – for kids from elementary age on. The MEDC (Michigan Economic Development Corporation) is a great supporter of this unique organization founded here in the mitten state. Executive director, Karl Klimek, described for me one of the competitions that allow youngsters to drive vehicles of their own design on the famous Michigan International Speedway track. His enthusiasm, I must say, was infectious.
A major theme of today's discussion is the difficulty of finding qualified and talented engineers and designers for the auto industry. Many STEM grads from major universities don't see the auto industry as the place to be. They often prefer other tech careers. We spoke with the senior analyst for the MEDC, Nigel Francis, who talked about this problem but emphasized that Michigan has the richest infrastructure to support the automotive business of any place in the world. Supporting that claim is a number we often cite, from the MEDC I think, that 75% of U.S. automotive R&D is still done within 50 miles of Detroit. California is often thought of as the center of automotive lust but Michigan is still the center of the U.S. automotive industry.
Adding to Michigan's automotive infrastructure American Axle announced here today they will open a new technical center in suburban Detroit next year to test manufacturing lines and develop prototypes. The new facility will cost around $20 million and employ close to 100 people. American Axle produces driveline components and has annual sales in the neighborhood of $3.7 billon.
Another big topic today was powertrain development. Fuel cell vehicles are quickly becoming a reality. Hyundai just began selling theirs in California where infrastructure is just beginning to be built. Honda, Toyota, Mercedes-Benz and others are not far behind. Engineers and planners continue to believe fuel cells will ultimately power most of our vehicles eventually. Refueling infrastructure is the biggest issue now and a number of entrepreneurs are beginning to invest in the Los Angeles area. Next will be densely populated east coast areas. The consensus now seems to be that mainstream availability of fuel cell vehicles is still a long way off in spite of many optimistic predictions.
We also learned that GM plans to produce more diesel-powered vehicles for the U.S. market including a 2.8-liter, 180-hp version for the new Colorado pickup. Though they cost more to produce, diesels power nearly half of all passenger cars in Europe because efficiencies in those engines allow up to 30% better fuel mileage, and on that side of the pond diesel fuel is about the same cost as gasoline. Here in the States taxes are considerably higher on diesel leaving the cost equation favoring gasoline. Torque tends to be much higher in diesels as well making low-end acceleration and drivability much enhanced.
Others here remind us that plenty of efficiency remains to be wrung out of conventional gasoline engines, with direct injection, turbocharging, ever more complex variable valve timing and probably innovations we have not of thought yet. Mild hybrids, plug-in hybrids and full electric cars continue to account for a very small part of the market and are not gaining share.
On an entirely different topic we listened carefully as Steven Szakaly, chief economist at the National Automobile Dealer Association, predicted that the ambitious CAFE (Corporate Average Fuel Economy) standards imposed by the Federal government to take effect in 2025 will more seriously reduce new car sales more than previously thought. His contention is that in order to meet those artificial requirements automakers will have to sell way more small, efficient, less profitable cars that consumers
may not be enthusiastic about. To paraphrase our veteran colleague, Gary Witzenburg, the government can require certain cars to be built but can't require people to buy them. We've yet to get a clear answer to our oft-asked question about what the consequences will be for manufacturers who do not meet the federal goals.
We also heard form California's Air Resource Board's deputy executive officer, Dr. Alberto Ayala, who said that, while they want to partner and cooperate with OEMs and others on environmental requirements for automobiles that his organization would "push hard" for compliance with what some consider overly ambitious goals. California, through the CARB, has led the nation with strict environmental standards.
©Steve Purdy, Shunpiker Productions, All Rights Reserved