July 2014 U.S.Sales Results
Incentives Drive Hot July Sales
High end-of-model-year incentives helped drive sales to healthy heights in July. Across the board, incentives were up eight percent from July 2013, averaging $2,774 per vehicle. Mazda's sales were up 17 percent, Nissan's were up 11.5 percent, and Toyota saw an 11.6 percent improvement. Hyundai enjoyed its best July on record with 67,011 vehicles sold, up 1.5 percent from July 2013.
"Demand for new vehicles isn't slowing down," said AIADA President Cody Lusk. "Consumer confidence is being buoyed by positive news on employment and housing. Dealers fully expect sales numbers to continue to climb in the second half of the year."
Internationals Improve July Market Share
International nameplate brands expanded their share of the U.S. July auto market. Together, Asian and European nameplates captured 55.9 percent of the market and sold 802,355 vehicles. In June, they held 53.8 percent of the market and sold 764,029 vehicles.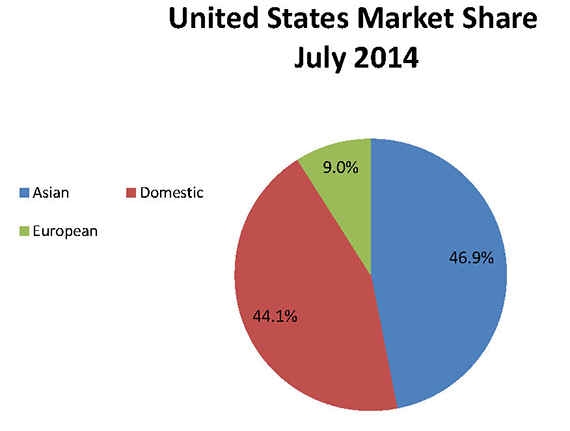 Asian brands occupied the biggest share of the market. In total, they captured 46.9 percent and sold 673,783 vehicles, an improvement over the 44.5 percent share and 632,027 vehicles they sold in June. Sales for Asian brands were also up 7.8 percent over July 2013. The market share for European brands dipped slightly as they captured 9 percent of the U.S. auto market in July and sold 128,572 vehicles. In June, they held 9.3 percent of the market and sold 132,002 vehicles. However, their sales improved 2.7 percent over July 2013. Domestic brands finished July with 44.1 percent of the market, down from 46.2 percent last month. They sold 632,987 vehicles, down from 656,965 in June.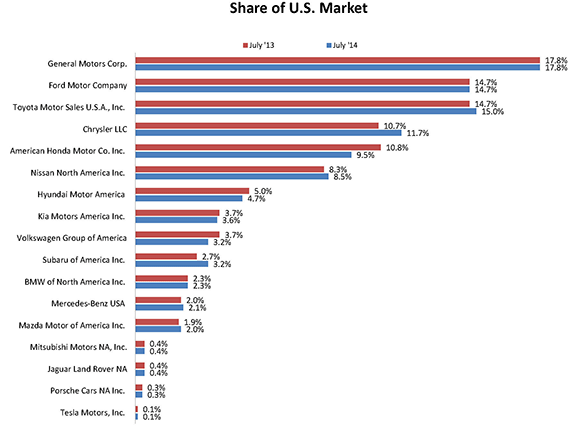 Internationals Dominate July Top Ten List
In addition to building market share, international nameplates were among the most popular vehicles sold in the U.S. in July. They represented seven of the month's top ten selling vehicles, up from five in June. In third place, and with sales up 14.7 percent over last July, the Toyota Camry led the pack and maintained its lead as the top selling car in the U.S.
Toyota and Honda made the strongest showing on the month's top ten list with three models each. The Camry was joined by the Toyota Corolla (up 26 percent) and RAV4 (up 37.1 percent), which captured sixth and ninth place, respectively. Honda's three models—the Accord (up 11.3 percent), Civic (down 7.3 percent), and CR-V (up 4.8 percent)—occupied the fifth, seventh, and eighth slots. At number ten, the Nissan Altima (down 9.8 percent) rounded out the list of international nameplates on July's top ten list.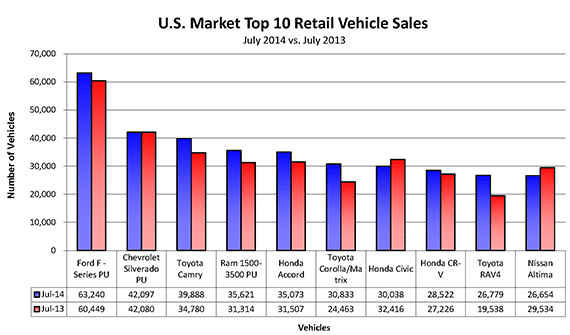 North American Facilities Contribute to July Vehicle Supply
July's sales figures demonstrated the importance of North American manufacturing facilities. Together, they supplied 504,229 international nameplate vehicles sold in the U.S. in July. Asian brands sourced 282,002 cars, which represented 40.9 percent of all cars sold in the U.S. in July from these facilities. They also sourced 194,161 trucks, totaling 26 percent of all trucks sold in the U.S. European brands sourced 17,965 cars (2.6 percent of all cars sold) and 10,101 trucks (1.4 percent of all trucks sold) from similar North American plants.

Outlook
AutoData Corp. estimates the seasonally adjusted annual rate (SAAR) for July was 16.48 million units versus 15.76 million units a year ago. Industrywide, 1,435,342 light vehicles were sold, making this the best July since 2006. Sales for all brands, unadjusted for business days, were up 9.1 percent from July 2013 and five percent year over year.