2015 Car Review: Lexus NX Small Crossover By Steve Purdy
2015 Lexus NX Review
All-New Small Luxury Crossover
By Steve Purdy
TheAutoChannel.com
Michigan Bureau
One of the fastest growing segments in both the U.S. and worldwide markets is that of small crossovers, particularly those in the luxury class. Lexus is not about to be left out of the mix so they just introduced an all-new contender, the NX line. We just spent a couple of days in Nashville having a close look and a first drive of the three versions we'll be seeing in dealer showrooms by the end of the year.
The 5-passenger NX line consists of three models – 200t (turbo), 300h (hybrid) and F-Sport. In a nutshell we can say it is a smaller, more sporty version of the RX that has led the mid-size luxury crossover segment since its introduction in 1999. Each NX can be had as front-wheel or all-wheel drive, and prices "will begin under $40,00," to quote our hosts. More detailed pricing will be released closer to actual launch.
Let me begin with a disclaimer: I'm on my second RX and am fond of that versatile CUV. I just traded in my 11-year-old RX300 for a snappy 9-year-old RX330. I'll not let my fondness for those two cars taint my review of this new one. I promise.
In overall shape, stance and profile we see a definite family resemblance to the RX. Exterior design, though, is much more dramatic, angular, crisp and brash. From the front we are stricken nearly speechless by the gaping, jutting, oversize interpretation of the Lexus' trademark spindle grille. The black, mesh version on the F-Sport, in fact, looks as if it might be useful for filtering krill if it were incorporated into the mouth of a whale.
Standard 17- and optional 18-inch wheels are designed to add to the drama. Distinct character lines along the flanks make a bold statement about sport and fashion as do details like artfully designed door handles. The rear view will grab your attention as well with large, arrow-shaped wrap-around taillights. LED lighting punctuates the visual ambiance front and rear.
The design philosophy continues inside as well. Unusual shapes, striking lines and fine materials characterize the dash, center stack and the rest of the interior. Lots of stitching on a variety of surfaces and design elements that have purely aesthetic purpose confirm Lexus' dedication to going beyond practicality to what some refer to as 'design intensity.' You'll find no faux wood here, just subtle metallic surfaces along with fine plastics and leather.
Instruments are mostly simple and easily to read. Controls include plenty of knobs and buttons without (thank you Lexus designers) touch screen controls. Instead the 7-inch screen is controlled with a small-ish touch pad on the console that works much like your computer's touchpad with pinch-to-zoom and other functions. The sensitivity of the touchpad is adjustable and haptic feedback helps us know exactly where our cursor is poised. Sadly, like many cars, the USB port and 12V power outlet are hidden in the console where it is tough to get at.
This 90% new platform is derived from the Toyota RAV4 so is one full increment in size smaller than the RX. We can see and feel that reduced size particularly in the cargo area and the rear seat, though it feels plenty roomy for all but the biggest passengers. The cockpit up front has plenty of seat adjustment to accommodate most drivers and passengers.
First, we drove the base model NX 200t with the all-new 2.0-liter twin-scroll turbo, with a new six-speed automatic transmission. This direct-injected four-cylinder engine makes a good 235 horsepower and an amazing 258 pound-feet of torque. It is torque, as most of you know, that we feel on acceleration. The Lexus folks claim it will do 0 to 60 mph in 7 seconds flat while getting 22 mpg in the city, 28 on the highway and 24 mpg combined. The all-wheel drive version is within a click or two of those numbers and you'll not need premium fuel even though it is turbocharged. Driving though some of the back roads around Nashville with this new CUV was a treat and we'll not dispute any of those numbers. We expect this slick new powertrain will find its way into other Lexus products.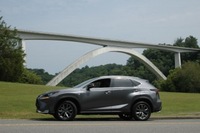 The F-Sport edition was next on our driving agenda. Special suspension tuning, different parameters for the electro-mechanical steering, more responsive throttle settings and lots of go-fast trim make this one special ute. Yes, we can feel much of the special tuning and handling but it's not a lot different than the "Sport" mode available on the other models. The F-Sport goodies are mostly for image and appearance and for many of us will probably be worth the extra cost depending on how pricing is structured.
Finally, we had some time behind the wheel of the hybrid NX300h with a 2.5-liter, normally aspirated, four-cylinder engine and auxiliary electric power achieving total output of 194 horsepower. The creatively managed CVT (continuously variable transmission) feels like a conventional transmission and facilitates a 0 to 60 mph time of right around 9 seconds, though it feels faster than that. The electric motors provide more thrust on hard acceleration and power the car at low speeds making for much improved mileage overall. Unofficial mpg numbers show 35 in the city, 33 on the highway and 31 combined. Again, just subtract a couple of clicks for all-wheel drive models. We expected to find considerably less cargo area in the hybrid as is the case with most because of the space needed for the battery packs. We could discern no difference without measuring. We're told they split the battery pack in two and tucked them more efficiently under the floor ahead of the rear axle.
The NX will be a world product for Lexus as they anticipate selling it in 80 markets. Japan is getting it now and the U.S will be second as it comes here by the end of the year.
Lots of little tidbits of innovation surprised us, like the unusual sunglass storage in a partially covered bin on the console, a stowage place for the rear cargo cover, and optional wireless device charger and a hidden key hole behind the driver's door handle.
We will provide a more detailed review of the NX compact-utes when they become available for extended drives. In the meantime, I can't wait until they get 10 years old so I can afford one.
ęSteve Purdy, Shunpiker Productions, All Rights Reserved