AIADA: June Auto Sales Continue to Climb, Beat Forecasts
Washington DC July 2, 2014; The AIADA reported that June auto sales demonstrated a strong and resilient U.S. market. Results set the industry up for a strong second half of 2014. Brands that saw the greatest growth in June include Audi (up 23.1 percent), Mazda (up 16.5 percent), and Subaru, which enjoyed its best June on record (up 5.4 percent). Honda's sales slipped 4.3 percent, and Volkswagen's sale dropped 22 percent.
"Many analysts predicted a drop in June sales from a year ago," said AIADA President Cody Lusk. "Instead, this stable, steady climb points to the resilience of the industry and the American public's continued demand for new vehicles."
Internationals Experience Slight Fall in Market Share
Market share for international brands dipped slightly in June. Together, Asian and European brands secured 53.8 percent of the market, compared to 54.6 percent in May. In total, international brands sold 764,029 vehicles, down from 879,503 last month.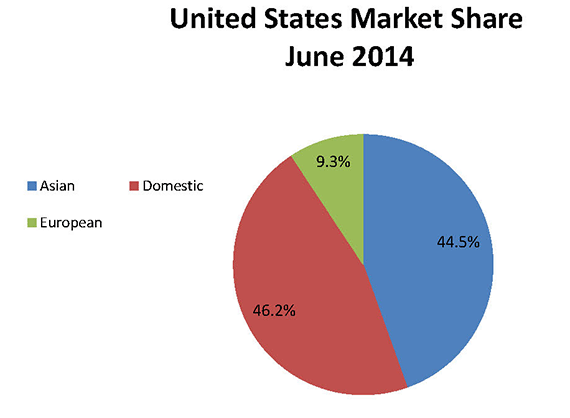 Asian brands occupied 44.5 percent of the market, down from the 46.2 percent share they held last month. They sold 632,027 vehicles, compared to 743,937 vehicles last month. However, they were up 2.1 percent over June 2013 when they sold 618,845 vehicles. European brands occupied a 9.3 percent share of the market, selling 132,002 vehicles. Although market share was up from May, sales were shy of the 135,566 vehicles they sold last month. Domestic brands finished June with a 46.2 percent market share and sales of 656,965 vehicles.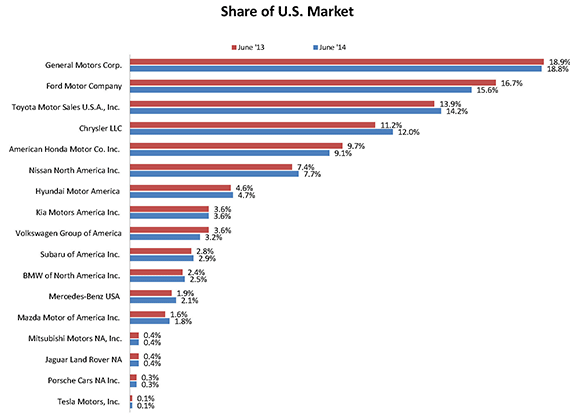 Internationals Make Strong Showing on Top 10 List
Five of the top 10 selling vehicles in June were held by international nameplates, down from six last month. In second place last month, the Toyota Camry moved into third place for June behind the Ford F-Series and Chevrolet Silverado pickups. Sales of the midsize car were up 13.4 percent over last June. In fifth place, the Honda Accord represented the other international midsize sedan on June's top ten list; sales for the vehicle were up 2.1 percent over June 2013.
Two compacts and an SUV rounded out the international nameplates on the month's leader board. The Honda Civic (up 8.7 percent) remained in sixth place, followed by the Toyota Corolla (up 17 percent) in seventh place. The Honda CR-V finished June in tenth place.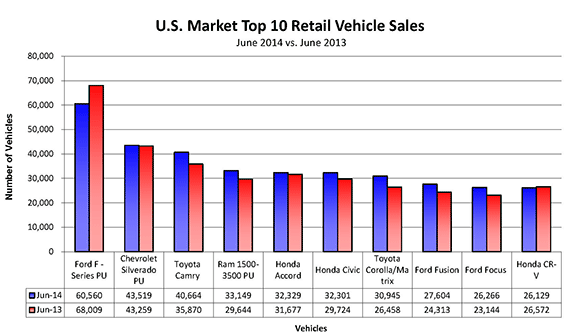 North American Facilities Provide June Vehicle Supply
International nameplates maintained a strong manufacturing presence in North America. In total, 480,239 vehicles that were sold in the U.S. in June were produced at North American manufacturing facilities. Asian brands sourced 269,282 cars from these facilities, representing 38.3 percent of all cars sold in the U.S. They also sourced 180,688 trucks from North America, totaling 25.2 percent of all trucks sold in the U.S. in June. European brands also displayed a strong manufacturing presence as they sourced 18,004 cars (representing 2.6 percent of all cars sold) and 12,265 trucks (representing 1.7 percent of all trucks sold) from their North American production units.

Outlook
AutoData Corp. estimates the seasonally adjusted annual rate (SAAR) for May was 16.98 million units versus 15.88 million units a year ago. This is the highest reported SAAR since July 2006. Sales for all brands, unadjusted for business days, were up 1.2 percent from June 2013 and 4.3 percent year over year. Sales were down 11.7 percent from June 2014, a drop that can be attributed in part to the beginning of vacation season and in part to the fact that June 2013 had one additional weekend.