2015 Chevrolet Suburban LTZ 4WD Preview and Vacation Review by Steve Purdy +VIDEO
A Big Family Hauler on a California Adventure
By Steve Purdy
TheAutoChanell.com
Michigan Bureau
• SEE ALSO: Chevrolet Buyers Guide
Regular readers will know how much we enjoy doing our product reviews in conjunction with a travel adventure. What is the highest use of our automobiles if not to transport us to fascinating places in comfort and style? This week we'll share our springtime adventure in the Sierra Nevada Mountains experiencing the new 2015 Chevy Suburban - destinations Yosemite and Lake Tahoe.
(If you're interested only in the Suburban and not the travel story watch for an upcoming review of just the truck. In the meantime, we hope you enjoy the story as you pick out the vehicle information.)
My pretty wife has been planning this trip for a couple years with two of her brothers and their wives. Of the group only her senior brother Jim and his wife Sue have been to Yosemite and only my wife Cathy and I have been to Tahoe. Younger brother Rick and his wife Kim travel with us often so you may have read of some of our earlier adventures. They just like to go places they've not visited before.
I spent some time earlier this year at the Chicago Auto Show looking for a vehicle to accommodate us six adults and all our gear. I found few options. The newest Nissan NV300 is not available yet nor is the Sprinter. Most of the 3-row CUVs and SUVs have too little room behind the rear seat meaning we would have to pack the suitcases between the passengers or on the roof. The most promising, I decided, would be the new Chevy Suburban - lots of room for six and, we hope, plenty of room for stuff. With the invaluable assistance of our Midwest GM PR guy, Fred Ligouri, we scored one for delivery in Sacramento.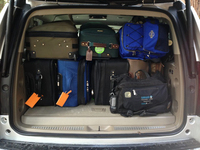 As we loaded our cargo curbside at the Sacramento airport we were surprised to find that we had even more room than we needed. The Suburban has 38.9 cubic feet of cargo space behind the third seat. It easily swallowed 6 big suitcases and a variety of miscellaneous bags with some room to spare - not a lot to spare, but some. The second row captain's chairs allowed good space between those seats for the ladies' totes. The whole cabin accommodated the group well. We started out with Kim and Cathy in the way back (third row) since they are smallest, but later discovered the others were reasonably comfortable back there as well.
Our drive across town provided a period of acclimation to this large, luxurious 6-passenger, body-on-frame SUV. (A bench second-row seat is available making room for 7 passengers.) Jim pulled out the media information that came with the truck and we found this to be a top-of-the-line ½-ton Suburban LTZ with 4WD showing a base price of $64,700. With the Sun, Entertainment, Destination Package, Adaptive Curise Control, Trailering Package and Theft-Deterrent Package we're looking at a bottom line of $71,090 on the sticker. The basic, entry-level Suburban without options lists at just about $47,600.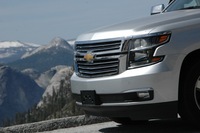 By the way, Suburban may be the oldest nameplate of any American vehicle dating from 1935. That makes this an 80th anniversary vehicle. We love the red 1936 Suburban in the GM Heritage Collection we've seen at local shows. In all those years it remains a body-on-frame, full-size, enclosed-rear, light truck variant focused on both passenger and cargo. Recent generations have moved upscale adding plenty of luxury and sophistication.
The first stop on the trip was a lunch date with one of our bosses, TheAutoChannel co-founder, co-publisher, videographer, Marc Rauch, who lives along our route to Yosemite. As it turns out Marc is an accomplished cook, gardener, home distiller and all around Renaissance man. Thanks to Marc (a Brooklyn native who has never lost his distinctive accent) and his lovely California wife Debbie, we began our trip with gourmet eats and drinks, convivial companionship and plenty of local trip advice.
The route south by southeast toward our first rental house near Mariposa took us on Highways 16 and 49 along the eastern edge of California's Great Central Valley where intensive agriculture keeps us guessing what crops we're seeing. About half way along this route the road began to enter the foothills of the Sierra Nevada Mountains getting much more curvy and challenging. The last half hour of the drive, just before Mariposa on Highway 49, became so hilly and curvy we could barely average 30 mph causing some motion sickness for one of our intrepid travelers.
Despite its size the Suburban feels not a bit cumbersome on the twisty bits of road. Steering is reasonably precise, body lean and sway are barely noticeable with no fishtailing on the back-and-forth swales, and power is adequate. I tried to get on and off the brakes and gas as gently and smoothly as possible so not to exacerbate the consternation in the second row. Throttle response seemed a bit balky and downshifts clumsy until I downshifted to manual mode holding it in third gear. Then it was smooth as silk.
We spent our first few days at a sprawling ranch-style house about 4 miles into the foothills near Mariposa. With lush flowerbeds, lots of birds and intense quiet it was a mighty relaxing place to stay. A couple of day trips into Yosemite gave us a sense of the amazing geography and the geology of the area.
Our first, and biggest, hike of the week took us through the giant sequoia trees at Mariposa Grove. The trail was only a bit over two miles each way but gained just about 1,000 feet in elevation along the way. Stumbling down was much easier that struggling up, for this portly reporter. The sequoias are billed as the largest living things in the world and they are truly awe-inspiring. (Some biologists in Michigan's Upper Peninsula would dispute that claim, however, calling their 37-acre, 10,000-year-old, forest fungus both biggest and oldest. We'll let the botanists argue that one.)
This family prides themselves on managing meals in and we loaded up with groceries at the local store. We ate at home morning and evening and made sandwiches for picnicking along the trails. The second evening, though, some of us went into town for a celebratory bite out. My pretty wife and I are celebrating our 25th wedding anniversary this week.
If you'll allow me a paragraph or two with my restaurant reviewer's hat on I'll describe our disappointing experience at a Mexican restaurant in Mariposa.
Jim arbitrarily chose Castillo's, a charming little place on a side street at the southeast edge of town where we were barely able to get that big, long Suburban parked out front. Its rear three feet were hanging out into the street We were one of only two groups occupying the intimate, lovely patio when we arrived. The other dozen tables began to fill shortly after we ordered. The couple at a neighboring table, who came in well after us, got their food fairly quickly - then another group was served and then another. Our Dos Equis Ambers were long drained when our cute little waitress brought us the wrong order. I asked if our order was on the way. She assured me it was. (The plates of food she mistakenly brought looked great, by the way.) Finally, when a fourth table got served and the folks at the neighboring table finished and left, we got up to leave. We had been sitting there for forty minutes with our stomachs growling, and still had no hope of getting fed.
The waitress and an older lady, perhaps the owner, seemed surprised that we were leaving in a huff. The waitress said she checked and our order was still on "the wheel," whatever that means. We related our consternation and offered to pay for the beers but declined to wait any longer while everyone else got their food.
We went to the other Mexican restaurant in town, Salvadore's, where the food came quickly but was plain and uninspired.
Our next rental home, called Top of the Pines, is perched on a narrow switchback road on the side of the mountain facing southwest in an area that is not part of the park but is only accessed from within it. With tall pine, spruce and cedar trees obstructing our view we could barely see the sunset. Here the problem was again parking the long Suburban. With a wheelbase of 130 inches and a substantial overhang in the rear it was too long to park perpendicular to the house like the landlord wanted but we were able to parallel park it without getting in anyone's way. A few times this week we found ourselves with a challenging parking predicament - a welcome trade-off, though, for having all that cargo space.
Ingress and egress to the third row seating proved easier than expected. My passengers rotated since the view back there was poor and legroom a bit miserly. The second-row captains seats fold twice (the back folds down, then the whole seat folds up) either manually or remotely. No one complained.
The Yosemite Valley, for those who have not seen it, is spectacular. It took our breath away repeatedly. As we approached the valley on twisty Highway 41 we rounded a bend where a narrow pull-off offered our first view of the mouth of the valley with the two most famous rock features, Half Dome and El Capitan, dominating the view. We could also see, and hear the roar of, Bridal Vail Falls, still about five miles away. As we drove up into the valley winding along the Merced River we gasped at the more dramatic views of the massive rock formations and more waterfalls - the tall, narrow Ribbon Falls and the massive, two-tiered Yosemite Falls - bordering the fast-moving Merced River.
We spent a substantial share of our time in the park driving back and forth along the well-maintained, tight and twisty mountain roads. One of the most scenic was the drive out to the high lookout of Glacier Point where we looked down into both Merced and Tenaya Valleys as they join to form Yosemite Valley. The lookout offers views of Vernal and Nevada Falls hidden behind the ridge when in Yosemite Valley. We'll hike to those falls later.
Daily big hikes, a couple of evenings fly fishing on the Merced River for Jim, a visit to the famous old Awahnee Hotel in the village and plenty of time soaking up the ambiance of the free-flowing spring waterfalls imbued us with awe. Ain't Mother Nature grand!
While one of the locals offered the assessment that the flow in the falls are considerably less this year than usual, they still impressed us flatlanders. The power and intensity of nature's water features inspire respect. Much like the seashore at the tail end of a storm with huge waves crashing in, we could stand for hours and watch the water show.
After those four days we headed up the other side of the park across the mountains to the northwest through Tioga Pass. Once I got into the habit of manual-mode shifting the Suburban's power felt much more responsive, even when fully laden and climbing steep slopes. Powering this slick truck is the new EcoTec3, 5.3-liter V-8 with Active Fuel Management, direct injection and variable valve timing. It makes 355 horsepower and a solid 383 pound-feet of torque. The EPA rates it at 15 mpg in the city and 22 on the highway. With a 31-gallon fuel tank it has an excellent cruising range. This is the only powertrain available in the Suburban. It has a towing capacity of 8,000 pounds and a GVWR of 7,300 pounds. If you wanted to do much serious towing you would likely wish for a diesel option.
I reset the onboard computer to get a sense of our fuel mileage under a variety of driving environments. Depending on how much up and down the road presented we got between 17.5 and 20.5 mpg. We thought that quite reasonable particularly when we were fully loaded.
The transition day from Yosemite to Tahoe took us up Big Oak Flat Road to Highway 120 then east across the north ridge of the valley where we could view Half Dome from the north, down the canyon. A lengthy stop at beautiful Tenaya Lake allowed us to soak up the ambiance of this pristine alpine ecosystem. Some of the lakes are still frozen up there and the highest meadows were still covered with spring snow at Tioga Pass -elevation, just under 10,000 feet. The road to the northeast slopes quickly down from there to barren Mono Lake where we then took Highway 395 north. We had the road nearly to ourselves as we stopped for a picnic lunch at a small state campground along the rocky Carson River.
Highway 89 cuts off near Topaz winding across the mountains quickly up to Monitor Pass at 8,800 feet. That trip to Lake Tahoe made for an 8-hour road trip with plenty of stops to soak up the scenery along the way. Without stops we could probably have made it in 4 or 5 hours. We arrived at Tahoe City just in time to check in to our next abode.
Near our rental house at Tahoe Village the famous Rubicon Trail access road tempts me greatly but not my companions. Even though the Suburban has substantial ground clearance, a two-speed transfer case and a good four-wheel drive system with locking differential our entourage is not amenable to any serious off-roading this trip. Even my planned visit to the fire tower off Higway 267 was buggered by the dirt road being closed. That would have been at least our opportunity to test the low range.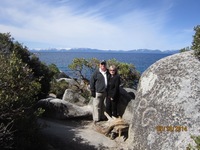 A couple of full days at Lake Tahoe was not nearly enough. The obligatory lap around the lake took the better part of one day as we stopped for strolling around the shops in South Lake Tahoe, an excellent lunch at Chevy's (best salsa ever) and a stop to admire Emerald Bay. The temps were still rather chill here as we hiked around the Taylor Creek preserve and the braver of our entourage hiked down to Vikingholm and back up again. That's an elevation change of 400 feet in just about a mile. Down was easy. Up, not so much.
A word of warning for those visiting the Lake Tahoe area - beware. Many of the popular spots like Vickingholm, the Eagle Falls area and Sugar Pine State Park require you to take an envelope, insert your cash and slip it in a box to pay a parking fee. Don't think because there is no attendant you can get away with a short visit or think that because you're there off season and the area (in our case the deserted Sugar Pine Park) is deserted, that you can get away without paying the 10 bucks. Expect a parking ticket for at least $72. The cops were swarming around there. Welcome to Tahoe, Indeed!
Jim got to fish the Truckee River a couple times and finally caught a rainbow - not a big one, but one he'll remember.
Just a couple of minor niggles need mentioning regarding the Suburban.
Panel fits inside and out are decent but less than impressive. The little brow over the navigation screen fits very poorly and an odd indentation on the top of the right side of the dash reveals where the airbag resides - rather like seeing underwear lines through your clothes. Our test truck was equipped with an automatic collision prevention system that was fooled by a slightly raised construction panel in the road actuating the brakes unnecessarily. And, the alarm went off embarrassingly on four occasions without provocation. Perhaps the fob in my pocket was too sensitive, but I was wearing loose pants.
The big Chevy Suburban has many reasons for being, not the least of which is being an amazingly effective, efficient and comfortable traveling tool for a group of six. The powertrain is more than up to the task as we found with our challenging mountain routes.
This freshly redesigned traditional, full-size SUV, in this reviewer's not-so-humble opinion, represents the best of GM's immense capability.
Watch the 2015 Suburban introduction
İSteve Purdy, Shunpiker Productions, All Rights Reserved