2015 Volkswagen Golf (GTI, TDI and eGolf) Preview by Carey Russ
Three fun machines; but no surprise: They're Volkswagens!
DRIVING DOWN THE ROAD WITH CAREY RUSS
• SEE ALSO: Volkswagen Buyers Guide
It was 40 years ago, in May 1974, that revolution occurred at Volkswagen with the European debut of the first Golf. The car made it to the US that December, renamed Rabbit. After a long run with the air-cooled, rear-engined Type 1 Sedan (aka Beetle or Bug), impending safety and emissions legislation, and more modern competitors, put VW into the transverse liquid-cooled, front-engine, front-wheel drive camp for its best-selling car. Ferdinand Porsche's reaction was not recorded; Alec Issigonis may have smiled. Over 30 million examples in six generations have been sold worldwide since then, with the seventh generation debuting in Europe for 2013 and here soon for model year 2015.
The first Golf/Rabbit had some major advantages over the Beetle from the beginning. A real cooling system and functional heater topped the list. (I'm speaking as a one-time Bug owner here…) With a 70-horsepower 1.5-liter four-cylinder engine, the new car was indeed Rabbit-quick in comparison with the Bug, if not by today's standards. A later 1.5-liter diesel only gave 48 hp, but that was good for up to 50 mpg on the highway and 40 in town, important in the fuel-starved late `70s. Styled by famed Italian designer Giorgio Giugario, the Golf/Rabbit's boxy lines were the antithesis of the Beetle's Art Deco look. And promised and delivered great interior space for the car's size, along with space efficiency and the ease of access of a hatchback design.
Performance always sells, particularly when allied with efficiency. The first GTI created the "hot hatch" category in 1976 (Europe), and brought that here in 1983, powered by a 90-hp 1.8-liter fuel injected four.
As with the Type 1 before it, the Golf got regular updates. Unlike the Beetle, these were major revisions, with new unibody structures and a variety of engines. As seems to be the nature of things, with each new generation the car got larger, if not overly so, and sleeker-looking, but always with instantly-recognizable looks. The GTI kept the pace at the head of its class, and while non-turbo diesels quietly disappeared on this side of the Atlantic, the turbo TDI variant has a solid, if small following. And can deliver an enthusiastic driving experience along with exemplary fuel economy. An electric version, dubbed the e-Golf, is available in Europe and will be coming here near the end of this year. Compressed natural gas (CNG) power is offered in some markets, and VW did mention hybrid and plug-in hybrid possibilities, no time frame given.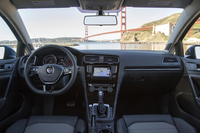 The seventh-generation Golf is marginally larger than its forebears, for improved interior space and comfort. It's also significantly lighter in weight, improving both performance and efficiency. This is due in large part to use of Volkswagen Group's "Modular Transverse Matrix" architecture, abbreviated MQB for the German Modularer Querbaukasten. It's designed and engineered for versatility and flexibility through simplicity, with common mounting points for power units, be they internal combustion, electric, or hybrid, and is amenable not only to hatchback bodies like the Golf, but to sedans, coupes, crossovers, and more as well. Greater use of high-strength steel further reduces weight while increasing rigidity. MQB will be used throughout the Volkswagen Group for vehicles with transversely-mounted front engines, with front- or all-wheel drive.
For the US, Golf engines are all four-cylinder, turbocharged, and with direct fuel injection. The 2.5-liter five-cylinder is ancient history, replaced by a 1.8-liter TSIŽ four with 170 horsepower and 200 lb-ft of torque (on regular unleaded). No relation to the 1.8T of the past, this one has more power, less weight, and up to 20% better highway mileage than the five -- not a bad "base model" engine at all. It's matched to a five-speed manual or six-speed automatic transmission. Although of the same 2.0-liter displacement as before, the TDI is also new, related to the 1.8 gasoline engine. Only the cylinder bore spacing carries over from the old TDI engine. Horsepower is up by ten to 150, with torque staying at a happy and healthy 236 lb-ft. TDI models get a six-speed transmission, either manual or dual-clutch automanual DSG. Golf TSIs will be offered in two- or four-door hatch form. The TDI will be four-door only. On-sale date is expected to be August, 2014. In many cases, price will decrease, adjusted for (ever changing) content levels. Most notable there will be the Launch Edition Golf TSI and entry-level S TDI. Diesel power for the masses? Yes!
Honors for first American debut will go to the GTI, in June. This is appropriate, as the US is the biggest GTI market with 13,300 sold here last year out of 31,000 total Golfs. Power is from the latest hot-rod version of the new 2.0-liter turbocharged and direct-injected 16-valve twincam four-cylinder engine. Expect 210 hp at 4500 in normal tune or 220 at 4700 with the Performance Package. 258 lb-ft of torque at a low 1500 rpm should give it a strong midrange, no need to regularly meet the rev limiter. That's ten or twenty horsepower and 51 lb-ft better than the old engine, in a lighter car. That gets to the front wheels through a six-speed manual or DSG gearbox. Both two- and four-door body styles will be available, in several trim levels.
Want more power? You'll have to wait, but that would be the next Golf R, slated for some time in the first quarter of 2015. Preliminary tease is 290 hp, 4MOTIONŽ all-wheel drive, and expected 0-60 times of 5.4 seconds with the six-speed manual or 4.9 seconds with the DSG. That's a bit better than the 20 or so seconds from my `69 Bug…
I was given the opportunity to learn about and drive the new Golf during Volkswagen's recent press introduction in and near San Francisco. After an early briefing, the plan was to drive across the Bay Bridge to the drive base at Craneway Pavilion in Point Richmond. The route was creative, hardly direct, and all the better for that as instead of all freeway we had a fine drive through the Oakland-Berkeley Hills, and then city streets. Full disclosure: I've lived in that area most of my life. VW picked all of the good roads.
Car choice for that part was luck of the draw. My driving partner and I got lucky - TDI with the DSG. Automatic mode made my co-driver's life easier getting out of San Francisco, and VW's supple but well-damped suspension tuning made the perpetually torn-up streets tolerable. Acceleration onto the bridge was a non-issue, and reverse-commute traffic light. The grade up to the Caldicott Tunnel through the Oakland Hills is steep. Third gear in my Bug long ago; the TDI wasn't even breathing hard. Or sounding or smelling like a diesel. Roadholding and comfort in the hills were both first-class, and getting up the sometimes steep grades was done easily. After a driver switch in Tilden Park (at the golf course, naturally) I drove through the park and then through Berkeley, Albany, and onto the freeway for the short trip to Craneway.
Once there, we had a choice of cars, subject to availability. Stick GTIs being quickly absconded with, we took a DSG-equipped example. My co-driver wanted some in-car video, and the route had a fine section for that, going up Wildcat Canyon Road into Tilden Park. It's a drive I take at least once a week, so no problem with him driving that choice part. Also no problem with me in the back seat holding the tripod -- four doors work there, and there really are midsize sedans with less room in the back. As to how well his footage turned out, that depends on the camera's image stabilization… After that, my turn to drive familiar roads back to Craneway. Little chance to seriously play with the GTI's power, but this is one comfortable and civilized and as at home on a tight second-gear country road as at speed on the highway.
After our return, my co-driver had an interview scheduled so I was on my own for the rest of the afternoon. Not a problem -- besides new Golfs in FSI, TDI, and GTI form, VW also had an example of most of the previous generations of GTI. These were not from the museum… they could have been recent Craig's List acquisitions. So were only allowed on a short route. The second-generation car I got into first was more than a bit worn, but still entertaining and a great example of how far cars have come since the late 1980s. And there was a bit of power up at the top, with first through third (out of five) being used.
A well-kept first-generation car was up next. With a raucous aftermarket exhaust it was perfect for feeling like an obnoxious teenager again (never mind that my teenage years were long-gone by 1983). 90 horsepower when new long ago from 1.8 liters. Between 4 and 6000rpm it had a decent amount of power, and sounded even faster. Minimal power assist on the brakes and none on the steering were fond reminders of the olden days when you could get exercise driving your car.
What better comparison with that than a new Golf S? With stick, 170 hp out of its turbo, direct-injection 1.8 but 2900 pounds to the old GTI's 2000. It felt like a luxury car in comparison to its ancient relative, and probably better than most luxury cars of the early `80s for that matter. Even the base-model Golf gets high-quality appointments, air conditioning, and power windows. All of which were luxury car material back then… Even in basic trim, this is a fun machine. No surprise there, it's a Volkswagen.
With time for one more car before it was time to beat traffic back to San Francisco (yes there is an ugly commute in all directions) I lucked out and into a European-spec e-Golf. It's a real car, not a glorified golf cart, with all of the comforts and amenities expected in a mid-level car today. Its 115-hp motor also makes 199 lb-ft of torque, immediately off the line, so acceleration won't be a problem. 0-25 is given as 4.2 seconds, with 0-60 around 10. Range is between 70 and 90 miles, with more possible if driven carefully. Its lithium-ion battery fits in the floor, under the seats and in the central tunnel, so there is minimal impact on interior and luggage space. Curb weight is just over 3,000 pounds, similar to other Golf versions. It performed very well driving normally on surface streets, with admirable quiet and smoothness. No internal combustion, no gears to shift, just plug in and drive. It should be a good entry in the growing EV segment when it arrives early next year.
Prices for the new Golfs range from $17,995 for the Launch Edition to $26,995 for the SEL 4-Door. TDIs range from $21,995 for the S with manual through $29,095 for the SEL automatic. GTIs start at $24,395 for a 2-Door with stick through $30,695 for an Autobahn automatic. Add $820 destination.