Western Automotive Journalists Track-Days Wrap-Up by Carey Russ +VIDEO
2014 WAJ Media Days Overview
DRIVING DOWN THE ROAD WITH CAREY RUSS
• SEE ALSO: All Make and Model Buyers Guides
Western Automotive Journalists (WAJ) "Media Days" offers members a chance to drive and/or ride in a large number of cars, if for a short time in each. The first day involves driving on public roads around Monterey, California, while the second day is on a race track -- in this case Mazda Raceway at Laguna Seca, hereafter known as MRLS. Some cars used for the ride and drive are not used on the track, and some track cars are not used for the ride and drive. And at either venue, competition to get into the most desirable cars can be fierce. Still, it's a good opportunity to get a bit of seat time in cars that may or may not get into the regular press fleet. Street driving, mostly on backroads during mid-week, shows a car's character in the environment in which it will be used. Track time allows playing harder that would be sane, legal, or responsible on the street in a controlled environment with no surprises such as cars suddenly pulling out from a blind cross street.
Day One:Street Driving
Plan for the day: Organize in groups of four, select cars, drive to lunch the long way. The earlier you show up, the better your car choices, it's first come, first served. You want an AMG or Viper, get up early. After lunch, return to the event base in Monterey, and then take cars desired out for short test loops. So what did I get into and how were they?
1) Nissan Juke Nismo. I'll admit, I love Nissan's funny-looking little crossover. And have since first driving one here a few years ago. So the factory hot-rod NISMO (that's NISsan MOtorsports) has to be even better, right? Right! It gets a firmer suspension, but still longer travel than usual for a sports car so no loss of "world's first four-wheel supermotard" status, and the standard 188hp/177 lb-ft engine gets tuned to 197 hp and 184 lb-ft. This one was the stick-shift, front-wheel drive version and pleasantly entertaining while still comfortable enough for everyday use. An unlikely-looking bit of high-performance kit, all that much better because of that.
2) BMW M5. Get in, and it takes a few moments to familiarize with the quirky controls if you don't own a BMW and drive it every day. This one has a 4.4-liter TwinPower turbo engine good for 550 hp and a 7-speed M-DCT dual-clutch automanual paddle-shift racing-type transmission. With near-supercar performance plus luxury comfort, it's quick, severely underemployed on any American road at any intelligent speed, and if it's on the track tomorrow there will be a long line. On the tight, narrow, and indifferently-paved backroads of Monterey County, it's not exactly in its element. Which would be the unrestricted speed part of the German Autobahn.
3) Chevrolet Camaro 1LE. Yep, it's still the cave on wheels from inside. And with the 1LE performance package, which lists a close-ratio Tremec 6-speed manual gearbox, acceleration-oriented 3.91 rear axle ratio, and seriously upgraded suspension pieces and tuning, plus a high-capacity fuel pump, it's meant to be a daily driver that can be used as a track day car. The 6.2-liter V8 puts out 426 hp and 420 lb-ft, anemic only compared to the 500 hp Z/28 or the 580 hp supercharged ZL1. The 1LE's suspension is designed to give it the ability to corner at 1.0 g or so. Presumably on a track day, runoff on the street is usually problematic. It's a beast, but pleasantly so. Less refined than the M5 -- and not necessarily bad because of that if you like your power raw -- it's not necessarily any less capable. Or thirsty! Good warmup act for the last car of the morning.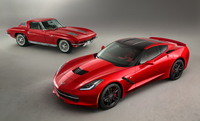 4)Chevrolet Corvette. Which was a Corvette Z51. 455 hp and 460 lb-ft from a 6.2-liter aluminum LT1 V8, 7-speed stick. Z51 here means dry sump, for better oiling when cornering at 1+ g or trying for the factory three point something 0-60, closer ratios in the gearbox for improved performance, a radiator for the limited-slip differential, larger brakes with 4-piston Brembo calipers, aero improvements, and much more. Supercar performance for the price of the first couple of scheduled services for your typical supercar. It's as close to race-spec as a street Corvette has ever been, but completely civilized and even relatively docile in traffic. Which I had to deal with through beautiful downtown Marina, CA. Stick I like, but not with an electronic parking brake toggle when hills are involved. And Americans being Americans, guys in pickups want to drag race at every light, especially when they see a Corvette. Yawn... Inattentive dolts who nearly rear-end me at a light are more of a problem if I stall on a hill. Managed not to do that, and even better, not to inadvertently leave long black streaks on the road. This thing has some serious power, and finally an interior that looks correct for its price point. Just about everything inside and out is new for 2014, and not all that long ago this street version would have been a formidable race car. As is!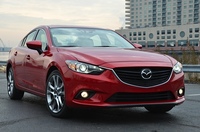 5) Mazda6 Touring: I had to drive something back to the event base from lunch at Quail Lodge and what better than a Mazda6. I first met the car doing this last year, and made someone at Mazda happy stating, when asked what I thought of it, "nice half-price Audi A4 you have here." This one was a little different; did they bring back the wagon? That would be good! Same lovely car but with more room for stuff, works for me. I asked the Mazda rep if they would leave it in the press fleet. Nope -- it's a European model, no demand for such here. There should be!
6) BMW 535d xDrive: I have pleasant memories of the 335d of a few years back and this is more of the same. Meaning TORQUE! The smooth, quiet 3.0-liter inline-six turbodiesel makes 255 horsepower -- and 413 lb-ft of torque from 1500 through 3000 rpm. Fuel economy is given as 26 city, 37 highway and it's plenty quick and with the driving characteristics expected from a BMW.
7) Subaru WRX Automatic: I was dubious. Automatic in a WRX? And a CVT at that. Yes, Subaru's CVTs are just about the best in the business, and there was a Williams-Renault F1 car outfitted with a CVT for testing purposes maybe 20 years ago that proved to more than competitive, if not legal. So it might work. A longer drive than expected (wrong turn...) showed that it does indeed work, both on fun roads and in city traffic. The 268-hp 2.0-liter turbo engine is not diminished at all by the CVT. Steering is electrically-assisted, and unlike too many such systems still feels like a car, not a numb video game. Good on Subaru!
8) The unplanned extra time in the WRX meant just a quick trip around the block in the last car of the day, a 2015 Chrysler 200. I can't really say much more than "oh boy did they ever get the styling right on this!" Good-bye frumpy styling. It sure looks like hanging out with the Italians (Fiat) is a Good Thing for Chrysler.
Day Two: At The Track
Mazda is the title sponsor of the historic Laguna Seca racetrack, and, unlike far too many sponsors of similar venues, has actually put serious effort into infrastructure improvement. So I have no problem with calling the current incarnation Mazda Raceway at Laguna Seca, but will abbreviate it to MRLS for convenience. Laguna Seca opened in 1957 as a replacement for the Pebble Beach race venue on public roads. At that time it was on the Fort Ord Army base, and so use was limited. It was deeded to the Monterey County Parks Department in 1974, and continues to be part of a multi-use county park today. This is a track day, not a competitive event. Passing is allowed only at certain spots, off-course excursions result in the end of your day, as does damage to a car. The idea is to be able to drive faster than on a public road, but still well within your limits. And the car's MRLS is an excellent place for this. It rewards finesse, not raw horsepower. Over its 2.24 mile length, the longest straight stretch is maybe 100 yards. The longest bit of level ground is somewhat less, and both uphill and downhill sections are steep. The "Corkscrew" turn at the top of the hill is a classic -- you can't see the apex on approach. Aim for the tree... you've got to believe! My plan is to start with something relatively mild and friendly, and work up from there. I don't like waiting, so if I don't get in something that commands long lines, so be it. There is always something else interesting, and this year we've invited the Motorcycle Safety Foundation (http://www.msf-usa.org/) to bring bikes for properly licensed and equipped journalists to try on a short ride from the track over nearby Laurales Grade and back. Since most of the regular press fleet cars are used for the event, I'm on my own transportation this week, which means two wheels. 1981 Moto Guzzi V50 Monza in particular.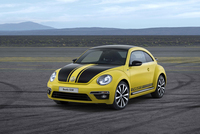 1) Volkswagen Beetle GSR: This looks like a good start. It's 2014's special edition, in yellow and black, and is based on the Beetle Turbo. Which is a GTI with different bodywork. It works well to get me warmed up, and is well-suited for the track. Which also means well-suited to any interesting road anywhere. Power delivery, handling, and brakes are all first-rate. With 210 hp out of a 2.0-liter turbo engine, only the name is (kind of) the same as the 1969 Beetle that was my first car -- complete with maybe 50hp and four mostly useless drum brakes. It would have had a hard time making it up the hill to the Corkscrew. Not an issue in the current Beetle.
2) Mazda3: Part of Mazda's sponsorship deal is that they use the track as their test track. So all Mazdas I've driven here work extremely well, even the crossovers. No disappointment from the latest Mazda3 hatchback, in both 2.0-liter, 155-hp 6-speed stick and more luxuriously-equipped with 2.5-liter 184 hp and 6-speed automatic. Acceleration, braking, and handling characteristics were nearly identical. Not the fastest thing on four wheels, but one of the most fun. The 2.0 stick car was my test car the next week, none the worse for wear. Well, the tires probably got the equivalent of 10,000 civilian miles on them in one day!
3) Ford Focus ST: Oh yeah, this works! It likes to play, and play hard. And is very controllable, with excellent handling and brakes to go with the 252 hp and 270 lb-ft from the 2.0-liter turbomotor. Personal preference, but I find a car like this much better suited to MRLS than a heavier hotrod Mustang. The only drawback is a small gas tank.
4) Ford Fiesta ST: Just like its big brother but smaller. 197hp and 202 lb-ft from 1.6 liters of turbo goodness, with suspension and brakes to match. No, it's not quite as quick as the Focus, but it's just as fun and on less unleaded premium. After all, "fiesta" does mean party in Spanish.
5) Chevrolet SS: An available muscle car? I'll take that! This time I'm passenger -- one of the few people I trust at ridiculous speed (thank you for that, Mel Brooks) is driver and he'll push this beast harder than I would. Unlike its 1960s progenitors, this has excellent cornering, braking, and stopping abilities to go with the raw power. Chevy's newest sports sedan is a relative of the Camaro and gets a 415-hp 6.2-liter LS3 V8, fully-independent suspension, extra-large Brembo brakes, and more interior space and comfort than cousin Camaro. It's bigger and heavier but carries that weight well. "Iron fist in a velvet glove" used to be exclusive province of the Germans. Not any more.
6) Subaru WRX Automatic: No surprise, it works even better pushed harder here. All-wheel drive is as good on pavement as on loose surfaces. Tractable power and gobs of torque mean the CVT is no handicap at all.
7) Honda Civic Si: I didn't plan it that way, but I saved the best for last. I was in a conversation with PR people for Honda and Viper, and the Viper guy said "no car gets more than 5 or 6 mpg on the track." Fighting words to fuel-efficient Honda guy. Who gets into his toy for the day, a Civic Si SEMA special. Unlike most of those "factory tuner" things, this one is not a no-expense-spared exercise in excess. Stock drivetrain -- 201 hp and 170 lb-ft from 2.4 naturally-aspirated liters -- and about $5000 worth of suspension and wheel work. I ask if I can join him. No problem. We do the regulation 2 3/4 laps at a brisk pace (with the relatively large displacement, the Si actually has torque, but it still likes to and needs to rev) and see 11 point something on the previously reset fuel economy readout. I get into the driver's seat and do my laps. Not particularly slower, and as always a lovely car to drive quickly, and over 12 mpg at the end. This is mostly third and fourth gear, second for the Turn 11 hairpin, and lots of wide open throttle. No complaints at all.
There were more, but after lunch I got sidetracked by the bikes. The two that were of particular interest were the Suzuki SV650 and Kawasaki Ninja 300. Both are marketed as beginner bikes but both are quicker and faster than just about any mid-displacement bike up to the 1980s. Yes that means you, (old) Triumph Bonneville. The last semi-modern bike I owned was a Yamaha SRX-6 in the late `80s, and it really wasn't any more advanced than the late-70s/early-80s Guzzis I have now. Which are quick only if compared to a Moto Morini.
1) Suzuki SV650: Ok, I had an ulterior motive here. The recommended front suspension upgrade for an old smallblock Guzzi is to wait for an SV650 owner to upgrade to a GSXR front end and use his cast-off. And I came close to buying an SV a few years ago, during on of the Monza's many periods of replacement of De Tomaso-era quality control errors. The wide seat and tall tail made it marginal but acceptable for my 28-inch inseam. Smooth power, and slick shifting with no false neutrals and the real neutral right where it should be (how very un-Italian!). Light steering effort, ditto for clutch and brake lever. Love the front suspension and brakesā€¦ It's a long way from being merely a "beginner bike" and as currently outfitted one of the few "standard" motorcycles (not a cruiser, not a race-replica sport bike) from the Japanese manufacturers. Beware of buying a used one, though -- older ones are very popular track bikes. Only ridden on weekends.
2) Kawasaki Ninja 300: What a difference 50cc makes. Physically this is tiny for a modern motorcycle, and lightweight. The size makes it suitable for a beginner (a motorcycle, even a small one like this, is a lot heavier than a bicycle) but it's far quicker and faster than you might expect. And not as buzzy as the 250. I was surprised by the torque, which was much better than I expected. Shifting and power delivery were totally modern, snick, snick, zoom! Excellent brakes, and fine handling -- light weight is a strength here. It felt almost electric, and was a quiet and very civilized bit of kit. Suitable for a beginner? Sure, but anyone can have fun here. And likely with a low gasoline bill.
If you are seriously interested in learning how to ride a motorcycle, the first step you should take is to find an MSF beginning rider course in your area. http://www.msf-usa.org/