2014 Mitsubishi Lancer GT Review by Carey Russ +VIDEO
Mitsubishi's compact Lancer sedan continues as a surprisingly sporty small family sedan
DRIVING DOWN THE ROAD WITH CAREY RUSS
• SEE ALSO: Mitsubishi Buyers Guide
I've been driving a 2014 Mitsubishi Lancer GT for the past week. It's a pleasant and economical compact sedan that is competent and comfortable in all daily-driver duties, and even a bit sporty in demeanor. Although it looks more than a bit like its wild cousin the Lancer Evolution, aka "Evo", the regular Lancer came first, and is both a much easier vehicle to live with on a daily basis and less expensive to buy, feed, and insure. And less likely to get you a PhD in Traffic School.
The Lancer has been a mainstay in Mitsubishi's worldwide lineup since 1973, and in its US line since 2002. Back in 2002, it was well-known, among fans of WRC rallying and automotive video games, anyway, for its (then) high-performance, not-for-US-sale Evolution variants. That got here for 2003, and made the fanatics happy. Since then, its influence can be felt in all Lancers.
There are two variations on the non-Evo Lancer, the sedan and the Sportback, a small wagon or five-door hatchback depending on your definition of such. The sedan is offered in ES, SE AWC, GT, and Ralliart trim levels, while the Sportback comes in ES and GT form. ES means front-wheel drive with a 2.0 liter, 148-horsepower four-cylinder engine and five-speed stick or CVT transmission. SE-AWC replaces the 2.0-liter with a 2.4 liter, 168-hp four and Mitsubishi's rally-developed All-Wheel Control all-wheel drive system matched to the CVT. GT means the 2.4 in front-wheel drive form, stick or CVT. Ralliart is best thought of as "Evo Lite", with a detuned (only 237 hp) version of that beast's 2.0-liter turbo engine and Mitsubishi's version of twin-clutch automated manual gearbox.
The current Lancer dates to 2008, but has had continuous refinement since then. Model year 2014 sees upgrades to the ES's audio system and interior fabric. The SE-AWC gets an audio system controlled through a 6.1-inch touchscreen display, HD Radio®, Sirius/XM® satellite radio (with free 3-month subscription), a rearview camera, improved seat fabric, and new 16-inch alloy wheels. The GT and Ralliart get all that the SE has, plus gloss black interior trim and an available navigation and upgraded audio system.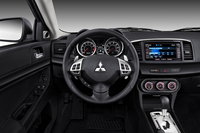 My test car was to typical press fleet spec, fully-equipped. And then some… With the CVT, luxury-oriented Touring Package (leather seating, 710-watt Rockford-Fosgate audio system, heated front seats, HID headlights, and more), and the navigation system package, and a $795 delivery charge, its very reasonable $21,445 base price shot up to over $27,000. Not exactly bargain-price value, but not bad considering all of the luxuries. And minus the $5,000 of luxuries, the basic package was a pleasant, right-sized sedan with good acceleration, brakes, and road manners and a minimal thirst for unleaded regular, with low- to mid-twenties around town and on backroads and high twenties to low thirties on the highway. The stick might have been more fun, but Mitsubishi does have one of the better CVT implementations I've driven, and it does help reduce stress in traffic. It might not be an Evo, but the Mitsubishi Lancer is a good car on its own.
APPEARANCE: A sedan that's not trying to be a sports coupe? What a wonder these days… the Lancer is a conservative three-box design that is saved from anonymity by sharing its front clip with the Ralliart. Meaning: one of the better designs of the popular oversize grille in the industry, here trimmed discretely with chrome, a sporty-looking splitter lip at the bottom of the front bumper fascia that is not so low as to be in permanent danger of damage, moderate side sill extensions, and a small spoiler at the rear of the trunk lid. It's sporty-looking without calling undue attention to itself, or branding the driver a poseur. The leading edge of the hood overhangs the headlights for a hawk-eyed look; clear taillight covers over colored lenses show just a bit of the tuner look.
COMFORT: Interior styling is also conservative, all the better to still look good after its paid off. With the leather seating and gloss-black (called "piano black" by more upscale marques) trim, it looks above its station. The front seats are manually adjustable, including driver's cushion height, and were a surprise. Firm, in the manner of some older German sports seats, they may feel hard at first -- but several hours later, they're still comfortable. This particular car has over 12,000 miles on it, and no sign of seat deterioration. Two-level cushion heat is another welcome feature of that Touring Package. The backlit instruments are readily visible, and the controls for the audio, navigation, and information systems are simple and intuitive. The leather-wrapped steering wheel has cruise, audio, and phone controls. It adjusts for tilt only, but is at a comfortable distance. There are useful storage spaces in the cabin, including a non-locking glove box, console box, door storage (plus bottle holders in front) and several trays for coins and other small items. As is the norm, the rear seat is contoured for two, and those outboard positions should be fine for all but the largest adults. The center, smaller people for less time. A 60/40 split folding rear seatback is found in all models. The moderately-sized trunk uses external struts to prevent luggage damage, and a space-saver spare tire is found under its floor.
SAFETY: The Lancer has been named a "Top Safety Pick" by the Insurance Institute for Highway Safety (IIHS), and has an overall four-star rating from the National Highway Traffic Safety Administration (NHTSA). Mitsubishi's patented Reinforced Impact Safety Evolution (RISE) energy-absorbing unibody construction protects passengers. All of the required and expected safety features are standard in all models. All but the base ES have four-wheel disc brakes (antilock, of course, with electronic brake-force distribution). The usual front, front-side, and side curtain airbags are complemented by a driver's knee bag.
Watch the Mitsubishi Lancer 40th Anniversary promo video
RIDE AND HANDLING: Mitsubishi's promotional material calls the Lancer GT's fully-independent MacPherson strut/multilink suspension "sport tuned". Not compared to an Evo… and that's a Good Thing for everyday use, especially on indifferently-paved and poorly maintained roads. It's firm, with little body roll in normal use, and spring and damper rates are well-matched for supple comfort and good response to driver inputs. Call it more "sport-touring" than just plain "sport" and be glad. It's an enjoyable car to drive.
PERFORMANCE: Under the Lancer GT's hood sits a 2.4-liter four-cylinder engine. A dual overhead cam design with block and head of aluminum alloy, it has four valves per cylinder and uses Mitsubishi's MIVEC valve lift and timing control system to produce maximum 168 horsepower (at 6000 rpm) and 167 lb-ft of torque (at 4100 rpm). In my test car, it was matched to a CVT (continuously-variable transmission), which is becoming a more common choice for the automatic role as such a transmission can have a wide ratio spread for both good low-speed acceleration and economical highway cruising and can be more efficient than a regular torque converter automatic. Some seem to sap performance. Not this one. It's one of the best such that I've driven, with no strange behavior and no real reason to move the shift lever to manual mode and play with the steering wheel-mounted shift paddles, which change virtual "gears" since there are no discrete gears in a CVT, other than curiosity. There is plenty of torque all the time, and if acceleration is not Evo-class, neither is thirst. It's quick enough to more than keep up with traffic, and fuel use seems surprisingly close to the EPA estimates.
CONCLUSIONS: Mitsubishi's compact Lancer sedan continues as a surprisingly sporty small family sedan.
SPECIFICATIONS
2014 Mitsubishi Lancer GT
Base Price $ 21,445
Price As Tested $ 27,390
Engine Type DOHC 16-valve aluminum alloy 4-cylinder with MIVEC variable cam phasing and lift
Engine Size 2.4 liters / 144 cu. in.
Horsepower 168 @ 6000 rpm
Torque (lb-ft) 167 @ 4100 rpm
Transmission CVT
Wheelbase / Length 103.7 in. / 180.0 in.
Curb Weight 3032 lbs.
Pounds Per Horsepower 18.0
Fuel Capacity 15.5 gal.
Fuel Requirement 87 octane regular unleaded gasoline
Tires P215/45 R18 89V m+s Dunlop SP Sport 5000M
Brakes, front/rear vented disc / solid disc, ABS, EBD standard Suspension, front/rear independent MacPherson strut / independent multilink Drivetrain transverse front engine, front-wheel drive
PERFORMANCE
EPA Fuel Economy - miles per gallon city / highway / observed 23 / 30 / 26
0 to 60 mph est 8 sec
OPTIONS AND CHARGES
Touring Package -- includes: leather seating surfaces, 710-watt Rockford-Fosgate audio system, automatic on-off headlight control, HID headlights, rain-sensing wipers, heated front seats, power glass sunroof, auto-dimming rearview mirror, rear lip spoiler $ 3,300
Navigation System -- includes: navigation system with high-definition 7" touchscreen, real-time traffic, 3D mapping, and Mapcare® with two map updates $ 1,850
Destination Charge $ 795