2014 Toyota 4Runner Trail Premium 4x4 Review by Carey Russ +VIDEO
Toyota's 4Runner stays true to its truck heritage, and in doing so shows just how good a real truck can be
DRIVING DOWN THE ROAD WITH CAREY RUSS
• SEE ALSO: Toyota Buyers Guide
Hey! This feels different! I've just spent a week with a 2014 Toyota 4Runner in Trail Premium 4x4 guise. I've driven many a crossover, but it's been a while since I was last in an honest, real, body-on-frame truck, since nearly all SUVs now are made with car-like unibody construction and use fully-independent suspension for maximum comfort in the habitat in which they are mostly used -- city and suburban streets, with maybe the odd tailgate party in a muddy stadium parking lot.
Looking back through my list, the last real truck I drove was… a 4Runner, along with its larger sibling Tundra at the regional press launch last summer. Before that? Another 4Runner, back in 2010. The 4Runner was one of the first of its kind -- a conveniently-sized and eminently off-road capable utility vehicle that could get you to the outdoor sports you loved and tow a boat or trailer as well -- when it debuted in model year 1985, and now it's among the last of its kind.
Today's 4Runner is far advanced from its humble beginnings as little more than a compact pickup with a factory removable camper shell and removable rear jump seat. While the SUV fad of the 1990s resulted in its getting ever more civilized, the introduction of the similarly-sized Highlander crossover in 2001 allowed a return to its roots. For 2003 it lost its connection to the pickup, utilizing a platform shared, in other parts of the world, with the Land Cruiser Prado. That meant a stiffer, fully-boxed frame with independent double A-arm front suspension and a well-located solid axle at the rear for serious off-road and towing use. The last major update was in 2010. If its exterior style seemingly didn't change much then, nearly everything under the skin was different.
It's 2014, and time for a mid-product cycle refresh. Most apparent is revised styling, immediately recognizable and with presence. The interior has been upgraded as well, for greater comfort and convenience. Trim levels ("grades" in Toyota's language) are SR5, SR5 Premium, Trail, Trail Premium, and Limited. All except the two Trail models are 4x2 or 4x4; Trail means 4x4 only, a part-time, all-terrain capable system with 4-low mode. Power for all is from a 270-hp 4.0-liter V6 via a five-speed automatic.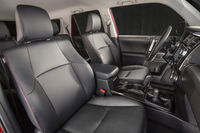 SR5 and Limited models have optional seven-passenger seating, with a fold-down third row in the rear. My test vehicle -- most definitely not car, and proud of that -- for the past week was a Trail Premium. No available third row in that -- you don't want to put the young ones back there on a bouncy dirt trail… Especially in Trail trim, the 4Runner makes no apologies for being a truck. You climb up into the cabin, have a commanding view of the world once in, and, although the ride quality is very good for a truck, the solid rear axle makes its presence known. In a world where the interface to an electronically-controlled multi-mode 4WD system is usually some sort of remote, electronic knob, the 4Runner's extra shift lever stands out. This is a traditionalist's four-wheeler, even with all of the upscale conveniences in this particular example. Sometimes you don't want a car, and the Toyota 4Runner is just the vehicle for those times, especially if bad "roads" and/or weather is involved.
Off-road use? I didn't have a chance to get this one dirty, alas. Back when the current platform was introduced, I was able to do some serious, spotter necessary, fun with one and it worked very well. I doubt that its abilities have lessened over the years.
APPEARANCE: Details make the difference, and details are what has changed. Especially in Trail trim, a restyled grille and front bumper give it a more pugnacious look. This one is not going for any "cute ute" award. Mere crossovers attempt an off-road look with plastic imitation skid plates that are more useful for style than for dealing with rocks and tree stumps. Here, what looks like a steel skid plate is a steel skid plate, with more protecting other important bits underneath. Running boards are useful in civilization, especially for shorter people. If you're really going seriously off road, you know better.
COMFORT: As capable as the Trail Premium can be in the rough, it seems far too civilized inside to be subjected to mud, dirt, and grime. Power heated front seats, power windows including the tailgate, plus moonroof and locks, plus plenty of interior storage and all of the current electronic infotainment amenities are found here. Materials and fit and finish are as expected in a premium Toyota, first rate. The shift knob and steering wheel rim are leather; the "SofTex" leatherette upholstery could be mistaken for real leather. Optitron electroluminescent gauges are easy to see in all light, and the controls are logically placed and easy to reach. Visibility is good except close-up at the rear -- the backup camera is an essential there. Front seating position and comfort are very good. Sections of the 40/20/40 split rear seat have adjustable back angle or can be folded as use dictates. There is a real spare tire, outside and underneath the rear where it belongs. There are both 400W, 120VAC and 12VDC power points in the cargo area. My test vehicle had the sliding rear cargo deck, which is as it says and slides out a bit and has some storage underneath.
SAFETY: 4Runner passengers are protected by Toyota's Star Safety System™, which integrates antilock brakes (on four-wheel vented discs in this case), Brake Assist, Electronic Brake Force Distribution, and Vehicle Stability Control with Traction Control into one comprehensive electronic system. There is a full complement of airbags, front, front seat side, and full-length side curtain, plus driver and front passenger knee airbags. Side impact protection door beams, daytime running lights, and a tire pressure monitoring system offer further protection. A backup camera or rear sonar help minimize problems when backing.
RIDE AND HANDLING: Yes it's unapologetically a truck. And it has plenty of weight -- 4750 pounds worth -- and a high center of gravity thanks to 9.6 inches of clearance in 4x4 form. But that doesn't mean it's a bouncy, rough-riding beast. Anything but… It feels moderately soft on pavement, with very good ride comfort. If you like the 4Runner, but don't plan on off-pavement excursions, go for a 4x2 model -- the 4x4, especially Trail, is meant for real off-road duty, and has the suspension, clearance, and technology for it. The standard A-TRAC distributes torque to any wheel, even one, in contact with the ground in all 4x4 4Runners. The Trail also benefits from an electronically locking rear differential and the available Kinetic Dynamic Suspension System (KDSS), which disconnects the stabilizer bars for greater axle travel in slow, tricky conditions. The Trail also comes with Crawl Control, an electro-mechanical system best thought of as 4-lo cruise control. Multi-Terrain Select changes the permitted amount of wheelspin, for better control in loose mud or deep dirt or on slickrock. Downhill Assist Control and Hill-start Assist Control also help improve driver control in inclement conditions.
Watch the Toyota 4Runner promo video
PERFORMANCE: The dual overhead cam, 24-valve, aluminum alloy 4.0-liter V6 that is the only engine choice in the 4Runner is perfectly-suited to its job. With 270 horsepower (at 5600 rpm) and 278 lb-ft of torque (at 4400 rpm) and a wide, flat torque curve thanks to VVT-i variable cam phasing and valve lift on all camshafts, the 4.0-liter V6 ensures that no other choice is necessary. It's matched to a five-speed automatic with manual-shift mode, and the pair work together very well and efficiently, considering the 4Runner's size and mass. Acceleration is not a problem, and the four-wheel vented antilock disc brakes are up to the task of stopping 4750 lbs of 4Runner. EPA fuel estimates are 17mpg city, 22 highway. With a bias to city and secondary roads, I got an 18 mpg average for the week. Towing capacity is conservatively rated (per SAE J2807) as 4,700 pounds, which means small to medium boats, camping, motorcycle, and even car trailers should present no difficulties.
CONCLUSIONS: Toyota's 4Runner stays true to its truck heritage, and in doing so shows just how good a real truck can be.
SPECIFICATIONS
2014 Toyota 4Runner Trail Premium 4x4
Base Price $ 38,645
Price As Tested $ 42,175
Engine Type DOHC 34-valve aluminum alloy V6
Engine Size 4.0 liters / 241 cu. in.
Horsepower 270 @ 5600 rpm
Torque (lb-ft) 278 @ 4400 rpm
Transmission 5-speed automatic
Wheelbase / Length 109.2 in. / 191.3 in.
Curb Weight 4,750 lbs.
Pounds Per Horsepower 17.6
Fuel Capacity 23 gal.
Fuel Requirement 87 octane unleaded regular gasoline
Tires P265/70 R17 113S Bridgestone DuelerH/T m+s
Brakes, front/rear vented disc all around, ABS, EBD, BA, VSC standard
Suspension, front/rear independent double-wishbone / solid axle with coil springs and 4-link location
Ground Clearance 9.6 inches
Drivetrain front engine, part-time dual-range 4-wheel drive
PERFORMANCE
EPA Fuel Economy - miles per gallon
city / highway / observed 17 / 21 / 18
0 to 60 mph est 9 sec
Towing Capacity 4700 pounds
OPTIONS AND CHARGES
Sliding rear cargo deck with underfloor storage compartment $ 350
Kinetic Dynamic Suspension System (KDSS) $ 1,750
Rigid Running Boards $ 345
Carpet Floor and Cargo Mats $ 225
Destination Charge $ 860