2014 Ford Escape Titanium 4WD Review by Carey Russ
Ford Escape combines good looks with performance and fuel economy to continue a a benchmark in the compact crossover class
DRIVING DOWN THE ROAD WITH CAREY RUSS
• SEE ALSO: Ford Buyers Guide
After the debut of a massively-changed Escape for 2013, few changes would be expected for 2014. And while there are no major changes, there are small improvements that make Ford's small utility vehicle (or is that "smart utility vehicle"?) even better. A Class II trailer hitch can now be had with the convenient "hands-free" tailgate. There is more leather on the seats in premium Titanium models, and four-way adjustment of the front passenger seat is now standard, as is a rear-view camera in all models. The SYNC® connectivity package is now available with AppLink™, which allows voice command control of mobile phone-based and other third-party applications. And there are the usual changes to color choices and wheel designs.
In the chassis and power departments, it's business as usual. Meaning all four-cylinder power, 2.5-liter, 168 horsepower naturally-aspirated in base trim, with 178-hp 1.6- and 240-hp 2.0-liter "EcoBoost" turbocharged, direct fuel-injected options. All are matched to the six-speed SelectShift® automatic transmission. The 2.0-liter handily beats the V6 of the previous generation, with the same horsepower rating, more torque, and less weight. Wondering where the Hybrid went? Take a look at the all-hybrid C-Max lineup.
Trim levels are still S, SE, and Titanium. Even the S is well-equipped, with SYNC and MyFord connectivity, a backup camera, MyKey programmability, and the expected interior space and storage. Powertrain there is the 2.5 engine, front-wheel drive only. SE adds the 1.6 EcoBoost and available all-wheel drive and/or the 2.0 EcoBoost, and more standard and available comfort and convenience options. Titanium means power liftgate, further standard features including upgraded audio and ambient lighting, and options such as a panoramic sunroof and portable rear-seat DVD players.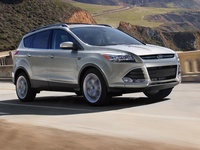 I expect that most Escapes sold are the S and SE models, which should do very well for all everyday needs. This week's test car is a Titanium, in "4WD" trim. That's a computer-controlled automatic single-range system, really AWD, but as a nod to the Escape's history, Ford calls it 4WD. Competitors do the same… In any form, the Escape combines unique looks with comfort and a good amount of interior space over a small footprint. As it's based on the same chassis underpinnings as the Focus hatchback and sedan, it is a car at heart, good news in the comfort and driving departments. It's taller and heavier than a Focus, so not quite as nimble -- but the difference will likely only bother those who think "ST" when the think Focus. As a crossover, the Escape is the modern version of a small wagon, and fits that niche very well.
The 2.0-liter engine never has any shortage of power, torque really, with a lovely, broad, strong torque curve. Turbo engines are even more sensitive to driving style for fuel economy -- use the boost sparingly, and you can get excellent mileage. But it's all too easy to get caught in the rush of turbo power, and those horses need to be fed. EPA estimates here are 21mpg city, 28 highway. I got 22 overall with little highway driving, which is competitive with other similarly-sized crossovers. Add the towing package, and the 2.0 can handle up to 3500 pounds, meaning small camping trailer or boat, or a motorcycle, ATV, or personal watercraft or two on a trailer.
APPEARANCE: You could almost be excused for thinking that an Escape is the current Focus wagon. There is much similarity in sculpted shape, especially at the front, but, in the crossover fashion, the Escape's body is chunkier and higher, for a higher seating position. It makes any previous Escape look like the box it came in. It looks aerodynamic, and is. Strong winds, a daily fact of life in my part of the world, bother it not at all. The plastic "skidplate" in front is less that and more underbody air management, with rubber deflectors at its trailing edge (and one air scoop) and a mostly-flat underbody to ensure clean air management for reduced noise and fuel consumption. Strong wheelarches and rubberized protective cladding surrounding the lower perimeter are as close as the new Escape comes to traditional SUV styling.
COMFORT: Add space to a comfort-oriented seating position, good visibility to the front and sides, enhanced to the rear by the rearview camera, and plenty of headroom, and there is no surprise at the Escape's popularity. Even the center rear position is useful -- if dependent on the size of the outboard passengers -- thanks to a near-flat floor. There's 34.3 cubic feet of cargo room behind the rear seat, or 68 with the rear seat down -- which is easily done via levers on the outboard edges of each 60/40 seat part. Titanium means stitched leather seating and steering wheel rim, front seat heat, and soft-touch textured door and dash panels. It's all very stylish, and more than a little reminiscent of a Focus, but function is not compromised. The electroluminescent main instruments are well-shaded from glare and easily visible, with a useful information display between the tach and speedometer. Controls for the information, cruise control, audio, and phone systems are found on the steering wheel. Those and the MyFordTouch touchscreen interface do have a learning curve, but are no more difficult to decipher than any other current such interface. Bonus points to Ford for also having good old-fashioned knobs and buttons for climate control. All current audio choices are available, including AM, FM, and Sirius/XM radio, CD, and USB and A/V jack inputs. The touchscreen is also interface for the navigation system, and displays the backup camera view in reverse. A space-saver spare is found under the rear cargo floor, and liftover is lower than in many comparably-sized crossovers. Ford's SecuriCode™ external keypad may be ancient technology, but it's still useful. Going swimming and need a place to store the car "key"? Keep it in the car and use the SecuriCode combination lock.
SAFETY: All Escapes have Ford's Personal Safety System™ of airbags and sensors, the Safety Canopy® System of full-length side curtain airbags, AdvanceTrac® with RSC® (Roll Stability Control™) electronic stability control, integrated blind spot mirrors and more as standard safety equipment. The BLIS blind spot monitoring system, which displays warning lights in the outside rear-view mirror if a vehicle is in the blind spot, is optional.
RIDE AND HANDLING: The Escape's long-travel, fully-independent suspension is tuned moderately softly for a smooth, comfortable ride, even on less-than-wonderful road surfaces. A high center of gravity and the softish suspension mitigate any sport driving, but for that there's always the Focus ST. An Escape is quieter and carries more stuff, and people. With 7.9 inches of clearance, it should work well on forest and fire roads, even if they are slightly rutted. The all-wheel drive system can help there -- or anywhere, wet or dry. It automatically apportions torque to the wheels that can use it, varying from pure front-wheel drive in most conditions to all four wheels. This also eliminates torque steer, which with 270 lb-ft of torque going through the front wheels could be more than noticeable.
PERFORMANCE: There's no need for a V6 when direct fuel injection, turbocharging, and independent cam phasing on both input and exhaust camshafts results in the same horsepower -- 240 (at 5500 rpm) and more torque -- 270 lb-ft vs. the 3.0 Duratec's 223. As the old saying goes, horsepower is what you brag about but torque is what you feel. The 2.0-liter EcoBoost engine's strong, broad torque curve means that gear selection is rarely an issue, and the six speed automatic shifts smoothly and quickly in D. It is programmed to maximize fuel economy, so can hunt sometimes on grades. A shift to "S" ("Sport") mode cures that by holding gears, with minimal effect on fuel use. Manual shifting, by means of a rocker switch on the shift lever, can be done in S mode, but I found it to rarely be necessary. As mentioned previously, fuel economy is good, especially considering the available power. But more so with a turbo than naturally-aspirated engine, driving style will influence mileage. Quick acceleration is fun, but will make for a thirsty engine.
CONCLUSIONS: The Ford Escape combines good looks with performance and fuel economy to continue a a benchmark in the compact crossover class.
SPECIFICATIONS
2014 Ford Escape Titanium 4WD
Base Price $ 30,850
Price As Tested $ 35,030
Engine Type turbocharged and intercooled DOHC 16-valve aluminum alloy inline 4-cylinder with direct fuel injection and variable cam phasing
Engine Size 2.0 liters / 122 cu. in.
Horsepower 240 @ 5500 rpm (on premium fuel)
Torque (lb-ft) 270 @ 3000 rpm
Transmission 6-speed automatic with manual-shift mode
Wheelbase / Length 105.9 in. / 178.1 in.
Curb Weight 3769 lbs.
Pounds Per Horsepower 15.7
Fuel Capacity 15.0 gal.
Fuel Requirement 87 octane unleaded regular gasoline
Tires P235/50R18 97H Continental Conti Pro Contact
Brakes, front/rear vented disc / solid disc, ABS and ESC standard
Suspension, front/rear independent MacPherson strut / indepedent Control Blade™ multilink
Ground Clearance 7.9 inches
Drivetrain transverse front engine, full-time automatic all-wheel drive
PERFORMANCE
EPA Fuel Economy - miles per gallon city / highway / observed
21 / 28 / 22
0 to 60 mph 7.0 sec
Towing Capacity 3500 lbs.
OPTIONS AND CHARGES
2.0-liter I4 EcoBoost engine $ 1,195
Navigation system $ 795
Equipment Group 401A (Titanium Technology Package) includes: Active Park Assist, HID automatic headlights, Blind Spot Information System $ 1,735
Destination charge $ 895
Equipment Group Savings ($ 440)