2014 Kia Soul Review and Road Trip By Larry Nutson
2014 Kia Soul
Cruisin' the Sunshine State
by Larry Nutson
Senior Editor, New York Bureau
The Auto Channel
It's Solar Yellow. The color, that is, of my Sunshine State Soul which couldn't have been any more appropriate. Seven days of being away from the effects of the polar vortex and the opportunity to get to know the 2014 Kia Soul very well.
My 600 mile Florida road trip started in Tampa and took me to St. Petersburg, Orlando, Sarasota/Bradenton and then across the state to Palm City with the end point being West Palm Beach. It gave me lots of time to get to know the extensively updated all-new 2014 Kia Soul.
A long, mostly highway road trip begs the question, "how was the fuel consumption?" Quite good is the answer. Overall I hit a rounded 32mpg. The Soul is EPA test rated at 26 mpg combined…or, 3.8 gallons per 100 miles. The EPA test highway rating is 31 mpg, and I easily beat that in spite of my heavy right foot and the use of the air conditioning. The EPA test city rating is 23 mpg. All in all, getting over 400 miles of road travel from one tank is very doable.
The Kia Soul has been around for about four years. Some categorize it as a hatchback and others as a small station wagon, or even, a "boxy" car. Either way it offers loads of versatility, great quality and is really a good value. The value proposition includes a long 5-year/60,000 mile warranty and loads of features. Offered only with four doors and seating for five, the split-fold rear seats opens up the rear compartment to carry lots of stuff if need be.
At 163 inches long the Soul is very urban friendly and easy to maneuver. And with the rear seats folded you get up to 61cuft of cargo space, which is better than many compact SUVs. For the 2014, the rear lift gate is 2.4inches wider to ease loading.
The Soul comes in three models: a base model powered by a 130HP 1.6L engine and offered in 6-speed manual or 6-speed automatic transmission, a "+" model and also a "!" model. In words, that's the Plus and the Exclaim models. Both are powered by a 164HP 2.0L engine with the 6-speed automatic only.
My Solar Yellow road trip Soul was the Exclaim model with a base MSRP of $20,300. Standard on this model are lots of comfort, convenience and safety features that we have come to expect in nearly every vehicle segment today. Niceties like 10-way power driver's seat, leather wrapped steering wheel, power-folding outside mirrors that have a city-friendly setting to fold-in every time you lock the car, a cooled glove box, and on the outside LED daytime running lights and unique headlights.
Options on my driver included a Sun & Sound Package for $2,600 which included a very easy to program and use Nav system which was great for my trip, a huge sunroof which I also enjoyed in the Florida sun, and automatic climate control. I've gotten used to dual-settings for climate control especially since my wife likes it warmer than I, but the Soul was missing this for me.
A "The Whole Shebang Package" for $2,500 added among other items heated and cooled front seats, heated outboard rear seats and heated steering wheel. The ventilated front seats got used often in Florida. They actually work well to keep you comfortable on the leather seat surfaces and allow a cut back on the need for running the air conditioning in moderately warm temperatures, thus saving a bit on fuel usage. I liked knowing that my wife's favorite car feature, the heated steering wheel, was there for folks in the cold climates
The bottom line on this 2014 Kia Soul Exclaim hit $26,195 including the $795 freight and handling. As for pricing on the other models, as I mentioned they offer real value. The base model starts at $14,900 for the manual and $16,900 with automatic. The Plus is priced at $18,400. Kia offers a good variety of option packages for each model that allows you to equip them as you like to meet your needs. The Plus model offers a $400 Eco package that features an idle stop/start system and low rolling resistance tires. So if you are doing a lot of in-city stop and go driving this would be a good consideration.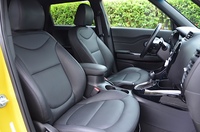 For 2014, the Soul rides on a new chassis that is stiffer, longer and wider. I found good ride comfort, confident handling and easy maneuvering during my Florida cruise. Standard on every Soul is a new Flex Steer system, which allows the driver to select from three distinct steering settings: Comfort, Normal and Sport. Now with more passenger and cargo room for 2014, my wife and I were very comfortable along with our occasional rear seat guests. During long highway drives the NVH levels, including noise from tires and wind, were very comfortable allowing for easy conversation while also enjoying the Infinity audio system. The 2.0L engine's flat torque curve coupled to the 6-speed automatic made for brisk acceleration and easy highway merging and overtaking.
Back in 2012 Kia showed the Track'ster design concept based on the Soul at The Chicago Auto Show
. Many design elements have found there way on to the 2014 model including a large trapezoidal lower air intake and the location of the available fog lights which are down low and pushed to the leading edges. Kia's signature grille is present, but it's been reworked to more closely resemble the concept.
A unique "floating" body-color panel inset into the lift gate originated with the Track'ster. On the inside where we spend most all of out time there is a more premium look and feel to the 2014 Soul's interior. We thought the seats a bit hard, although on a 3.5 hour drive across state I wasn't at all fatigued or achy.
The all-new 2014 Kia Soul has been named to About.com's "Best New Cars of 2014" list, marking yet another award for the iconic urban passenger vehicle. The all-new Soul was one of 12 vehicles recognized by About.com and was touted by editors for its overall execution, expensive feel and tremendous value. The 2014 Kia Soul also has earned the NHTSA 5-star safety rating.
At the February Chicago Auto Show Kia revealed the 2015 Soul EV which is scheduled to go on sale in the third quarter of 2014.
The Soul EV will be Kia's first all-electric, zero-emissions car sold in the U.S. The Soul EV will initially be sold in California and Oregon in the West and several Eastern states including New York, New Jersey and Maryland, the regions with the largest EV markets and infrastructure. Prices haven't been announced and we can expect more states to be added in the future.
If you are interested to compare the 2014 Kia Soul to other small wagons or hatchbacks you can do that right here on TheAutoChannel.com. For more product information and detailed specifications on the 2014 Kia Soul go to www.kia.com.
Also, download the free TheAutoChannel smartphone app. The "My Test Drives" app for both the IPad and iPhone is available for free on The Auto Channel app found in the Apple App Store.
The Soul is Kia's third-best selling vehicle with more than 118,000 sales in 2013.
It's urban friendly, very genuine and has lots of integrity.
© Larry Nutson