2014 Cadillac CTS-V Sedan Sport Premium Review by Carey Russ +VIDEO
DRIVING DOWN THE ROAD WITH CAREY RUSS
•SEE ALSO: Cadillac Buyers Guide
I'm reading the following in the owner's manual, under the heading Track Events: "Track events and competitive driving may affect the vehicle warranty. See the warranty manual before using the vehicle for competitive driving. Caution: If the vehicle is used for track events and competitive driving, the engine may use more oil than it would in normal use. Check more often. Check rear axle fluid after every 24 hours of racing or competitive driving."
This is in the owner's manual of a 2014 Cadillac CTS Vsport. Yes, you read that right, advice on track events (such as a driver's school or track day) and racing in a Cadillac manual.
The CTS sedan is all-new for 2014. "All-new" is a seriously overused term in the auto industry, but it's true here. The chassis platform is no longer the older "Sigma" used since the CTS's debut in 2002 (model year 2003). It's now a stretched version of the "Alpha" platform that underlies the smaller ATS. With the introduction of the ATS into the lineup, the CTS is no longer the smallest Cadillac. With a stretch of an inch or so in wheelbase and four in length, there is more room inside, especially for rear passengers. And it goes from "compact" to "midsize" luxury, where it gets to go up against competition including the BMW 5-Series, Mercedes-Benz E-Class, and Audi A6. Tough neighborhood.
If my recent time in the line-topping Vsport is any indication, it's the Germans who should worry. The Vsport is not the CTS-V, which continues unchanged this year, as was the case with the previous generational change in model year 2008. Power here is not from a 556-horsepower supercharged V8, but from a 420-hp twin-turbo V6. Because the V6 is smaller and lighter than the -V's V8, and the new CTS was developed with a racer's eye toward weight reduction, the Vsport is several hundred pounds lighter than the -V, so performance is not much less by the numbers, with even less difference in street driving. Or at a track event… And to improve both performance and make some attempt at fuel economy, the transmission is a multi-mode eight-speed automatic.
Watch The Auto Channel's CTS promo video of the Cadillac CTS
There are other models of 2014 CTS sedan. Entry level gets you a 272-hp 2.0-liter turbo, rear- or all-wheel drive, six-speed automatic. Above that is the familiar 321-hp naturally-aspirated 3.6-liter V6, the Vsport engine without enhancements. In rear-drive form it gets the eight-speed; with AWD the six-speed. Like the CTS-V, the regular CTS coupes and wagons are unchanged for 2014.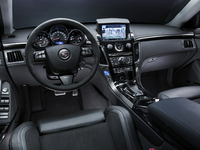 The Vsport is offered in two trim levels, "base" and Premium. Base is in quotes because it's anything but… Premium adds a host of upgrades including but not limited to the Luxury Package (tri-zone climate control, sunshades, illuminated door handles, head-up display and more), the Seating Package (heated and cooled front seats, heated steering wheel, heated outside mirrors with puddle lamps, ambient lighting, and more), a larger programmable gauge cluster adaptive cruise control and pretty much everything for state of the luxury art comfort and connectivity. Base starts at $59,995; Premium at $69,070. Add another $925 for the destination charge, and in the case of my test car, $ 995 for "Black Diamond Tricoat" paint. Like the power and handling and don't need all the gadgetry? The "base" model looks to be a very good value for a high-performance sedan.
In Premium trim, it showcases all of Cadillac's considerable prowess in luxury appointment and technological goodness -- and that latter not merely in state-of-the-art infotainment and connectivity, but in the use of metallurgical and electronic technology in the service of performance and safety. Fuel economy? Um… entertainment budget, right?
APPEARANCE: Cadillac's distinctive angular lines have softened somewhat, but are still readily recognizable. The grille is a bit larger and ever so slightly rounded at its corners, with a prominent display of the wreath-and-crest logo in the center. Vertical lights have been a Cadillac trademark for a while, and at the front LED technology allows a distinctive running light display at the front of the fenders. Strong shoulders and wheel arches characterize the sides, with vertical taillights distinguishing the rear, where a chrome garnish bar above the license plate denotes luxury and twin exhausts poking through the bumper fascia hint at performance.
COMFORT: Welcome to 21st Century luxury, Cadillac version. The initial impression is "premium sport luxury", with quality leather seating, faux-suede (much better than the real thing for this application) surfaces, and, where the standard sedan has burled wood, carbon-fiber trim. Plus metal binding around various trim and instrument pieces. The instruments are programmable displays on a TFT screen, bright and impervious to glare. Anything that can be power-adjustable is, and all amenities expected in a premium sport-luxury sedan are found. The CUE display on the center stack and the touchscreen above it control audio, navigation, and climate functions. There is a learning curve for the touchpad… The front seats are wonderfully supportive and comfortable, completely adjustable, and both heated and cooled. A heatable steering wheel rim is a pleasant touch on a cool day. The two outboard rear passengers get comfortably contoured seating with adjustable cushion heat. A deep, wide central tunnel makes the center a short-term position. Everyone has overhead grab handles. The trunk is on the small side for the car's size, with a ski-passthrough to the interior.
SAFETY: The 2014 Cadillac CTS Vsport has all of the required safety features, of course. It also comes with all of the new-tech sensors and radar cruise control, lane-departure warning, and such. It can go, so it should stop -- and four-wheel antilock vented disc brakes with four-piston Brembo calipers up front ensure that. Further active safety is enhanced by its extreme roadholding and handling capabilities.
RIDE AND HANDLING: To less mass, 50/50 weight distribution, and a carefully designed and calibrated fully-independent MacPherson strut / five-link suspension add magnetorheological adaptive variable damping and the result compares well to any sports-luxury, or serious sports-only, sedan made today. Poseurs may complain that the Vsport has mere 18-inch wheels instead of stylish 20s. Poseurs would be shown for what they are. The 18s, shod with runflat Pirelli P-Zero rubber, are lighter than larger wheels, and that means less unsprung weight. Traction will not be a problem, unless it rains… which it did for the first days of my week. They are dry-weather, high-performance tires, so take it easy. There are multiple suspension modes with the Magnetic Ride Control system. Touring is the default, and feels a bit flaccid. Snow/Ice lets you know that such conditions are even less optimal Vsport habitat. Sport should be considered the default. Yes, it's firm -- this is a sports sedan as much as a luxury sedan, and it's serious about the sport part. So it's appropriately firm, with perhaps a remap of steering and transmission response as well. It responds best to assertive driving, don't be tentative. Track takes that to the next level. For the most part, during dry weather I left it in Sport and was thoroughly pleased. This is most definitely not a 1970 Eldorado!
PERFORMANCE: The Vsport's engine is based on the naturally-aspirated 3.6-liter V6, but uses one turbocharger per bank of cylinders, with a maximum 15 psi of boost, to make 420 horsepower (at 5750 rpm), with 430 lb-ft of torque available from 3500 through 4500 rpm and not much less all the way down to idle. Direct fuel injection allows high compression for optimum efficiency, further enhanced by continuously-variable cam phasing. It feeds on unleaded premium only. Obviously, it's anything but peaky, and could probably do just fine in the USA at least with only third gear. Cadillac's first eight-speed automatic transmission features low low gears and overdrive seventh and eighth gears for quick acceleration and reasonably efficient highway mileage. The highway this car is best-suited to would be the German Autobahn, not speed-limited American highways… It can be driven gently in traffic with no complaints, but seems much happier when driven assertively. If this type of car is on your list, you're likely not too concerned with mileage. The 17 mpg overall that I got compares well with other high-performance machinery, and was better than the 14 of the last CTS-V I tested.
CONCLUSIONS: With its new CTS Vsport, Cadillac has a car that is the equal of any regular production sport-luxury sedan.
SPECIFICATIONS
2014 Cadillac CTS V-sport Premium
Base Price $ 69,070
Price As Tested $ 70,990
Engine Type DOHC 24-valve V6 with direct fuel injection, twin turbochargers, continuously-variable cam phasing
Engine Size 3.6 liters / 217 cu. in.
Horsepower 420 @ 5750 rpm
Torque (lb-ft) 430 @ 3500-4500 rpm
Transmission 8-speed automatic with manual-shift mode
Wheelbase / Length 114.6 in. / 195.5 in.
Curb Weight est 3750 lbs.
Pounds Per Horsepower 8.9
Fuel Capacity 19 gal.
Fuel Requirement 91 octane unleaded gasoline required
Tires Pirelli P-Zero runflat front: 245/40R18 93Y rear: 275/35R18 95Y
Brakes, front/rear vented disc all around, 4-piston Brembo front calipers, single-piston rear calipers
Suspension, front/rear independent MacPherson strut / independent multilink
Drivetrain front engine, rear-wheel drive
PERFORMANCE
EPA Fuel Economy - miles per gallon city / highway / observed 16 / 24 / 17
0 to 60 mph 4.6 sec
OPTIONS AND CHARGES
Black Diamond Tricoat $ 995
Destination Charge $ 925
Watch Cadillac's Black Diamond Tricoat video