2014 Toyota 4Runner Review By Larry Nutson
2014 Toyota 4Runner
Good for go-in-the-snow
By Larry Nutson
Senior Editor, New York Bureau
The Auto Channel
All the talk is the Polar Vortex that has taken control over the lives of many Americans this winter. The timing for a drive in Toyota's 4Runner could not have been better with winter storm Pax bearing down. A true Nor'easter, I probably would have been better to not be out driving at all.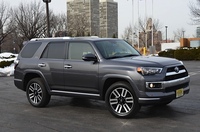 My last test drive in a 4Runner was about 3 years ago, so this was as good a time as any to again be in this rugged SUV. With the typical SUV features of all-wheel-drive, high ground clearance, and aggressive "knobby" tire tread pattern the go-in-the-snow capability of the 4Runner is very good. In years past, when we were a multi-vehicle household we always had a winter-capable SUV in the fleet. Actually, many of the features are also beneficial in summer heavy rain, flooded road situations. I can recall always making the SUV the vehicle of choice if a heavy thunderstorm was threatening. Plus, the AWD and high ground clearance also enable the possibility of driving around obstacles in a blocked roadway.
I spent about seven days with a 2014 Toyota 4Runner Limited 4x4 with a base price of $43,400. This model comes pretty well loaded and the only option that was equipped is the third row seat to provide seven passenger seating for an additional $1365.
The 4Runner mid-size SUV has been around for three decades and is currently in its fifth-generation. The 4Runner is offered in three trims: SR5, Trail and Limited. Rear drive is offered on SR5 and Limited. The SR5 and Trail come in base or Premium models. Prices start at $32,820 for the SR5 4x2. The Trail 4x4 has an MSRP of $37,725.
For 2014 the interior has been revised and exterior styling is freshened including new headlamps. A rear view camera is now standard. There is plenty of cargo room growing from 46-47cuft behind the second row to 89-90 cuft with all seats folded, and the 4Runner has a rated towing capacity of 4700lbs. The second-row seat is a 40-20-40 split and the third row is a 50-50 split, making for lots of versatility.
Power comes from a 270HP, 4.0-L DOHC 24-valve V6 driving through a 5-speed automatic transmission and full-time four-wheel drive system with A-TRAC traction control system and a locking center differential. I didn't get to drive the 4Runner heavily loaded with lots of cargo or all seven seats filled. However, I did think the 270HP provided suitable acceleration for freeway merging and passing and getting around town. EPA fuel economy test rating is 18mpg combined…or, 5.6 gallons per 100 miles. The EPA city test rating is 17 mpg and the highway test rating is 21 mpg. The 4x2 only gets 1 mpg better in the highway test rating. Considering the 23 gallon fuel tank, the 4Runner should be good for better than 400 miles per tank on a road trip.
As far as comfort and convenience features go, the 4Runner is well loaded. Front seats are heated and cooled. I would have liked a heated steering wheel.
The two large knobs for audio and navigation controls are very easy to use in cold winter temps with gloves on. A not oft found feature on SUVs that is on the 4Runner is a power operated rear liftgate window that slides down fully recessed. Thus, you have the ability to carry long objects, whether it be 2x4s or a surfboard, at the flip of a switch. Automatic running boards are an option, although they were not equipped on my test vehicle. My wife expressed her displeasure with the difficulty in climbing up into the front passenger seat while wearing a straight skirt.
Take note…running boards are a good SUV feature to have for the ladies and young children, no matter which one you drive. (DSC_5058)
Overall handling, steering and braking is as comfortable and compliant as a body-on-frame SUV can and should be. After all, this is a rugged vehicle and not meant for slalom runs or race track drives. Like every SUV visibility is very good with the high seating position. Wind and tire noise didn't interfere with conversations or enjoying the Entune Premium JBL audio system.
If you are interested in comparing the 2014 Toyota 4Runner to other SUVs like the Jeep Grand Cherokee, Dodge Durango, Ford Explorer or Honda Pilot you can do that right here on The Auto Channel's Toyota Buyers Guide. For more information and detailed specifications on the 2014 Toyota 4Runner go to www.toyota.com.
If you like, download the free TheAutoChannel smartphone app. The "My Test Drives" app for both the iPad and iPhone is available for free on The Auto Channel app found in the Apple App Store. The Auto Channel's free "My Test Drives" app gives serious car shoppers the help they need to make test drive evaluations accurate, effective and meaningful.
The Insurance Institute for Highway Safety (IIHS) named the 2014 Toyota 4Runner a Top Safety Pick with ratings of "Good" in all crash-test areas.
To commemorate the 30th anniversary of the iconic 4Runner sport utility vehicle, Toyota is discounting all 2014 4Runner models. The 30th Anniversary Discounts range from $500 for all 4Runner SR5 and Trail models, $750 for all SR5 and Trail Premium models and $1,000 on all Limited models.
If you want to be ready for anything that Mother Nature might throw at you, the 2014 Toyota 4Runner will do a good job at your motoring needs. The 4Runner is a great choice if you want an SUV that has lots of capabilities and is not priced as high-as-the-sky.
© Larry Nutson