2014 Ford Fiesta ST Review by Carey Russ
Good performance and good economy
DRIVING DOWN THE ROAD WITH CAREY RUSS
• SEE ALSO: Ford Buyers Guide
Good things come in small packages. Case in point: the 2014 Ford Fiesta ST. It's as quick and nimble as expected of a sports hatchback, and entertainingly fun even for a trip to get groceries. It's also commendably frugal with the unleaded premium, as, despite my best efforts to drain the tank as quickly as possible, I still got 29 miles for each gallon.
True, not every one of those miles was on an uncrowded country road, and I didn't approach every highway onramp as if it was "run what you brung" night at the dragstrip. But turbo power does tickle the synapses, and the Fiesta ST's 197 horsepower, and more importantly 202 lb-ft of torque over a wide rev range, delivers to the pleasure center. This one also works just fine driven like a normal car. It's not fussy, shifting is quick and easy, and, outfitted with the optional Recaro seat package, it's comfortable enough for all-day, every day.
While the regular Fiesta is offered in sedan or hatchback body style, the ST is a five-door hatch only. And while other Fiesta models get a choice of manual or automatic transmissions, this one is strictly stick, a fine six-speed. Part of the secret to highway mileage is right there, as both fifth and sixth gears are overdrives. Fifth, at 0.82:1, is useful at normal highway speeds, which means 65 to 70 mph around where I live. Sixth works downhill or on level ground. The 3.82:1 final drive ratio means quick acceleration in lower gears, and the broad turbo torque band means short-shifting still brings good acceleration and many miles and smiles per gallon.
"ST" means Sport Technologies. The Fiesta ST has been sold in Europe for a few years, no surprise. It's a very European performance concept, born in an environment where gasoline is much more expensive than here. Besides the obvious differences from a lesser Fiesta five-door hatch -- engine, bodywork, and interior -- the suspension has been given the sport treatment, stiffer and lower. Steering is quicker, and electronic Torque Vectoring Control helps reduce understeer. The stability control system has both standard and performance modes, and can be switched completely off.
It didn't take long for the Fiesta ST to make and impression. And that first impression was "four-wheeled equivalent of a small sportbike". Which is something that doesn't really exist, in the US anyway, anymore. I was thinking "Yamaha RD400 without the blue smoke" and with far better brakes and suspension. But the same sort of hooligan character coupled with daily-driver/commuter practicality. No, it's not the quickest or fastest thing on four wheels. So? As the old saying goes, it's more fun to drive a slow car (relatively) fast than it is to drive a fast car slow. In a land of speed limits and traffic tickets, supercars are frustration incarnate. Something like the ST can actually be used. And you can take three, maybe four, friends along, or fold the rear seat and carry whatever you can fit back there. Long ago, "Ford has a better idea" was the company's advertising tag line. It applies very well here.
APPEARANCE: Take one five-door Fiesta hatch and add the basic hot-hatch kit: Lowered suspension with plus-size, lower-profile performance tires, "aero kit" front splitter-look lower fascia, extended side sills, and hatch spoiler and faux venturi panel at the rear. The grille shape is the same, but with a black mesh material instead of chrome slats. The wheels are out to the corners, with little front or rear overhang, for maximum space utilization and good clearance on driveways and bumps in the road.
COMFORT: The Recaro seats are a $1,995 option. Steep in a $22,000 car, but worth every penny. You'd likely pay more for them in the aftermarket. They offer much better support and comfort than the stock seats, and are completely fitting to the ST's character. Yes, they're highly-bolstered. That's a Good Thing for a car like this, even if you don't spend weekend afternoons slaying cones on an autocross track. And if you know what this car is, and want it, you already know that… The Recaros are manually-adjustable and have heated cushions. Appropriately grippy cloth covers the main seating areas, with leather or leatherette for other parts.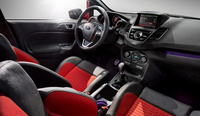 The rest of the interior is, not surprisingly, little-changed from the premium trim level of regular Fiesta. The steering wheel has audio, phone, and cruise controls on its spokes, tilt- and reach-adjustability, and an appropriately thick leather rim. Leather is also used for the shift know. Pedals are the standard for the genre aluminum and rubber. The dark monochrome color of most interior panels is offset by the body-color cloth on the seats. The main instruments are easily visible, with useful information displayed between the speedometer and tach. The MyFordTouch touchscreen controls audio, navigation, phone, and vehicle settings systems. Climate is by means of simple buttons and knobs. Audio choices are all current varieties, AM, FM, and Sirius/XM radio, CD, jack, USB, and Bluetooth from a compatible phone. Mood lighting brightens the interior at night. The rear seat should hold two medium-sized adults reasonably well, and a third in the center for less time, while still leaving a bit of luggage space. Or fold it, 60/40, for more stuff. There is a space-saver spare under the rear load floor, not a can of sealant.
SAFETY: As with other Fiesta models, the ST's strong unibody makes extensive use of high-strength steel, and is designed and built for maximum occupant protection. A full complement of airbags, including a driver's knee bag, is standard, as are the AdvanceTrac with ESCŪ traction and stability control system and antilock brakes -- four-wheel disc here. Don't worry about unavailability of an electronic blind-spot monitoring system - Ford's outside rearview mirrors have built-in convex sections that allow the driver to see what otherwise would be invisible.
RIDE AND HANDLING: This is a sports hatchback, and so the suspension is set up accordingly. Don't expect a plush ride. Although the suspension is of the same MacPherson strut front, torsion-beam axle rear design as in other Fiesta models, in the ST it is lower, stiffer in spring, shock, and bushing calibration, and has quicker steering -- all appropriate to its mission in life. It can be a bit choppy on just the wrong pavement; such is payment for reduced body roll and quickened response and I don't think anyone who wants this car will complain a bit. I could say "street-legal shifter kart" but that's the ST's character, not its comfort level. And the Recaros help there, too.
PERFORMANCE: The engine in the ST may have the same basic 1.6-liter displacement and twin-cam, 16-valve architecture as in other Fiestas, but there is one major difference: turbocharging. Allied with direct fuel injection, and a consequent high 10:1 compression ratio, that means 120 horsepower becomes 197 (on premium unleaded) and 112 lb-ft of torque turns into 202. The power peak is at the same 6350 rpm; peak torque drops to 4200.There is decent low-rpm power, especially in lower gears, but keep the revs up for maximum motion. The six-speed gearbox has excellent shift linkage, and an interesting choice of ratios. First is very low, for ultra-quick low-speed acceleration -- but if you're looking for the ultimate 0-60 you'll lose time because you'll have to shift before that. Fifth and sixth are overdrives, with sixth being better-suited for the Autobahn or long flat stretches or downgrades on the highway, not hills. Second through fourth will get the most use. This is a well-balanced European-style performance car, not a dragster. As in the larger Focus ST, "overboost" software can allow more turbo boost in the midrange for short time periods in third through sixth gears. Also like in its Focus cousin, there is a "sound symposer" that electronically feeds engine sound into the passenger compartment. Yeah, it's a silly gimmick, but does add stealth composed to an obnoxiously loud exhaust.
CONCLUSIONS: Let the party begin with the Ford Fiesta ST! Good performance can go with good fuel economy.
SPECIFICATIONS
2014 Ford Fiesta ST
Base Price $ 21,400
Price As Tested $ 25,580
Engine Type aluminum alloy 16-valve DOHC inline 4-cylinder, turbocharged and with direct fuel injection
Engine Size 1.6 liters / 97 cu. in.
Horsepower 197 @ 6350 rpm
Torque (lb-ft) 202 @ 4200 rpm
Transmission 6-speed manual
Wheelbase / Length 98.0 in. / 160.1 in.
Curb Weight 2742 lbs.
Pounds Per Horsepower 13.9
Fuel Capacity 12.4 gal.
Fuel Requirement 91 octane unleaded premium gasoline recommended, 87 octane unleaded regular permissible
Tires P205/40R17 84W Bridgestone Potenza
Brakes, front/rear vented disc / solid disc, ABS standard
Suspension, front/rear independent MacPherson strut / semi-independent twist-beam axle
Drivetrain transverse front engine, front-wheel drive
PERFORMANCE
EPA Fuel Economy - miles per gallon
city / highway / observed
26 / 35 / 29
0 to 60 mph 7.0 sec
OPTIONS AND CHARGES
Green Envy metallic tricoat paint $ 595
Recaro Package -- includes: Recaro front seats with heated cushions, dual power side mirrors $ 1,995
Navigation system $ 795
Destination charge $ 795