2014 Nissan Altima 2.5 SL Review by Carey Russ
DRIVING DOWN THE ROAD WITH CAREY RUSS
• SEE ALSO: Nissan Buyers Guide
Although it debuted at the large end of the compact sedan category, Nissan's Altima came into its own when it became a large midsize sedan a decade later in model year 2002. Since then, it's been Nissan's best seller, and one of the most popular cars in the country.
That shouldn't be too much of a surprise, as the Altima has always been designed and built primarily for the American market, with production at Nissan's Smyrna, TN facility near Nashville. The current, fifth-generation, version was an early model year 2013 release in mid-2012, and judging by the number I see on the road is as popular as ever. Changes for its second year are primarily to electronic entertainment and information systems, and focused on better integration with Android and iOS devices. The NissanConnect Apps system is designed to be able to integrate new apps during the lifetime of the car, a much better idea than hard-coded, built-in apps since software development happens at a much quicker pace than car development. Other changes are the more typical color changes and option package revisions.
Like most of its competitors, the 2014 Altima is offered with a four-cylinder or V6 engine, in multiple trim levels. The base model S is four-cylinder only. Above that in ascending order of standard equipment are the SV and SL models, with either engine. As before, the four is Nissan's 2.5-liter, 182-horsepower (or 179 in California-emissions states) QR25DE, with the V6 the 3.5-liter, 270-hp VQ35DE. Transmission is to the front wheels via a CVT (continuously-variable transmission), slightly different for each engine.
You might have noticed that there is a premium SL model with the four-cylinder engine. If that seems unusual -- "premium" usually means "most power" as well as all of the bells and whistles -- there is some very good logic behind it. As in competitors with similar engine choices, the four is all you really need, and fuel economy is better with the four. Here, EPA estimates for the four are 27 mpg city, 38 highway, and 31 overall. For the six, 22 city, 31 highway, 25 overall. I've just finished a week with a four-cylinder SL for a 29 mpg real-word average. Which is not bad at all for a car the size and comfort of the Altima. And better than the smaller (four-cylinder) 1997 version in my records at EPA estimates of 21/29 and a 25 overall mpg observed.
If it won't be a dragstrip phenomenon, the Altima SL never had any difficulty dealing with traffic, merging, or passing slower traffic. It will keep you comfortable and secure on the road, with plenty of room for people and cargo and a minimal thirst for unleaded regular. The SL is very much a "near-luxury" or "entry-luxury" car in specification, with leather and all of the current electronic gadgetry for convenience, entertainment, and safety either standard or available. You can pay more for a luxury brand name, and get less.
APPEARANCE: Other than some different color choices, there are no changes to the Altima's exterior for 2014. If the general design has continuity with the previous two generations, for immediate identification, all details are different. The front is dominated by a bold chrome-trimmed grille and bulging, chrome-trimmed headlights. The sharply-domed hood and sculpted sides stand in contrast to the blandly-curved counterparts of the previous two Altimas, and give the new car much more presence on the road. The L-shaped taillights are a current Nissan styling theme. Copious use of chrome trim, not only at the front but fully around the windows and door handles at the sides, and at the rear with a garnish bar above the license plate and taillight, accents further suggest luxury.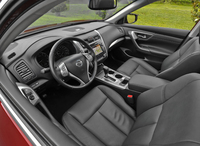 COMFORT: When I tested a 2013 Altima SV in late 2012, I said "Inside, the most noticeable difference between the Altima in SV spec and a "real" luxury car is the Altima's cloth upholstery and lack of fancy wood trim." In the SL, you get leather seating (heatable front, as is the steering wheel) and eight- instead of six-way power adjustment of the driver's seat. The front passenger seat is still manual, and interior trim is still "woodgrain" instead of real wood -- and that still gives it parity with the (usually pricier and smaller) "entry-level" models from luxury brands. Fit and finish are first-class, and soft-touch materials are used for most tactile surfaces All Altima models get Nissan's bright, easily visible "Fine Vision" gauges and "Intelligent Key" pushbutton start/stop with remote keyless entry. And all have the "Zero Gravity" front seats, developed from research done by NASA to minimize fatigue. They work very well, and less driver fatigue from fighting uncomfortable seats means greater safety. Rear passengers are treated to a plenty of space, plus floor heat and console-end air conditioning vents. The trunk is usefully large, with extra cargo ability from the 60/40 folding rear seatback. A space-saver spare is found under the trunk floor, not a can of sealant. Instrumentation is complete and easy to see, and the leather-rimmed steering wheel adjusts manually for tilt and reach and has audio, cruise, and information system controls. The optional navigation system fitted to my test car was simple to use. All models have AM/FM/multi-format CD audio systems plus Bluetooth connectivity (including streaming audio); SV and SL get Sirius/XM satellite radio and USB/iPod connectivity as well.
SAFETY: Zone Body Construction with front and rear crumple zones, side guard door beams, and other design and construction elements to channel impact forces around the passenger compartment protects passengers in the event of an accident. Further protection comes from dual-stage front, seat-mounted front side, and full-length side curtain airbags. Active safety is enhanced by standard antilock brakes, Vehicle Dynamic Control (VDC) stability enhancement, and traction control and tire-pressure monitoring systems. Lane-departure warning, moving object detection, and blind-spot warning systems are available in the SL Technology Package, which was on my test car.
RIDE AND HANDLING: If a superficial reading of the specs makes it seem like there were minimal suspension changes between the previous and current Altimas, changes made make for significant improvement. Revised geometry and equal-length halfshafts in front banish torque steer. The rear suspension better controls rear wheel camber for improved cornering ability, useful not only for performance driving but in evasive maneuvers for safety -- the best accident is one you avoid! High-quality Sachs shock dampers control wheel movement very well, for a contemporary luxury car ride -- comfortably compliant and with good maneuverability. Active Understeer Control, based on the VDC system, uses light, controlled application of the inside front brake to reduce understeer -- the tendency of a car to "plow" to the outside of a corner -- in everyday driving. Electronic Hydraulic Power-assisted Steering (EPHS) combines the familiar feel of hydraulically-assisted steering with electric motor, rather than engine-driven, actuation of the power steering pump. Less drag on the engine means better fuel economy.
PERFORMANCE: And every little bit contributes to fuel economy… lower energy loss in the steering assist, reduced aerodynamic drag from underbody trays and air dams, and, critically, careful engine design and construction. The 2.5-liter QR25DE inline-four is a contemporary engine with dual overhead cams with continuous phasing for optimum efficiency, power, and cleanliness, four valves per cylinder, ditto, and lightweight aluminum alloy construction. Maximum horsepower is 182, at 6000 rpm, with torque peaking at 180 lb-ft at 4000 rpm -- unless you live in a California-emissions state, where it's 179 hp and 177 lb-ft, two less of each. I doubt that anyone will notice that… Nissan has been aggressive in use of CVTs instead of regular torque converter and planetary gearset automatics. With no discrete gears, a CVT is smooth, and computerized control, integrated with the engine controls, ensures optimum performance and efficiency. A wide "virtual ratio" spread means that there are low lower "gears" for quick acceleration, especially at common city and highway speeds, and a high "overdrive" ratio for economical highway cruising. With mostly city and backroad driving, and maybe 30% highway, I averaged 29 mpg for the week. No complaint there -- many a smaller car doesn't do as well.
CONCLUSIONS: Even in four-cylinder form, the latest Nissan Altima combines upscale design and comfort
SPECIFICATIONS
2014 Nissan Altima 2.5 SL
Base Price $ 27,760
Price As Tested $ 30,625
Engine Type DOHC 16-valve inline 4-cylinder
Engine Size 2.5 liters / 152 cu. in.
Horsepower 182 @ 6000 rpm (179 CA states)
Torque (lb-ft) 180 @ 4000 rpm (177 CA)
Transmission CVT
Wheelbase / Length 109.3 in. / 191.5 in.
Curb Weight 3230 lbs.
Pounds Per Horsepower 17.8
Fuel Capacity 18.0 gal.
Fuel Requirement 87 octane unleaded regular gasoline
Tires P215/55R17 93V m+s Conti Pro Contact
Brakes, front/rear vented disc / solid disc, ABS, EBD, BA standard
Suspension, front/rear independent strut / independent multilink
Drivetrain transverse front engine, front-wheel drive
PERFORMANCE
EPA Fuel Economy - miles per gallon city / highway / observed
27 / 38 / 29
0 to 60 mph est 7.8 sec
OPTIONS AND CHARGES
Moonroof Package $ 800
Carpeted Floor and Trunk Mats $ 185
Technology Package -- includes: Nissan navigation system with 7" color display, Blind Spot Warning (BSW), Land Departure Warning (LDW), Moving Object Detection (MOD) systems $ 1,090
Destination Charge $ 790