July 2013 U.S. Auto Sales See Double Digit Gains for Top Manufacturers
Washington DC August 2, 2013; The AIADA reported that July 2013 was a successful month for the U.S. auto market as all of the largest manufacturers saw double-digit gains. Subaru led the way with a 42.9 percent improvement from July 2012, thanks to record sales of the Forester, Outback, and Impreza. Honda sales were up 21.3 percent, Nissan's were up 16.8 percent, and Toyota saw an improvement of 16.2 percent to outsell Ford for the first time since March 2010. Customers had plenty of reasons to buy in July, including rising incentives. According to Edmunds.com, incentives were up 10 percent from July 2012 for an average of $2,463 per vehicle.
"Low interest rates, a recovering construction industry, and rising consumer confidence are all good news for dealers," said AIADA President Cody Lusk. "The auto retail industry appears to be well on the path to recovery."
Internationals Dominate July Auto Market
International brands surged ahead in July, taking a 57 percent share of the U.S. auto market. The numbers compared with the 53.5 percent share they held last month and the 56.9 percent share they held in July 2012. Sales of international nameplates clocked in at 750,254, down just 359 from the 750,613 units they sold in June, but an improvement over last July's sales of 656,584 units.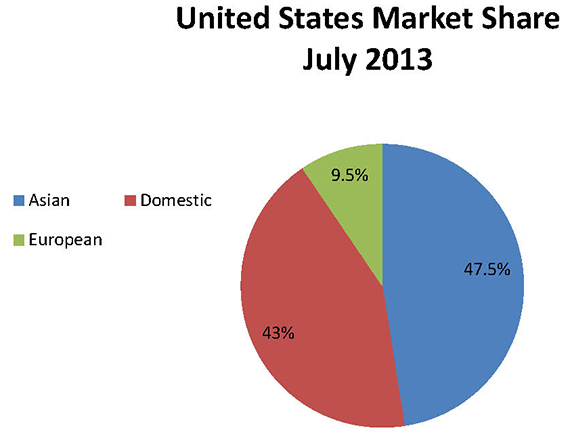 Asian brands performed particularly well in July, capturing 47.5 percent of the U.S. market and selling 625,084 vehicles. Last month, Asian nameplates held 44.1 percent of the market and sold 618,845 units. The numbers are also a 15.5 percent improvement over July 2012 sales, when they occupied 46.9 percent of the auto market and sold 541,239 vehicles.
European brand sales also rose slightly. They occupied 9.5 percent of the U.S. market, up from 9.4 percent last month. Sales totaled 125,170 vehicles, down slightly from the 131,768 vehicles they sold in June. European brands are up 8.5 percent over last July when they sold 115,345 vehicles and occupied 10 percent of the U.S. auto market.
Domestic brands finished the month with 43 percent of the U.S. market, down from 46.6 percent in June. Overall, they sold 564,940 vehicles, up from 653,821 last month and are up 13.6 percent since last July when they occupied 43.1 percent of the market and sold 497,098 vehicles.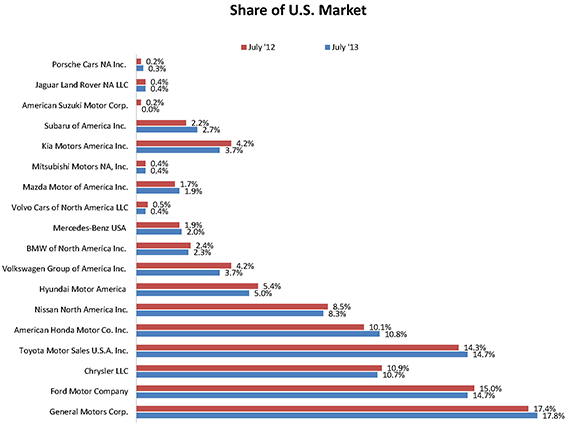 Top 10 List Highlights Internationals
International brands represented six of the top ten selling vehicles in July—up from five last month. The Toyota Camry continued to be the best-selling car in America, logging a third place finish for the month overall behind the Ford F-Series and Chevrolet Silverado pickups. The Camry sold 34,780 units and was up 16.3 percent over last July.
Honda occupied three spots on the top ten list—more than any other automaker. In fourth place, its Civic compact sold 32,416 units and was up 29.6 percent over last July. The Honda Accord midsize sedan followed in fifth place with sales of 31,507 units, up 10 percent over July 2012. The Honda CR-V landed in eighth place. Sales of the crossover were up an impressive 32.5 percent over last July with sales of 27,226 units. In seventh and tenth place, respectively, the Nissan Altima and Toyota Corolla/Matrix rounded out the international nameplate models on July's top ten list.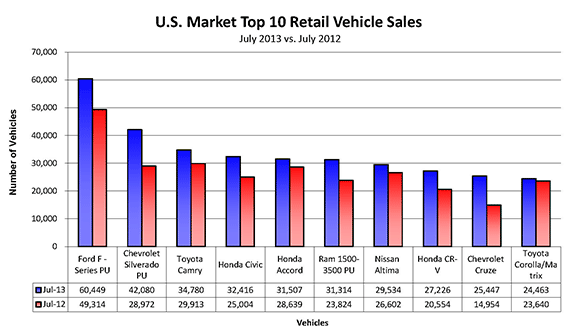 Internationals Rely on North American Manufacturing
International brands continued to source a large portion of their vehicles from North American manufacturing operations. Asian brands sourced 246,993 cars from such facilities—a 37.6 percent share of all cars sold in the U.S. They also sourced 173,371 of their trucks from North American manufacturing facilities, representing a 26.4 percent chunk of all trucks sold in the U.S. European brands also continue to maintain a sizeable manufacturing footprint, sourcing 21,599 of their cars and 10,401 of their trucks from North America.

Outlook
AutoData Corp. estimated the seasonally adjusted annual rate (SAAR) at its second highest recorded level since 2007 at 15.67 million units, versus 14.09 million units a year ago. Sales for all brands, unadjusted for business days, were up 14 percent from July 2012 and 8.5 percent for the year. Sales improved 6.3 percent from June 2013.