2012 Scion iQ Road Trip Review by Steve Purdy +VIDEO
A Big Man Reviews A Very Small Car.
2012 SCION iQ REVIEW
By Steve Purdy
TheAutoChannel.com
Michigan Bureau
I was off at the crack of dawn for a 9-hour drive through Michigan's pristine Upper Peninsula and down the Wisconsin coast to one of the best road racing tracks in the country, Road America at Elkhart Lake. I'm driving and evaluating the little city car from Scion called iQ. Yes, I know, I'm using the car exactly as it was not intended. But, what the hay, this is the road trip that presented itself, so this is the one I'm doing.
By 9:30 I was breakfasting on whitefish and eggs at Audie's Family Restaurant at the foot of the big bridge in Mackinaw City after photographing the little black car with a lighthouse and the bridge in the background. I was easily able to keep up with the light but brisk traffic headed to the north woods. Average speeds were a bit extra legal with speed enforcement only evident for the first 60 miles. I'm particularly interested in seeing whether the 37-mpg average rating was reasonable. I only made 29.5-mpg on this first leg. The EPA says to expect 36 in the city and 37 on the highway.
The second leg led me across the scenic south coast of the U.P. along highway US 2 bordering the Lake Michigan shore, normally heavily enforced at 55 mph - but today with no enforcement at all. Averaging a tad over 60 with nearly nonexistent traffic I managed an easy 39.2 mpg. So that's the key. Keep it around 60 or less to get the stated mileage. It has a good 0.31 coefficient of drag, but aerodynamic reality says the faster we go the more energy it takes to push the air out of the way. And, in this case, I found later, we're pushing a lot of early summer bugs as well.
The tiny iQ looks a lot like a Smart but, unlike Smart, this one has a back seat. Neither have much cargo area, though you could probably jam a soft bag in the vertical 3.5 cubic-feet of space behind the seat, or a pretty good size suitcase if you fold the rear seat backs down for a 16.7 cubic-foot space. We have plenty of room in the front seats once in, though the roof line is a bit restricting for this dumpling-shaped driver who can't fold up very well.
Interior quality is surprisingly good. Seats are covered in a nice fabric but are shaped more like a cushioned living room chair than a car seat. There is no lateral support and they are relatively soft. But, during my long drive, only exiting the car thrice, my back side, legs and back all felt just fine. Since this car is not made for auto crossing or thrashing around corners, I guess it's not so important to have that lateral support. I didn't miss it.
Watch TACH's exclusive Scion IQ promo video
It has most of the amenities we expect in cars today like power mirrors, power locks, AC, power steering (in this case electric PS), chassis dynamic controls (ABS, stability control, brake assist, etc.), USB, Bluetooth and iPod connections, intermittent wipers and rear window wiper. But it does not have cruise control and cannot be had with sunroof. Rather than offer a bunch of options and packages, Scion has chosen to offer a catalog full of accessories with which you can customize your iQ experience. I didn't see a turbo on the list though.
This isn't a cheap little car and it's not quite premium, but darn close to it. Base price is$15,265 and there is but one trim level. Our black (not a good color for this car, in my aesthetic view) test car has the $479 Pioneer Premium HD radio that is iPod ready and includes a CD deck and the $449 XM Satellite radio. Along with the $90 floor mats and $730 delivery charge we're looking at $17,013 on the sticker. This sticker also claims in large letters, "You save $5,100 in fuel costs over 5 years." Then in smaller print they offer the disclaimer, "compared to the average new vehicle."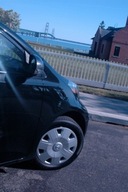 Powered by a 1.3-liter four-banger with a CVT its performance is uninspiring though certainly competent. With 94 horsepower and 89 pound-feet of torque we can get down the road quite expeditiously and the CVT allows us to get a good jump off the line, even if it is a bit whinny. After all, the iQ only weighs about 2,100 pounds. It takes regular fuel, of course and the little 8.5-gallon tank is cheap to fill but will take you less than 300 miles until the last bar on the fuel gauge begins to flash. At that point, I think we might still have 50 miles or so left, but I didn't want to test it in the wilds of Northern Michigan.
The chassis feels tight and handling is good with conventionally structured suspension - McPherson struts up front and a torsion beam setup in the rear. The turning radius is amazingly tight. Smallish 175/60 by 16-inch tires (on steel wheels with full covers) mean it tends to follow pavement groves a bit making this lightweight car a bit squirrelly at times. I felt like we were doing the samba as I drove across the Mighty Mac bridge in the lane that's made out of steel mesh. The day was still so I didn't feel much wind except when passing, or being passed by, trucks.
Some folks wring their hands and worry about safety and crashworthiness in little cars like this iQ and the Smart. Not to worry, it's not only structurally rigid with high-strength steel in its substructure, but it has eleven, count them, eleven airbags. If they all went off at once, say in a rollover and end-to-ender there wouldn't be any room left for the people, wouldn't you think?
Scion's new car warranty covers the car for 3 years or 36,000 miles and the powertrain for 5 years or 60,000 miles. Maintenance is free for the first 2 years or 25,000 miles as well.
I'm not an urban dweller, for whom this car is meant, and this road test did not touch on that use at all. I'll have to leave that evaluation to some of my colleagues,

I guess. I can say without hesitation, though, that I enjoyed my 1,300 mile, open road drive in the Scion iQ.
Upon my return the nose of the car was covered with about 3 pounds of bug guts. That probably hurt our drag coefficient and fuel mileage a tad.
© Steve Purdy, Shunpiker Productions, All Rights Reserved