2011 MINI Cooper S Countryman ALL4 Road Trip Review by Steve Purdy +VIDEO
Mini Specs, Reviews, Comparisons and Prices - Mini Buyers Guide
2011 MINI Cooper S Countryman ALL4
Road Trip to Wisconsin
By Steve Purdy
TheAutoChannel.com
Detroit Bureau
One of those destinations close to home we've not explored is the Wisconsin Dells, perhaps the most popular attraction in the state, next to the Green Bay Packers.
My pretty wife and I decided to make that our first fall destination and the good folks at MINI thought we should do it in the new Cooper S Countryman ALL4. That's a larger, 4-door version of the cute and popular MINI Cooper, BMW's redo of the '60s iconic little car.
Our friend, Jack Harned, is from southern Wisconsin and a graduate of the University of Wisconsin in Madison so he provided a must-see-and-do list to keep us busy for the week. Jack's list of perhaps a dozen options could have kept us busy for a month. Of course our primary goal is to explore the back roads in our quick and cool little MINI. So, if we can experience The Dells, some local cheese and maybe some surprising back road discoveries, we'll be happy travelers.
The Dells, for those unfamiliar with that geologic feature, is a deep cut in the Wisconsin River, about an hour north of Madison, where exposed rock cliffs look more like New England than the Midwest. The glaciers that created the topography of the entire region seemed to have missed this and the nearby "uplands" leaving rocky hills. Like towns around other spectacular natural areas touristy attractions overrun the area, in this case more water parks per square mile than probably anywhere in the world.
Our test car for this trip is the new addition to the rapidly growing family of MINIs called Countryman, this one a Cooper S. With four doors, a few extra inches in width, height, length and ground clearance we can think of this as sort of a crossover, or little station wagon, or diminutive SUV, or perhaps something altogether different. This one is white with black accents everywhere - stripes along each side of the hood, wheel arch trim, top, side trim, grill, chin spoilers and outside mirrors. There is no mistaking the MINI shape and ambiance, the modern iteration of Sir Isaac Issigonis' inspired design that took Brittan by storm in the 1960s. My objective opinion is that the Countryman is quite good looking except for an awkwardness integrating the C-pillar.
All MINIs come as front-wheel drive but this one has an all-wheel drive system to enhance its bad weather capability, not necessarily for off-roading ability. Unless the car senses traction loss we're just driving with the front wheels, otherwise torque is sent where needed to maximize traction. Under normal circumstances MINIs are known for go-cart-like handling, and that reputation is well deserved. This one is not quite as agile as its smaller siblings, but only the most experienced and sophisticated driver would notice the difference.
As we were loading the car I encountered the first of many ergonomic oddities, some just a matter of things being done differently, some just weird, and this one I can only call a design defect. I was loading the rear with luggage and groceries and wanted to fold the rear seat backs forward. The Countryman comes with a pair of bucket seats in the rear with a utility rail between, unless you specify the no-cost option of a bench rear seat. Reaching over I pull the release strap mounted on the inboard side of the spring-loaded seat back. Bang! - It thwacked me hard right in the side of my head. I can't imagine why that release strap is not positioned on the outside where we could reach it easier, or why the seatback is so oversprung.
But, speaking of loading, this new CUV version of the MINI has over 40 cubic feet of cargo space inside, with 12.5 cubic feet behind the rear seat. Not bad for what we think of as a small car. And, sitting in the back seat is easy and comfortable even for a guy as oversized as me.
Many other design quirks became apparent within the first day of living with the car. It has a start/stop button that requires the clutch to be depressed to start which is conventional and understandable. But when we push the button to stop the car the engine quits but the radio and accessories keep going. We get out of the car and they still keep going. What's up with that? Well, it turns out we have to hit the stop button a second time to shut of the accessories.
Next, the MINI has an express up and down feature at all four windows but it took most of the week for me to get the message that a quick bump of the toggle switch is required to access that function. If we don't bump it quickly enough it works conventionally.
Watch the MINI Countryman promo video
As we take off for Wisconsin in a light rain and I find another quirk - there is no intermittent wiper mode. I can't remember the last time I drove a car with no intermittent setting.
Powering this cute-ute is a 1.6-liter, direct-injected, 4-cylinder with variable valve timing and a most charming dual-scroll turbocharger. Not only is the thrust impressive, but we sensed not a hint of turbo lag. This small engine makes a relatively modest 181 horsepower and 177 pound-feet of torque but it felt like more. They claim a 0-to-60 time of 7.3 seconds. With the Getrag, 6-speed manual transmission I never felt like I needed more power and all those gear choices kept me in the moment on all the back roads. The only complaint here is that the clutch is a bit coarse on the uptake. The EPA rates the car at 25-mpg in the city and 31 on the highway. We found those numbers entirely accurate. And, unlike most turbocharged engines this one does not require premium fuel.
Our six hours in the car were a breeze. It feels plenty roomy inside and the seats were firm and comfortable. I found the dash design entertaining with the huge, round, center-mounted speedometer that also houses other functions to be sort of cartoonesque. If we had the navigation option that screen would be positioned in the center.
Arriving late to the touristy area around The Dells we had just enough time to cruise around to get the lay of the land. It reminded me a bit of Gatlinburg, Tennessee at the entrance to Smokey Mountain National Park, though in this case the carnival atmosphere is characterized by that plethora of water parks. Perhaps if I had kids I'd understand the importance of that entertainment but we're only interested in the natural attractions and a bit of history, so all that kid stuff is superfluous to us.
Only a few simple, local features survive at The Dells and Denny's Diner (in no way affiliated with the Denny's we all know), at the corner of Highways 12 and 23, is one. It serves simple diner kind of food and sports a remarkable collection of antique toys and other artifacts. A Donald Duck string-puppet pedaled back and forth over our heads as we chowed down on an omelet and tuna melt for lunch. Looks like the locals eat here, which is always a good sign in a tourist town.
We always look for end-of-the-road discoveries away from tourist sites on these explorations and we found one here. The dismally inaccurate local tourist maps showed Highway 136 heading west from Baraboo terminating at the little town of Rock Springs on the west shore of Mirror Lake. After enjoying about 8 miles of a beautiful winding road through verdant farmland with lots of big woodlots we found the town. The MINI Countryman with six-speed stick was fabulous for this kind of road with lots of opportunity to manage the gears and challenge the curves with spirit. The town was not at the end of the road nor was a lake anywhere to be seen. We did, however, spot a tiny, obscure sign for the Wisconsin Big Cat Rescue and Educational Center. Being cat lovers we had to go take a look.
About 30 Lions and tigers with a lone black leopard, housed in large enclosures around this hilly Wisconsin meadow, basked and paced and played with big cardboard boxes. One big tiger entertained us by eating a frozen chicken. Some of these beautiful cats come from law enforcement activities, some from owners who can't manage them anymore and some from other situations. A non-profit rescue facility, the Big Cat Rescue and Educational Center is always looking for support. Check them out at www.WisconsinBigCats.org.
A day trip took us to Madison and the University of Wisconsin midweek. After a great breakfast with the locals at Jen's Alpine Café (since the 1930s) in Baraboo, where the next table was filled with old guys second-guessing the UW coach from last weekend's game, we took the winding Highway 113 all the way to Madison. A free State-operated ferry, big enough for 15 to 20 cars, at Merrimac took us across the Wisconsin river, perhaps a half mile wide at that point, to continue the curvy road to the big city.
Our cool MINI Countryman garnered lots of looks from youngsters swarming the narrow streets of campus as we crept through their throngs - pedestrians, bicyclists and scooters - at midday class change time. With no place to park and the population density of a busy anthill we felt trapped. Finally, we found a place to park about half way between campus and the Capitol Building.
Our friend Jack said the guy to talk to about Wisconsin cheese is Scott Rankin, department chair of the University of Wisconsin's Center for Dairy Research. Jack was right. The scholarly Professor Rankin introduced us to their 100-year-old, world-renowned Master Cheese Maker program, the only such program in the country. He also introduced us to some cheese makers who just happened to be there for a seminar on avoiding defects in cheese. Cheese making, like brewing and wine making, is a marriage of art and science, explained professor Rankin.
Myron Olson, a jovial master cheese maker from Montecello in Southwest Wisconsin, makes the only Limburger cheese produced in the US, about 800,000 pounds a year, at the Chalet Cheese Coop, oldest coop in the state dating from 1885. That production number is tiny compared to what was made before prohibition. This blue-collar style of cheese was served mostly in neighborhood bars as the primary ingredient in a sandwich typically made with coarse rye bread, onion and tangy mustard. European immigrants loved their "stinky" cheese. Limburger is an intensely pungent cheese with a soft, creamy texture that I found intriguing and tasty. We're thankful it didn't go extinct when the bars went away.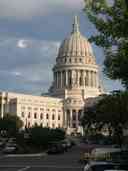 We walked from the university a couple miles to the Capitol Square in downtown Madison where we spent a couple hours strolling through the impressive and imposing Capitol Building that was obviously built during a time of great prosperity. With magnificent stone, wood and brass details, it rivals some of the architecture we saw in Europe.
Across from the State Capitol, we found the Fromagination store where we bought some of Mr. Oleson's Limburger (Country Castle brand) and sampled many other Wisconsin cheeses. It's an eclectic store with craft breads, locally produced honey, fruit spreads and other stuff to temp our palates. Their display cases were full of wheels, blocs and chunks of every imaginable cheese, domestic and foreign, and the knowledgeable staff provided a good primer on the nuances of their featured cheeses.
Then, of course, we had to have just the right mustard for our impending Limburger sandwiches so we visited the National Mustard Museum on the west edge of Madison. We found one floor full of history with an older, but well-done, documentary about the worldwide importance of mustard, and another floor where they sell hundreds of varieties of mustard and dozens of other interesting spreads. They provided nearly unlimited tasting opportunities and we opted for a couple of jars of unusual mustards, one of which we thought would be perfect with rye, onion and Limburger.
Baraboo, Wisconsin, a few miles south of The Dells, is most famous as the home of the Ringling Brothers, and now the home of the Circus World Museum. It's now off season so the live acts presented in the summer have ended but a comprehensive documentary film and multiple buildings full of displays make for an entertaining lesson on the history of circuses in the US dating back to1793 with the first circus in Philadelphia.
Baraboo is also the county seat with a courthouse in the town square. A nice variety of shops and eateries populate the square and the whole town looks prosperous. Along the river we found a well-paved path for walking that stretches all the way from the Circus Museum on the east side of town to the city park and zoo on the west side.
The MINI comes in more than a half dozen iterations from the basic Cooper with a base price of $22,350 to the convertible at $35,000. It comes in "every flavor except vanilla" says the PR staff. They've just introduced a funny-looking coupe that adds to the lineup. Our Cooper S Countryman ALL4 shows a base price of $26,950 but it's loaded with just about everything but the navigation system. Our bottom line shows $35,650.
For that price we have the 18-inch alloy wheels shod with run-flat tires, a premium paint scheme for which they charge $1,000, Premium and Sport packages, and a bunch of other stuff. This is certainly a "premium" small car that doesn't really feel small at all.
We loved our time with the MINI Countryman. It's a fun and functional traveling car for two and would be comfortable even for four on a trip if everyone packed efficiently. With exceptional handling and all-wheel drive, brash retro styling on a bulldog stance, and all the conveniences we could want, the road tripability score for the MINI Countryman is high.
And, southwest Wisconsin begs to be explored more fully as well.
© Steve Purdy, Shunpiker Productions, All Rights Reserved