Canadian Maryeve Dufault Ready to Tackle Daytona in ARCA Season Opener
DAYTONA BEACH, February 7, 2011: Testing is now complete and ARCA Rookie Maryeve Dufault is ready to put the knowledge gained to use in the ARCA season opener at Daytona International Speedway on February 12. Dufault, who previously competed in the NASCAR Canadian Tire Series, will attempt to qualify the No. 12 Dodge Charger entry for Tony Marks Racing (TMR), the newest multi-car operation in the ARCA Racing Series presented by Menards.
"I am really looking forward to the race weekend at Daytona," said Dufault. "We have done quite a bit of testing over the last few months and after our test at Daytona in January I feel quite prepared for this weekend." The team ran the three-day open test at Daytona in January and Dufault delivered solid results putting the No. 12 Dodge Charger 28th out of 58 competitors with a fast lap of 49.203 seconds/ 182.916 miles per hour.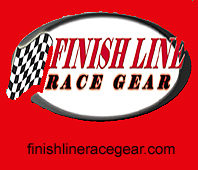 "I was pretty happy with our test and how the car felt in the draft," explained Dufault when asked about Daytona. "I had so much information from the team and other drivers about the draft, and how the car would handle differently so I felt prepared when I actually got in the draft for the first time. The car was very well balanced and stable and I thought it was really exciting. It was actually fun and I really enjoyed the drafting. I know that it will be a little different in the race, but I think with the testing and preparation that we have done that I will be ready."
Dufault has reams of experience behind her effort with veteran crew chief Larry Moore at the helm of the No. 12 TMR Dodge Charger. Moore was the crew chief for 2008 ARCA Champion Justin Allgaier who qualified 30th at the 2008 Daytona event and finished in second place.
"It will certainly be a challenge since we will be attempting to make the race on qualified time," explained Moore. "It looks like there will be quite a few cars so we need to be prepared and have the No. 12 ready to go when we arrive. Maryeve has shown real promise in her testing sessions at New Smyrna and Daytona so I feel confident that she'll get qualified and make the race. Right now our main objective is to get this car qualified on Friday (Feb. 11) and make the race and then finish well on Saturday."
Dufault, who caught the eye of the Dodge Motorsport representative while racing for the Dodge Quebec Dealers during the 2010 season, will be serving as the Dodge Motorsport development driver for the 2011 ARCA season. "I am very thankful to Dodge and Tony Marks for their support and for giving me this opportunity," said Dufault. "Dodge has a great history supporting drivers such as Brad Keselowski and Kurt Busch and Tony is putting 110% effort behind this team, so I feel flattered to be in this position. I am really excited to get the season underway and bring home a good result for Dodge and Tony Marks Racing this weekend."
Dufault and the TMR team will attempt to qualify the No. 12 Dodge Charger on Friday, February 11 at 2 p.m. and then race in the Lucas Oil Slick Mist 200 at Daytona on Saturday, February 12, 2011. The race will be televised live on SPEED at 4:30 p.m. ET.