Letter From Europe: Curses, Cuts and Kudos
By Andrew Frankl
European Bureau Chief
The Auto Channel
I've been driving Lincoln MKX of late and spent of my time trying to decide whether I could learn to love it. The jury is still out. On the plus side it is very comfortable and certainly distinctive looking. Love it or hate it you won't confuse it with anything else-that is for sure. The fuel consumption is a very reasonable 25 miles per gallon. The 3.7 liter 307 horsepower engine is sort of all right, certainly won't win any awards. The company's 3.5 liter Ecoboost is vastly better . Neither will the all-new My Lincoln Touch technology system.
I've met the geeks who've designed it and they were frightfully proud of it.
Goodness knows why. Imagine your average Lincoln customer in his 50s (certainly not Zuckerberg, Page or Brin from Silicon Valley ) when faced with the word wallpaper! There are several of these ubergeek words that appear on the screen, certainly enough to drive you insane. Just to find FM or within it NPR is a major operation. And you would never know about the sliding volume and heating controls unless someone showed it to you. To put the record straight, for an oldie I think I am quite computer literate with my iPhone, iPad and my lap top.
Still, it was insane. So I've asked grandson Freddy who at the age of 16 really is totally into cars and he had problems figuring it out.. For good measure I got one of Pixar's top people to get into the Lincoln and he too left scratching his head. So-boys and girls of Ford's geek squad it is not so much back to school but back to the drawing board. And before you start go and see some customers. Apparently dealers are tearing their hair out because a. their staff cannot make head or tail of it and b. even if they can-the customers can't. I am sure with enough patience one can work it out and get used to it, in the meantime the guys at Ford should pop into the nearest Infiniti dealership to see how it should be done. Pity in a way because the MKX at 40 thousand dollars and up has a great deal going for it. Admittedly not for me.
Neither is Infiniti's flagship, the enormous QX56. Fully equipped it comes in at around 75 thousand dollars which is an awful lot of money. To be fair when they say fully equipped it really is. Huge engine (an overkill in my opinion), excellent seats, outstanding instruments, tons of room for passengers and luggage it is clearly aimed at the Range Rover and the Mercedes GLK. In some respects it gets there, in terms of ride and handling it doesn't. Having said that I should point out that the Infiniti brand is better built and more attractive than ever. Took a while to carve out a niche from Nissan but they are certainly succeeding now. Wonder if they have an all singing dancing "leafinititi" in the pipeline. What is far more relevant within the Nissan/Infiniti family is the new all-electric Leaf. I went to the handing over ceremony in front of San Francisco's City Hall and the excitement was palpable.
TV crews from Japan, South Korea, Europe plus of course NBC, CBS and the other American channels. I've yet to drive the Leaf –can't wait to do so. Yes, there are a lot of skeptics but then let us remember the man with the red flag walking in front of automobiles slightly more than 100 years ago. And once all the solar panels in the Mojave Desert get going-to name but one example- maybe some of our Arab friends will have to get back on their camels and ride off into the sunset.
Not a minute too soon.
Regular readers (and thank you for sticking with me for 15 years) know that at this time of the Year the good, the bad and the ugly get a mention. Ugly is a matter of taste and even Nissan's seriously silly looking Cube has it charm by being unashamedly ugly. The only other thing on four wheels which comes close is Ford's Transit Connect. I notice that the electric version- a PR stunt if ever I've seen one- is going on sale at the ludicrous price of 57 thousand dollars.
Twice the price of the gas-powered one. Has to be the worst value ever. For tradesmen not carrying massive amounts of stuff the basic version is just fine.
But can you imagine a tradesman with the electric version getting a urgent call. Sorry I can't stop the water leak or clear the drains, I am just charging my van. See you in a few hours! Not!
Disappointed is the word to describe Subaru's gutless Legacy, I am sure that with the bigger engine and an automatic gearbox it is acceptable. The one drove did absolutely nothing for me which certainly cannot be said for several gems I've had a chance to drive this year.
The list, I am pleased to say is long and memorable.
Even though I nearly stuffed it into the Armco Lamborghini's Gallardo Balboni was amazing, although definitely not for the faint-hearted.
Ferrari's 458 is a stunning automobile as is-for a fraction of the money Ford's Shelby GT 500. Brought back memories of the 60s-Americana at its very best.
BMW's 7 series is a gem, better looking than ever and with first class instruments which after years of frustration we can actually figure out and enjoy. Not yet for sale in the United States but a massive success in Europe is the company's 530d which I drove in Hungary to and fro the Grand Prix.
After a week I can understand why-elegant, economical and beautifully put together. Interestingly enough I can now put three Jaguars into the same category. The XF and the XJ. The XJ diesel in particular-just like the 530d- showed how far technologies have come. Under Indian management-hard to get used to for people who grew up on chicken tikka masala- the Jaguars and Range Rovers are now better than ever. Thank you Mr. Tata for having faith in these great British cars which are now assembled the way they should have been over the years.
Must admit that for years I was convinced that Car& Driver's top ten cars of the year were determined by the advertising department. No more.

I cannot disagree with the BMW 3 series, the new Caddy CTS-V, the Volt or the Mustang GT which offers more fun per dollar than any other automobile in the World. 412 hp from a 5 liter V8 aluminum engine for 30 thousand dollars is a steal. The sound alone is worth 15 grand. If you can't afford to buy one get one for a weekend. In this PC world of ours it will be like a breath of fresh air. I agree with C&D on the Accord as well –the byword for reliability, tremendous value for money. As is the Honda Fit! What fun for about 16 thousand dollars. Cheeky, delightful and perfect for zapping around San Francisco. The Mazda Miata is a blast. You cannot help but smile. I actively looked for tasks-like getting bread or picking up anything from anywhere as long as I could drive it. Contagious is the only word I can think of to describe it adequately.
I've never ever driven a Porsche Boxster so I have to take C&D's word it. On the other hand I am in full agreement on the Volkswagen Golf. In a way it is the European Honda Accord. You know it will start, even in the worst blizzard and you know it will get you there . Their current advertising campaign is appalling but don't let that put you off. Solid as a rock. And it does 35 plus miles per gallon. Which is pretty near what I've got at a steady 60 miles per hour in Audi's new flagship, the remarkable A8. Well over 30 miles per gallon from a 4.2 liter engine is pretty amazing in itself but the rest of the car is just as outstanding . The seats, the overall comfort, the handling, the ride, the astonishing turning circle, the overall agility..no wonder Audis are almost obligatory accessories in all chases involving car chases, bad guys and robberies. In fact life does imitate art-just ask the jeweler in Dubai whose window was smashed by an A8 reversing into it. A 10 seconds and a few millions dollars worth of diamonds later it was Salem Alekum or words to that effect.
Yes, the A8 is that good. Having said that inexpensive it isn't. With all the trimmings such as a 6300 dollar Bang and Olufsen sound system it came to just over 93 thousand dollars-right in the middle of Mercedes S500 / BMW 740 country.
Is it as good? From an engineering point of view-absolutely.
From an appearance point of view it does look somewhat aggressive and in the dark positively sinister. If you are thinking of spending 80 thousand plus on an automobile you owe it to yourself to take it for s spin. It is that good.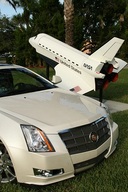 It isn't quite fair that to say that I've left the best till last because as you've seen this has been a vintage year for automobiles but driving GM's new Cadillac Coupe in Florida was an exceptional event. Not just because it signaled the company's return from ruin but because it took us to Cape Canaveral and the Kennedy Space Center. We were there to see the last flight of Discovery which-as you may know-was cancelled. But the folks compensated for is by letting us into the huge hangar where the shuttles were prepared. Standing under Endeavour and literally kicking its Michelin tires was unforgettable. Discovery may have been delayed until next year but there was certainly no stopping the Caddy which was a huge hit on Cocoa Beach. It is very Florida, very South Beach and very beautiful. Unless you get the highly tuned 556 horsepower engine it is a cruiser. Perfect for Sunset, for South Beach or for any other beach. The song says that "There is nothing like a dame.." and I would respectfully suggest that very few of them would guess when getting into the 2011 CTS Coupe with the 3.6 liter V6 engine that you paid less than 40 thousand dollars for it. A fraction of what a Lambo would cost and you would have a lot more fun in it with a lot more room to maneuver. We'll leave it that.
Happy 2011 everybody and drive safely.