Lamborghini Gallardo Balboni Bull Run to Cannes - VIDEO ENHANCED
Taking the 2010 Lamborghini Gallardo Valentino from its birthplace in Modena on a tri-country adventure that includes its No. 1 Italian rival, mega yachts on the French Riviera, the Cannes Film Festival and some rather excitable Italian highway patrol Officers.
By Nicholas Frankl
Senior Editor
As Friday mornings go, this is shaping up to be a good one. Breakfast at our regular Modena hotel hideaway, the Real Fini - where the pastel Mongolian cashmere pullovers sell for $280 – consists of the complimentary self-serve coffee and hard boiled eggs, followed by some strategic packing to maximize clothing options in the most minimal of bags. Then chauffeured by our trusty driver, Sergio, we're off to see our friends at Sant'Agata.
My father and fellow scribe has an appointment with a waiting Ferrari 458 in Maranello, so Sergio's buddy whisks me to the opposite side of Modena to collect the bright orange Valentino Balboni-edition Gallardo and I make a rendezvous-style dash to the Castello di Spezzano, a 12th-century castle that's home to the local Museum of Ceramics (the region's other traditional export industry) for the first planned photo shoot of this bright and sunny May morning.
The Balboni is bright orange with a 1-foot wide, bright white strip, with gold accent no less, right down the center of the car. Such a stripe does not look good on many cars; the Ford GT being an exception. However, it does look good on the Lamborghini and it certainly gets you noticed in the outside lane on any highway or auto-route. I'm immediately impressed with how easily the outside lane opens up 50 meters ahead as my bright orange dot closes in on fast-approaching rearview mirrors, a kind of Italian automotive heat seeking missile!
The cabin is fairly standard. The alcantara black wheel, with a big round airbag / Bull / horn in the middle, doesn't have any of the finger tip controls that embellish many wheels these days, but there's something beautifully simple about it: this is where you direct the missile, not change the radio volume or damper control. There are other places for those knobs and buttons.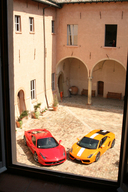 The castle is a typical old beautiful Tuscan affair, except with the help of Paolo the communications director from Piemme, one of Italy's most legendary ceramics manufacturers and a one-time sponsor of none other than the late, great Gilles Villeneuve, we have been allowed to drive both the new Ferrari 458 and Lamborghini Gallardo Balboni over the specially lowered drawbridge and into the inner court yard. It's fair to say that neither Paolo nor any of the staff arranging the wood planks to allow us clearance over the drawbridge can believe their eyes and ears – and to be honest, neither can I. If you have an ounce of the black stuff running in your veins, this is the moment we've all fantasized about.

Photos over, we have just a few hours before the Ferrari has to be back in its stable. So off we race, on a local rally stage, that's both narrow and twisty and offers me a chance to enjoy the light and nimbleness of the brand new 458. Its steering is very light and very direct, lighter then the Orange machine that's filling up my mirrors, which in itself has the lightest steering of any Gallardo, and probably Muricelago, I've driven. The 4.5-liter V8, derived from the California motor but delivering 570bhp pulls very strongly. It doesn't have the same deep sonorous roar of the V10, a result of the flat plane crank, but the power is there, make no mistake, albeit in a less 'holy cow' spleen-splitting way you get from either of the big brother V12's. With next generation vehicle dynamics and engineering it's the 458 that rewards the gentleman driver with more compliments and an easier and more relaxed experience. The cabin is wide and well designed, with lots of 'playstation' gizmos on the two LCD monitors either side of a massive yellow tach. Redline is at an astonishing 9,000 rpm.
Being 72, my father has already explained that the 458 isn't really the machine for him, "too noisy, too hard, too fierce. I'm a California customer", he attests. Hence my, and his, surprise when he declares how "gloooorrriiiouuuss" he finds the 458…
In terms of pure numbers, the cars are virtually identical. The driver will make far more difference than any numbers on the spec sheet. It's quite a feat that the V10 Gallardo, with 550bhp and none of the driving dynamic aids, is right up there still, seven years after its launch.
As we drop the Ferrari back - yes, we took an orange Lamborghini right to the front gates of the Vatican - we program into the fabulously easy and well laid out, Audi-derived media center: Cannes, France, 487 km, five hours.

This car is not designed for auto-routes. It is designed for the Stelvio Pass, or Route Napoleon; fast 2nd and 3rd gear sweepers into tight hairpins where you can really let the tail out and enjoy the most 'basic' car to emerge from the gates of Sant'Agata for a decade. It's the A1 to Parma (yes where the best ham comes from) for a quick blast before turning hard left onto the A12 to La Spezia. Here the road opens up on this fabulous Friday and the Bull starts to breathe a little heavier. Anything below 150 kph (about 90mph) feels very pedestrian. The six speed semi auto box works extremely well, seamlessly in fact, in the A position, changing down only when really prompted, otherwise happy to use the 398 lb-ft of torque and pull happily, the power band coming in over 4,500 revs, the engine taking on a more aggressive note and the white lines blurring at an ever increasing rate. Sport or Corsa mode produce violent fast and rewarding changes; it's one of the best boxes around, in my opinion.
220kph, or around 140mph, is a sweet spot: it's settled, gives the other drivers time to see and react and also time for me to slam on the steel disks if a truck hasn't quite noticed the hi-intensity LCD meteor in its over-sized mirrors. Talking mirrors, you spend a great deal of time looking at them when running at high speeds on European auto-routes. Have they seen you? What's the reaction,? Surprise, a sudden brake light? (Why they brake is beyond me. Maybe shock? Horror?). And who is following me or entering the onramp? Anything blue with lights is obviously bad news: either they will stop me for speeding or because they want to take a look around or I'll be forced to follow them to their next coffee stop. Neither is desirable if my goal of breaking Google maps' five-hour target is to be achieved. I'm pretty confident I'll do it, so long as I don't get a puncture in any of the brand new Pirelli 235/35ZR19 91Y; 295/30ZR19 100Y PZeroes (there is no spare, of course, in anything this size these days). Even the amazing Rita back at Lambo HQ would not be able to dispatch a spare that fast!
Click PLAY to watch the special Lamborghini Gallardo Valentino Balboni video
The A12 to Genoa is dispensed with rapidly, spurts of up to 250kph / 155mph keeping me perfectly relaxed even though this is a two-lane twisty highway, with at least one hundred tunnels that make constant sunglass-lowering tiresome but window-down acceleration very acoustically rewarding for anyone in the vicinity! The suspension and damping are firm, but not harsh, on anything less than the largest of expansion joints. The steering is lively, jumping slightly, but a firm grasp with one hand is all it takes. However, a CL63 would be just as fast and less involving for long distance highway drives.
In spite of a bright orange dot moving rapidly through their lands, the Italian highway patrol are nowhere to be seen and I reach the final toll, just by Ventimiglia, in very good time.
A few calls to local friends and I'm redirecting the missile to Casino Square, the heart of Monte-Carlo. Jean Luc, the ever-present and professional valet at the casino sees me, does a double take (3 days earlier I had been in the new Maserati GranSport convertible), smiles and welcomes me into parking space P1. You know, the spot that James Bond usually takes in the DB5. This keeps the ever-curious tourist throng snapping away and wondering who I am, resplendent in my t-shirt, shorts and flip-flops. After meeting some local friends - one of whom has a purple 650bhp Muricelago parked on the north side of the square - and absorbing the scene from the Café de Paris terrace, that's surely one of the world's best, if not the best, for people and car spotting, it's off down the A8 straight to Cannes. My friends warn me that the French police are not amused by 'eurotrash' speeders and have decided, in a typically socialist redistribution kind of way to simply confiscate, sell or crush offending speeders' vehicles, I take it easy and cruise into Cannes, which is holding its annual tourist rip off festival, better known as the 63rd Film Festival du Cannes.
The Balboni causes quite a stir on the Croisette, which is saying something, since you have Hollywood glitterati, freaks and a general jamboree of chaos going on around the clock. Having recovered from a couple of serious yacht parties, (one on the 200-feet long Alfa Nero with its beautiful swimming pool, the other on a really big boat, Paul Allen's Octopus, that has two pools, two helicopters and a real 10-man yellow submarine,) it's off to lunch in Saint-Paul De Vence, an artists' retreat about 40 miles north of the beach. It's certainly beautiful, quaint and full of arty stuff; oh and lots Chinese tourists for some reason.
More important is the Route Napoleon that lies just north of there and is right up there with Romania's Ceausescu Highway and Switzerland's Stelvio Pass as one of the world's great driving courses. My buddy Eric (a 360 and Diablo VT convertible owner) and I hit the mountains but are dismayed by the traffic (blame the film festival) and have to surrender to the caravans and trucks, but only after we find a few tiny twisty, first gear paths that have most likely never seen a Balboni and never will again!
After a long weekend in Cannes and the obligatory Hotel Du Cap lunch, on the same day as Naomi Campbell's party, where once again we cause a scene at the valet with the orange devil, it's time to sprint back to Lambo HQ. Road works are boring in any car but particularly so in a Lamborghini. There is something quite tragic about beautiful roads and breathtaking scenery ruined by a combination of Dutch caravans (the plague of all European roads) and coned-off lanes. Once freed from these constraints and out of French territory, the Balboni and I settle into the high-speed cruise with which I have become quite accustomed. It is a peculiar trait of the brain - well my brain at least - that it recalibrates itself to speed, so that what was once scary fast and bewildering becomes almost normal and everyday. More worryingly, one finds oneself seeking more power, more torque and searching for smaller gaps to launch into between trucks and those blessed caravans!
Everything about this car works. It's not the newest model out there, but we have all seen what can befall the newcomer (hello 458 BBQ). After nearly ten years of development and improvement, the Gallardo has been tweaked and tuned into one serious supercar, but one that can truly be used on a daily basis and which I did use for one lovely week in southern Europe.
Just after replenishing the fuel tanks, (and no, I don't remember what the consumption was and nor should any owner! When the light comes on you get to pull into a gas station and enjoy rock star status for 10 minutes every day or so, or after about 250 miles on the highway.) I set off for the last blast into Modena but before I join the main drag that is the A1 running to Milan, I notice a blue Subaru 'Polizia' on the on ramp. I slow and they simply drive up inquisitively, hold position and drive off. "What nice cops", I comment to my video camera and then all of a sudden the arms come out of the windows with two of those funny lollipops they still use, the lights go on and I am beckoned into a turn out. Three young officers leap out excitedly and I open the door. "STAMPA!" I declare (which is Press in Italian. Well, I think that's what it means). They pour over the car and I show them my UK license. Thirty seconds later they jump back in and I begin to follow them slowly. Clearly there are enthusiastic discussions inside the car as twenty seconds later the lights go on again but this time it's for, not against, me! The orange rocket and I are now being escorted at as high a speed as the three-up-plus-kit Subaru wagon can manage, clearing a beautiful path for me to follow at about 100mph. I have no doubt that the respect and kindness shown by Italian police to Lamborghinis is akin to that shown by American officers to a Corvette ZR1, say. Or maybe not! What I can say is, "FORZA ITALIA!" After ten minutes, they peel off and I blast past at full chat up to a very gratifying 140mph. The fun isn't quite over: with 40km to go 'til the factory I pick up a tail, a black 2004 Gallardo. As I speed up, so does he - sitting about 4 feet off my exhaust! - and soon enough we are flat out accelerating past the grey FIATs like a pair of light-footed cheetahs chasing game.
With my exit (very) fast approaching, we wave at each other, the sort of wave you only see in the movies, and back to its birthplace the Balboni goes. 1500km in 6 days is good going and an adventure I would highly recommend. The Gallardo is a fine companion that gives up very little to either the competition or practicality as a cross-European companion. PRICE AS TESTED: base price: $225,795 ENGINE TYPE: DOHC 40-valve V-10, aluminum block and heads, direct fuel injection Displacement: 318 cu in, 5204 cc Power (SAE net): 542 bhp @ 8000 rpm Torque (SAE net): 398 lb-ft @ 6500 rpm TRANSMISSION: 6-speed manual DIMENSIONS: Wheelbase: 100.8 in Length: 171.1 in Width: 74.8 in Height: 45.9 in Curb weight: 3410 lb
TEST RESULTS: Zero to 60 mph: 3.6 sec Zero to 100 mph: 7.8 sec Zero to 140 mph: 15.4 sec Street start, 5–60 mph: 3.8 sec Standing ¼-mile: 11.6 sec @ 124 mph Top speed (drag limited, mfr's claim): 199 mph Braking, 70–0 mph: 173 ft Roadholding, 200-ft-dia skidpad: 0.93 g
FUEL ECONOMY: EPA city/highway driving : 12/20 mpg