US August 2010 Auto Sales Fall from Last Year's Cash for Clunkers High
SEE ALSO: New Car Buyers Guide
Washington DC September 2, 2010; The AIADA newsletter reported that last August, Cash for Clunkers was in full swing, contributing to a heightened demand for small, fuel efficient vehicles. This August, in the absence of the federal program, automakers saw an equally dramatic sales decline. International brands that benefited during Clunkers were hit hard. Honda and Toyota were both down 36 percent from August 2009. Nissan (-31 percent), Subaru (-22 percent), Hyundai (-11 percent), and Volkswagen (-8 percent) all saw losses. Toyota sold the most of any international nameplate corporation in August, moving 148,388 vehicles, down from 169,224 in July 2010. General Motors led all U.S. sales with 185,105 units.
"When viewed in context, August's sales numbers are not as bad as they first appear," said AIADA president Cody Lusk. "Cash for Clunkers was a once in a lifetime event, and we can't expect sales to reach that level again, just one year later."
Internationals Nameplates Maintain Market Share
According to numbers from Autodata Corp., international brands sold 555,425 vehicles during the month of August, down from 591,297 in July, but up from 525,845 in June. They occupied 55.7 percent of the market, a decrease from last month's 56.3 percent share. Asian nameplates scored 46.9 percent of the market, down from 48.2 percent last month, but up from 44.8 percent in June. European nameplates gained slightly over last month (8.1 percent) with an 8.8 percent August market share. Domestic brands finished the month with 44.3 percent of the market, up from 43.7 in July but down from 46.5 in June.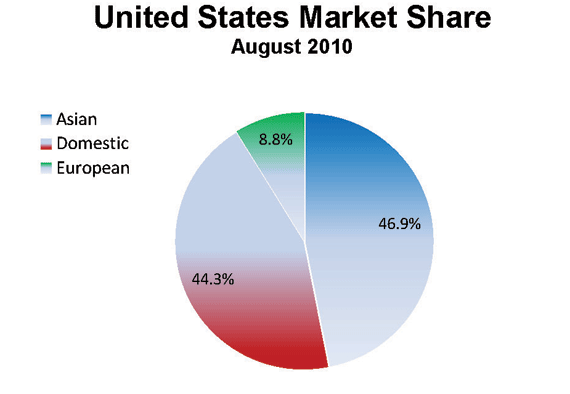 Top Selling Vehicles
International nameplates occupied seven of the top ten retail vehicle sales spots, up from the six spots they have occupied over the past four months. The Chevrolet Silverado moved into the second spot behind the Ford F-Series Pickup, while the Toyota Camry - in third place - maintained its position as the top selling car in the U.S. All international nameplates in the top ten, with the exception of the Hyundai Sonata, demonstrated a decrease in year-over-year sales by an average of 35.6 percent. The stark difference in year-over-year sales numbers is attributed to the absence of the 2009 federal Cash for Clunkers program. The Hyundai Sonata - up an impressive 81.1 percent - leapfrogged six spots into the sixth slot.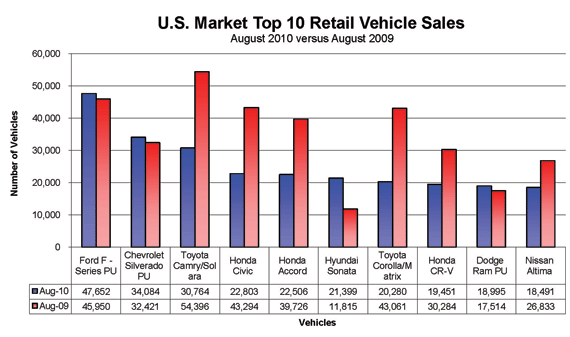 Vehicle Segments
Crossovers and SUVs were the top selling segment in the U.S. in August, with sales of 290,371, although the segment's sales were down for the month by 11.5 percent. With sales of 249,662, the midsize segment landed in second place, although sales were down by 23.9 percent over last August. Luxury vehicles sold 79,211 vehicles, up from 78,106 in July, and up 2.1 percent over last August. Americans bought 997,468 vehicles in August. Of those, 502,100 were cars and 495,368 were trucks. Asian nameplates sold 285,160 cars and 182,953 trucks, while Europeans sold 64,353 cars and 22,959 trucks. Domestics sold 152,587 cars and 289,456 trucks.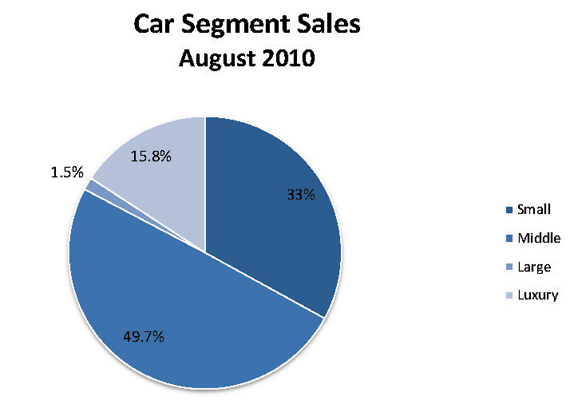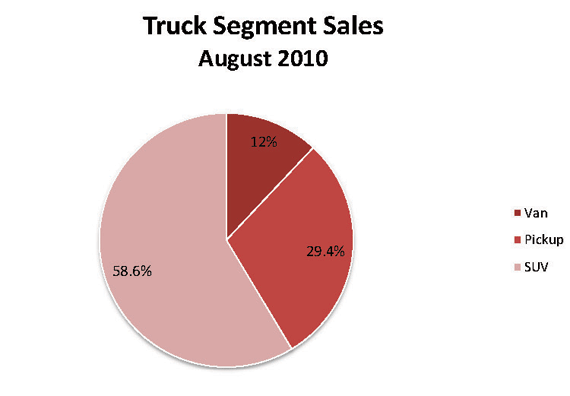 Outlook
Overall sales, including domestic brands and unadjusted for business days, were down 21 percent from August 2009 but up 8.4 percent for the year. Sales were down 5 percent from July 2010. The seasonally adjusted annual rate (SAAR) for light vehicle sales is now estimated at 11.47 million. 
See below for a complete breakdown of August 2010 monthly and year-to-date sales by international nameplate.