2010 Cadillac CTS-V Impresses on the 2010 Bullrun Rally
SEE ALSO: Cadillac Buyers Guide
By Annabelle Frankl
(with a bit of help from her twin, Nicholas)
Special to The Auto Channel
Photos by the authors unless noted
Now in its seventh year the Bullrun Rally brings together a unique mix of cars and personalities and takes them on annually-changing routes that criss-cross the USA, in a rolling cavalcade of horsepower, testosterone and, mostly, good clean fun. The 2010 Bullrun Rally runs from New York to Las Vegas and is anything but a straight shot. Along the way "Bullrunners", as we're known, take in everything from po-dunk go-cart tracks to International Speedways, one-horse towns to cosmopolitan cities.
Our ride for this year's rally – our fifth as Team Twins (my brother, Nicholas and I) - is the 2010 Cadillac CTS-V and anyone previously unfamiliar with its explosive performance – myself included – will be, after some 7 days, 13 states, 3,500+ miles, 10,000 feet of altitude variation and 50 degrees of temperature change, well and truly impressed.
The 2010 Cadillac CTS-V is a $60,000, four-door sedan that fights off stiff competition from a broad – and often heavily-tuned - entry field that includes Ferrari F360 twin turbo and F430 Novitec Russo, Maserati GranTurismo S and GranSport, Lamborghini Diablo, Mercedes C63 AMG, SLS and SL65 Black Series, Nissan GT-R, Shelby GT500, fellow CTS-V sedan and coupe, Aston Martin Vantage, Audi RS6 and RS4, BMW M6 and M3, Porsche 911 Turbo and more to give Team Twins (Annabelle and Nicholas Frankl, the Twins) its highest-place finish ever and an unbelievably great week of rallying.
New York's Pier 54 is Bullrun 2010's departure point on a steamy July Saturday and the press and paparazzi are out in full force to bear witness, plus take photos of our Official Flag Girl, a white spandexed-Kim Kardashian (now on hour 2 of her 15 minutes of reality fame).
Energy – courtesy of Amp Energy Drink - and spirits are high, the adrenaline is starting to pump and the field of 70 Bullrunners is eager to embark on its 7-day adventure. We know where we're leaving from on Saturday - New York – and where we're getting to on Friday – Las Vegas - every other checkpoint and nightly stop is a surprise and, in a sneaky maneuver this year, Bullrun has decided to leave addresses off all the route cards, just to add an extra twist to the navigation hell, er, challenge that is Bullrun.
Peeling out of the Meatpacking District, first route card in hand, the CTS-V's On-Star button immediately becomes the third member of Team Twins. To say that this navigational tool is priceless on a road rally is an understatement. On-Star's ability to find "Mom and Pop's Rib Shack, Nowheresville, USA" and then download the route to our navigation screen definitely gives us an advantage. Our apologies to all of the On-Star operators if we were somewhat harried in our demands for directions; one wrong turn means the difference between 1st and 10th, particularly in a year that proves to be the most intense to date, with extremely spirited driving on every leg and teams doing pretty much anything (we plead the 5th) to get to the checkpoints in first place.
First stop on the Bullrun tour of the USA is Intercourse, PA, in the midst of Amish country: horse power meets horsepower, literally. The lone gas station and its solo attendant are, evidently, overwhelmed by our en masse fill-up, so much so that Bullrunners are already leaving the lunch stop while some cars are still being gassed! Our evening stop is Cleveland, OH some 378 miles away and we're more than happy to stretch the Caddy's legs on the relatively boring I-80.
The CTS-V is the perfect rally car. Extremely powerful (556HP and 551 lb-ft of torque), ridiculously fast (0-60 in 3.9 seconds, top speed in the region of 175mph), supremely comfortable (heated and cooled leather bucket seats with adjustable bolsters) and it doesn't attract attention like some of those fire-engine red Italian washing machines that are as appealing, and comfortable, as an enema when driving nearly 4000 miles over the span of 7 days. It is a true wolf in sheep's clothing that, once the supercharger engages, will leave most of the competition in the dust, all the while retaining a wonderfully steady and firm grip on terra firma.
Arriving in the top 5, it's Saturday night and time to check out downtown Cleveland. Turns out, this town knows how to party, particularly when fellow Bullruner Ice-T gets on the mic and revs up the crowd. Unlike some other celebrity drivers, Ice-T is in it to win it; alas, the oversize rims and rubber on his Aston Martin Vantage result in numerous flat tires along the way, ending his chance at Bullrun glory.
Wheels-up at 9am has us bound for Brooklyn, MI and the Michigan International Speedway. Major police activity – anyone would think they knew we were coming - has us re-route onto some fabulous back roads to reach the track. 5 cars at a time do hot laps around the 18-degree banked, 2-mile oval: the CTS-V comes from behind to pass the GT-R for a top speed on the straightaway of 160 mph.
With hot laps, plus a dual CTS-V photo op, complete, the teams tear out of MIS bound for the Windy City, Sunday night's stop. Pulling out a lead with the frontrunners attracts the local constabulary's attention resulting in an irate female officer blocking the highway and pointing extremely forcibly towards the hard shoulder. As 6 of us comply, we watch as all the other Bullrunners trundle past, horns honking and cameras flashing, while our new police friend marches up demanding the usual documentation in a less-than civilized fashion. 25 minutes later and we're all let off with a warning and left to catch up to the pack. A top 15 arrival into Chicago is all we can muster.
Delayed by a business call, my co-driver is nowhere to be found as the flag drops and teams depart at 8am sharp next morning. Not what you'd call great timing. In an effort to whittle our 20-minute deficit, I push the Caddy's gas pedal further and further towards the floor. The disadvantage of lagging behind the pack is the maelstrom it leaves in its wake that you've yet to pass through. The advantage is the ability to swap text and, now, Twitter, updates - "blue charger hiding under the bridge at mile marker 255" – to aid in the chase. Alas, as you might guess, this is a far from perfect plan, as becomes quickly apparent when our radar detector sounds the alarm and Officer Helton of Iowa County, IA clocks me at 101mph in a 70mph. Phrases such as "journalist", "charity rally", "11-99" foundation", and even "General Motors" fall on deaf ears and he asks me to step into his car…but, thankfully, just so I can decipher my U.K. license for him! IA is a little bit richer courtesy of yours truly and we're on our way.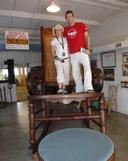 Collecting a route card at "Iowa's Largest Walnut Rocking Chair" – it's big - and taking some scenic snaps (we're so far behind, why not document what's bound to be our only ever visit to this state…) we head to Iowa International Speedway. Turns out, we're not the only ones heading that way either, as the sky turns a menacing grey, the temperature drops and the alarm bells sound. Tornado warning!
In between a little bit of panic, some hefty wind and a few raindrops, the Bullrunners take a shot at doing some individual hot laps.
Bringing home the Hottest Lap trophy in four of the six previous years of Bullrun (the Evo in '08 and Jeep SRT8 in '09, whilst quick, were no match for the competition), Nicholas has built a solid reputation as 'the fastest', 'the best' or just plain 'damn quick' among those vying for the award…and he's not about to mess with a good thing. Employing Sport Mode in the CTS-V's Magnetic Ride Control (MRC) and turning the Performance Traction Management system to 'competitive drive' mode, he heads off down the pit lane for one out lap behind the pace car, followed by a hot lap. He's first out onto the track a) to set the pace and b) to beat the fast-approaching rain. My view is from the grandstand but here's how he tells it from behind the wheel:
"The CTS-V is a great track car, engineered around the Nurburgring – John Heinricy, GM's Performance Division test driver, clocked 7:59:32 in May 2008, the fastest recorded time of any sedan - and has a well-earned reputation for power and chassis dynamics. A short 1-mile, half-lap around the oval with a transition onto the infield and a seven corner set up gives the CTS-V little chance to find its feet and for me to use the power. This lap is all about not losing too much time under heavy braking in the tight 2nd and 3rd gear corners, areas where the assorted Ferraris and GT-Rs will no doubt have an advantage. I know the brakes will be up to the job, and I'm very impressed with the standard Michelin pilot sport 2 tires; they both give brilliant feedback and allow me to slide the rear of the car and balance it on the throttle, difficult in an automatic that, truth be told, is the most civilized daily option but rather slow and limited by its six, versus the competition's seven, cogs. Fortunately, it comes in handy when braking later and harder than the other guys – makes a certain Spanish word for a part of one's anatomy spring to mind - which is how I lap a full 3 seconds faster than the 2nd placed Ferrari 430 Novitec Russo on a lap that is only 59-seconds in total! Herr Kaiser Claus in the CEC nuclear edition C63 AMG is, apparently, still some ways behind the lightly-steaming F430."
Leaving IAS in the now major rainstorm keeps the entire pack together for longer than usual. Evidently, IA's finest already know we're headed for Omaha, NE and there's a cop at every mile marker. Despite no wrongdoing an angry-looking officer is weaving across the highway and pointing to the shoulder. Some of us have no option but to comply while those behind us pretend not to see and drive onwards. Given we've been doing the speed limit, we're a bit put out and ask to see the officer's evidence of our infraction, only to be met by possibly the best rally quote ever: "You're in Iowa now. We don't need evidence here, sunshine." 30 minutes later, with tickets all around, we're slowly on our way. 10 minutes later and there are more red and blue lights in the rearview; an unmarked SUV has been trailing us since the last pullover and is less than impressed by our 84 in a 70. He warns that one more pullover will mean impounding the car. Our pace becomes glacial. Unfortunately, to cross the USA in a week, it's almost impossible to avoid highway driving and, inevitably, there is a day or two where law enforcement is out en masse and looking to collect. Today is such a day. 172 miles never felt so far or took so long.
We're the biggest thing that Omaha's seen on a Monday night – or possibly any night (not counting any Warren Buffett sightings) – and a good time is had by all, except the Bullrunner who does a light squeal of his tires upon leaving dinner and is ticketed by an officer on horseback, surely a rally first. The police presence continues next morning with an escort out of town; always a good way to ensure a speedy exit but also to know, surely, that your escort's colleagues are lying in wait down the road. And indeed they are in unbelievable numbers. Nebraska has taken a page out of Iowa's handbook and, seemingly, mobilized its entire force, with one team pulled over by what looks like a gardener's pick-up truck! Seeking an alternate route, we follow Team Wu – always at the top of the navigation game – onto an adjacent road that's traffic and cop free, dead straight and surrounded by nothing but corn for miles in every direction.
We're making stellar progress and about to turn to rejoin the highway, when the radar blasts. We hit the brakes but it's not enough. Cue sirens and an extremely charming Nebraskan Officer who, unfortunately, does not share our expeditious nature and proceeds to take 45 minutes to write up two tickets. The only upside is a "Field of Dreams" en masse potty stop, with chants of "If you build it, he will come" emanating from the corn stalks.
After lunch in Ogallala, NE – try finding it on a map – we're bound for Boulder, CO. Thankfully it's only 20 miles to the border and we find Colorado to be much more Bullrun-friendly than Nebraska.
Indeed, despite running in a huge pack, there is no police presence and we make quick progress across the quickly changing landscape. Phoning the hotel for exact directions, we manage to gain two places in the last 200 yards, for a hard-fought 4th. Nighttime entertainment courtesy of The Cuban Brothers has everyone in stitches.
Fresh mountain air and a dusty go-cart track get the morning off to a fun start. Rather poorly matched carts make the races less than even but that doesn't stop plenty of spins into the dirt and some aggressive maneuvers from keeping us all entertained. Peeling out at close to noon, we're headed south to Salida, CO through the stunning Pike and San Isabel National Forests. Narrow passes give way to great plains and mountain peak views, simply stunning after the horizontal monotony of the past two states. Police encounters close to town slow our pace. Team 13 in the F430 takes one route, we take the other and they grab 1st place by 20 seconds. So close!
More gorgeous mountain roads lead us further south towards the ski town of Telluride, some 200 miles away. There are 6 or 7 teams all running together and making good progress. One might think nearly 560 horsepower is overkill but when traveling at speed and passing traffic in the rarefied Colorado air (we're climbing towards 9,000 feet), one is glad for every one of them. Getting closer to our destination, we are sitting in 5th place. The two CEC AMGs miss the turn for Telluride and we barrel up the mountain after Team Exotics Rally 1 and 2 in the GT-R and Audi RS6. Entering the sleepy town of Telluride, we're immediately tailed by a police car and crawl into town at 10 miles per hour. For whatever reason, the cop then turns off. What follows depends on whose side of the story you're told, so we'll just stick with the outcome: flashing red and blue lights, the three lead cars stopped at the top of the road and me running down the hill to The Peaks Resort and Spa, route card in hand, headed for 1st place…until that damn Team 13 rounds the bend, spots me running and out-runs me – foot vs. Ferrari = no contest - for another one, two finish!

A crisp Telluride morning welcomes us to Day 6 and the Bullrunners are in for a treat: lunch is to be at Monument Valley, AZ, one of the most stunning destinations ever to feature on the rally.
The deserted roads of southern CO, UT and northern AZ are epic in their vistas and irresistible in their draw to push the cars ever faster. Unfortunately, I – yes me, taking full responsibility – take heed of the usually spot-on navigation as it first routes us via (the shorter) Hwy 41 but then changes its mind. With large road map in front of me – plus the fast-disappearing outline of Team LuckyNutz' M6 – I agree with the nav's u-turn, adding at least 30 miles to our route plus unforeseen road works and various troopers that both add even more time to the leg. This, along with a last-minute wrong turn, means our possible 2nd place becomes a woeful 10th. An angry shouting match sees my disgusted co-driver eating lunch at a separate table. My bad.

Underscoring our Wild West locale a routine gas fill up is interrupted by wild mustangs cavorting across the road and, with plenty of photos and tchotckes in hand, it's an exodus for Scottsdale, AZ, final destination of the 2008 Bullrun and some 300 odd miles away. As we head south, dust and rocks give way to pine trees and we push hard, trading places with teams as our need to gas up again allows them to hopscotch ahead. Thankfully, that allows them to engage with the local law enforcement rather than us and we're third into the Hotel Valley Ho, mere seconds ahead of Team Orange RS4. A poolside dinner, plus official wheels-up at 1pm, allows for a great night of partying, a long lie-in and a leisurely morning swim ahead of what will be one of the most intense last days of Bullrun to date.
First stop is at Taser Industries – yes, that taser - and various Bullrunners take a shot at doing their version of "The Hangover", raising some $2000 for charity and a lot of laughs in the process. A police escort leads us onto the highway and we're full throttle towards a route card 'grab & go' at Juni Pines Resort, Sedona. We're in 4th and headed to Chloride, AZ. Coming into this no-horse town right behind Team Wu, it's a foot race to find the right motel room and grab the next card. Whether it's the superior tread on my vintage Pilotis or just competitiveness, Team Twins prevails and the gravel road allows for a glorious power slide out of town and onto the bright lights of the Aquarius Casino, Laughlin. Retaining our 4th place, it turns out this is a proper stop and we try to enjoy the seafood buffet ahead of our last leg to Las Vegas.
A Le Mans style start, if you can only get your hands on a route card, has cars pulling out of every casino entrance and hightailing it for the very straight and very fast Hwy 95.
The final leg comes down to one thing: top speed and who's willing and able to do it. The CTS-V's needles are redlining across the board: it's 110 degrees outside and we've shut off the A/C to squeeze every last ounce out of our 6.2 liters but it's still not enough to keep up with the winning trio, who do 99 miles in just under 40 minutes. I'll leave it to you to do the math. Team CEC in the C63 AMG take a well-deserved 1st, Team Exotics Rally in the Hudson Jeans Union Jack-decaled GT-R – with a wrong turn in the last 1/4 mile - take 2nd and showing some serious rookie mettle, Team 10 in the F360 Spyder take an unexpected 3rd. Arriving in tandem with Team LuckyNutz in the M6, we find Bullrun has taken over the Fremont Street Experience and the crowds are, literally, going wild.
After breakdowns and some weekend-only Bullrunners have reduced the field, some 50 teams collect their end of rally medals. With Las Vegas showgirls and The Cuban Brothers as accompaniment, it's awards time and Nicholas is called up to accept the Hot Lap award, having lapped the Iowa Speedway some 3 seconds faster than anyone else. Given his Hot Lap track record, I'm not surprised. But when Team Twins and the CTS-V are then called to the stage to accept the 3rd place Navigator Award, we're floored. We knew we'd been consistent but, frankly, given the extremely competitive nature of this year's rally it's an unexpected delight and very gladly received.
Bullrun veterans Claus Ettensberger and Joaquin Mejia aka Team "we're not taking it too seriously this year" CEC take a hard-fought 2nd place. To say that Claus is serious about winning is an understatement and there's no doubt he'll be back to battle his way to 1st place next year. This leaves Ricky Chancey and Dudley Geigerman, two of the finest southern 'Nawlins' gents, in the Team Luckynutz BMW M6, to claim the top prize "Always First" Navigator Award.
Other prize winners include hard-charging Seth Rose and Tony King aka Team Exotics Rally in the Hudson Jeans GT-R who receive the West Coast Customs Hottest Wheels award; JF Musial of Team Black Magic proves unbeatable in the Bullrun Go-Cart Challenge and the coveted Spirit of Bullrun crystal Asprey decanter and BRM watch are bestowed upon Bullrun virgins Team Orange Monster – Anthony Curko and James Cervelli – in their RS4 cabrio for persevering through various automotive adversities to finish the rally.
A weeklong adventure that feels like a month while you're doing it but is over too soon leaves the Bullrunners to share stories, swap photos, recover and, of course, plot for next year's rally. Look for us in the 2011 CTS-V Team Twins Edition. Or perhaps we'll just go for a clean sweep: Team Twins in the CTS-V Sedan, Team Twins 2 in the CTS-V Coupe and our support team (now we've stood on the podium we obviously need an entourage…) in the CTS-V Wagon.